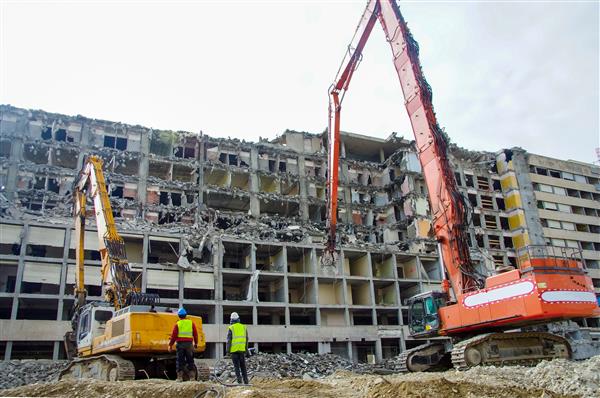 Demolition Contractors Akron, OH The Demolition Company That You Can Count On
The strength of Omni Demolition lies not only in its state of the art equipment and the expertise of its demolition contractors but the commitment that we have in providing unsurpassable services. Just like any other major construction or remodeling plan, having a property demolished requires the skills of professionals, along with the use of appropriate equipment. No job is ever too big, too small or too demanding for us. You can trust that our demolition experts are all well-versed when it comes to everything that has to do with eco-friendly demolition, as well as health and safety guidelines. Whether it may be a residential, commercial or industrial structure that needs to be taken care of, our crew has got it covered.
Demolition vs. Deconstruction in Akron, OH
Demolition is the process of tearing down or pulling down buildings and structures by a demolition expert. Deconstruction is when a demolition expert carefully dismantles or takes down a structure with the aim of reusing or recycling the materials. A deconstruction entails careful removal of a structure's segments or hazards such as electrical wires, gas pipes and hydro lines prior to a complete knocking down of the building. Deconstruction could be a component included in the demolition where our skilled team removes all hazardous and re-usable objects prior to the building being knocked down. They can also be torn down mechanically with the aid of hydraulic equipment such as bulldozers, excavators or planes.
Why Come to Us for Your Demolition Project in Akron, OH
Our demolition experts guarantee to provide you with professional demolition services. Our demolition contractors have years of experience in the business providing exceptional and enviable customer service across Akron, OH. Our management style is hands-on, giving us the opportunity to customize solutions to fit your demolition needs. No other demolition contractor in all of Akron, OH has a crew that is as dedicated and diligent as ours. From the start to the finish of your project, we are focused on your absolute satisfaction. From the start to the finish of your project, we are focused on your absolute satisfaction.
Our Range of Demolition Services in Akron, OH
Industrial Demolition services: We have the expertise, equipment and manpower to take down, mills, plants, manufacturing buildings among others without compromising the integrity of neighbouring structures.
Commercial Demolition services: If you are looking for a reliable demo company, our reputation and years in the business is your assurance. Our past contracts include leveling bridges, dilapidated malls, airplane hangars, and even grocery stores.
Concrete Demolition and Recycling Services: Concrete recycling results in saving costs in that it decreases the cost of transportation and disposal. Our demolition experts will break, remove and then crush concrete after demolition. The concrete can be used as an aggregate in new concrete.
Scrap Metal Demolition Services: Allow our demo company to remove useless steel erections onsite and salvage reusable metal for recycling instead of hiring a separate contractor, which means more expenses for you.
We Set the Pace for Other Demolition Companies in Akron, OH
We take pride in deploying demolition experts and demolition contractors who are not simply knowledgeable on the job but also skilled and experienced all across the state. We are on a continuous path to success and we have managed to do this through perfection in our demolition services. Using cutting edge technology added to our team's expertise, our demolition company is guaranteed to deliver more than promised. That is why we are recognized as the leading demo company.
Main Methods Used in Demolition and Deconstruction in Akron, OH
Explosive Demolition: Our well-trained demolition experts in Akron, OH strictly follow all protocols to ensure safety onsite and in nearby areas. Aside from safety precautions, all procedures in using explosives are guaranteed to be eco-friendly and not invasive.
Non-Explosive Demolition: In instances where the height of the building makes it unsafe to use explosives, a wrecking ball is used by local demolition contractors to weaken the structure before tearing it down.
Selective Demolition: Our demo contractors are the most sought-after for their record in successfully extracting or tearing down selected parts of a structure. We are one of the few building demolition companies who can conduct a customized approach depending on the client requirement.
Cutting Edge Equipment Utilized for Demolition in Akron, OH
Hydraulic Breakers – Our demo company uses a hydraulic breaker to demolish rocks and concrete structures. Its powerful hammer causes destruction on the targeted object in a matter of seconds.
Wrecking balls – Heavy and solid balls made of steel, wrecking balls are safely suspended on a crane and used to weaken a building until it gives.
Hydraulic Shears and Rock Breakers – They are highly effective in cutting steel, metal, concrete, wood and rocks. Their high power to weight ratio enable hydraulic shears to yield a higher output.
Bulldozers – Serving multiple purposes, bulldozers can be used to haul items and waste as well as help knock down weak structures or level mounds of soil.
Dumpers – A dumper or a tipper truck is essential in the demolition business. This vehicle is specially designed to carry debris such as gravel, or demolition waste in bulk away from the property. It makes cleaning up the property after demolition easier and faster.
Cranes – Demolition contractors use cranes not only for swinging wrecking balls but also in moving objects within the site. Our demo company facilitates the use of cranes to lift heavy objects from lower grounds to higher areas.
Crawler Loaders – Also called caterpillars, crawlers have flexible ground mechanism allowing them to be useful even on uneven terrain. They are primarily used for excavating.
We are the Number to Call for Premium Demolition Services in Akron, Ohio
We are your dependable and trusted demolition company in Akron, Ohio. When you have a demolition project, do not hesitate to contact us. Find out why we have remained the #1 demolition company for years as you experience top of the line customer service. We are the Akron deconstruction and demolition company to go to for premium and safe demo services. Call us at
(855) 885-3366
for a free consultation today.
Zip Code Areas We Service in Akron
44306, 44307, 44304, 44305, 44302, 44303, 44301, 44308, 44320, 44314, 44311, 44310, 44313, 44312, 44309, 44315, 44316, 44317, 44325, 44326, 44328, 44334, 44372, 44396, 44398