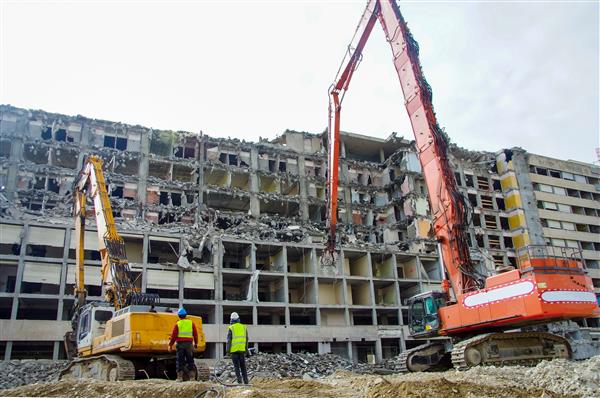 The Demolition Company with Demolition Contractors in Dayton, OH You Can Count On
The strength of Omni Demolition lies not only in its state of the art equipment and the expertise of its demolition contractors but the commitment that we have in providing unsurpassable services. We are dedicated to working on your project with no distractions whatsoever. We do not sugar-coat our services and we often deliver more than promised. We have a team of seasoned demolition experts ready to act on any project. We have the right equipment for any kind of demolition work.
We Do Demolition and Deconstruction in Dayton, OH
Demolition is taking down or dismantling a building or structure with a strong and overwhelming force whose end result is rubble or waste. Demolition can either be selective or explosive. Explosive demolition uses mostly dynamite to bring down big buildings. Selective demolition involves bringing down a part of a building or tearing a section of a wall by a demolition expert. A deconstruction entails careful removal of a structure's segments or hazards such as electrical wires, gas pipes and hydro lines prior to a complete knocking down of the building. It entails tearing down the components of a building for the purpose of recycling, re-using as well as waste management. Demolition is the actual tearing down of a structure to be done by a demolition expert.
Why Choose Us as Your Company of Choice for Your Demolition Project in Dayton, OH
Our demolition experts guarantee to provide you with professional demolition services. If you wish to have a an effortless and hassle-free experience when leveling a property in Dayton, OH, we are the demolition contractor that you can rely on. We also take time to really understand your needs and deliver according to your desires with no excuses. No other demolition contractor in all of Dayton, OH has a crew that is as dedicated and diligent as ours.
We Offer a Wide Array of Professional Demolition Services in Dayton, OH
Industrial Demolition services: We have taken down massive structures such as warehouses, industrial buildings, bridges, power plants, and mills. Our special equipment and expertise allow for the safe demolition of vast properties.
Commercial Demolition services: Need your commercial demolition project done right the first time? Our demo company will take care of that for you. Our portfolio includes: airplane hangars, restaurants, grocery stores, gas stations, warehouses and libraries among others.
Concrete demolition and Recycling Services: Our demolition experts are able to recycle your concrete slabs and structures by crushing them and turning them into reusable gravel.
Scrap Metal Demolition Services: Our demo company will save you time and money by demolishing your metal structure, putting a recovery plan in place and selling the salvaged scrap metal for you.
The Top Choice Among Demolition Companies in Dayton, OH
Despite being highly preferred over other demolition contractors, we keep our feet grounded. Our demolition experts and demolition contractors have an established performance record of completing demolition jobs in the right way, on budget and on time. We are a demolition company that takes our work seriously and consistently conduct regularly equipment maintenance, which ensures efficient and quick clearing operations. Our demo company offers packages that are reasonably priced as well due to the fact that we have mastered an efficient way of demolition that cuts unnecessary expenses.
Methods Conducted by Experts on Demolition and Deconstruction in Dayton, OH
Explosive Demolition: Our demolition experts in Dayton, OH implode your building making it collapse safely with minimal damage to the immediate surroundings.
Non-Explosive Demolition: Although somehow rare, our local demolition contractors use a wrecking ball to tear down a structure. Compared to using explosives, this method costs less; however, there is limited control on the amount of damage each swing can make.
Selective Demolition: Our demo contractors are the most sought-after for their record in successfully extracting or tearing down selected parts of a structure. We are one of the few building demolition companies who can conduct a customized approach depending on the client requirement.
Demolition Equipment in Dayton, OH
Hydraulic Breakers – Our demo company uses a hydraulic breaker to demolish rocks and concrete structures. Its powerful hammer causes destruction on the targeted object in a matter of seconds.
Wrecking Balls – A wrecking ball is made from steel. It is suspended from a steel chain attached to a crane and is used to demolish large buildings. It is swung several times towards the intended structure until the structure crumbles. The working of a wrecking ball relies on the skills of an experienced operator.
Hydraulic Shears and Rock Breakers – They are used to cut through concrete, rocks, wood and metal.
Bulldozers – They are used to remove huge rubble and dirt piles. They are also used to push down smaller-sized structures and buildings.
Dumpers – In the demolition business, they are used for moving rubble and debris away from the demolition site.
Cranes – Demolition companies use cranes to move materials from different levels of a structure. A demo company will also use this machinery together with a steel ball. For a wrecking ball to work, it has to be attached to the crane.
Crawler Loaders – This heavy machinery is used to move aside debris material. It can also load the material onto a dump truck.
We are the Number to Call for Premium Demolition Services in Dayton, Ohio
Settling with an amateur demolition company in Dayton, Ohio may seem cost-effective at first but mishaps and faulty work onsite may cost more of your resources, time and energy. With us you are guaranteed to have a safe and worry-free operation to be completed by field experts. As an established demolition company, we maintain high standards of service and workmanship no matter how big or small a contract is. Our Dayton deconstruction and demolition company has highly skilled personnel with years of experience in the demolition business. Call us today at
(855) 885-3366
and allow us to assist you with your demolition requirements.
Zip Code Areas We Service in Dayton
45432, 45402, 45403, 45406, 45404, 45405, 45409, 45428, 45420, 45424, 45410, 45414, 45417, 45419, 45377, 45401, 45412, 45413, 45422, 45423, 45435, 45437, 45441, 45448, 45469, 45470, 45475, 45479, 45481, 45482, 45490