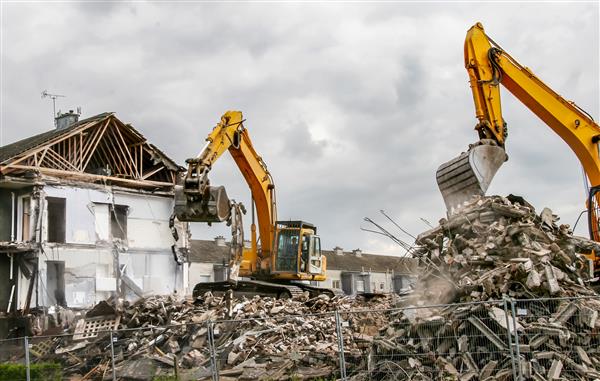 Omni Demolition: Your Expert in House Demolition in Cleveland, OH
We provide complete house demolition services in Cleveland, OH for any size of project. Omni Demolition is among the best house demolition companies in the city. Omni Demolition has some of the best residential demolition contractors in the area and we have been helping thousands of homeowners tear down their properties the right way. We coordinate the entire project from start to finish, including but not limited to all the necessary documentation, inspections, and city permitting. Trust our team of mobile home demolition experts to work on your project in a professional manner. We at Omni Demolition never fail to provide quality and hassle-free demolition services.
Unparalleled Cleveland, OH Home Demolition Solutions You Can Afford
We make sure to create a comprehensive plan before we start a house demolition. We have been in this line of work for many years, making us your best option when you need help with demolition. With the help of our residential demolition contractors, you can tear down any type or size of building. Compared to other residential demolition companies, we charge very reasonable fees, and we can work on projects of any scale. We will consult with you even when dealing with a simple mobile home demolition project, so you can have peace of mind knowing that you are in the right hands.
Making a Decision After You Get a Cleveland, OH Home Demolition Cost Estimate
A house demolition in Cleveland, OH can cost a substantial amount of money to properly execute. We determine the final cost by considering various factors, including the severity of the building's condition, the size of the property, and your location. Make sure that when you check the various home demolition companies in the city, you also look at the whole package completely. We at Omni Demolition will assign seasoned residential demolition contractors to work on your project. We can assign a mobile home demolition specialist to check your property today. The size of the building is also taken into consideration. In general, the size of the project, the type of demolition, plus the magnitude of the property damage determines the total cost of the service. Other factors considered are the availability of equipment and the size of the team you need.
Residential Demolition Permits Needed in Cleveland, OH
Any house demolition project in Cleveland, OH requires licenses and permits before it can start. Documentation and special inspections even for a mobile home demolition might be needed depending on the state you are in. A permit needs to be acquired if there is no existing building permit. The cost of this document varies but it is usually around fifty to sixty dollars. Avoid incurring penalties and delaying your project by applying for the necessary permit.Preparing for a Residential Demolition in Cleveland, OHAny big or small home demolition job in Cleveland, OH begins with preparation. If water, electricity, or gas lines are not cleared during the demolition of a structure, a collapse could result in a dangerous explosion or exposure to chemicals. These dangerous situations can put every person at a demolition site at risk for serious injury. Once your permit application is granted, the next step is to prep your house for demolition. Our trustworthy demolition company is experienced in all phases of the demolition process and we believe that this must be followed even for a simple mobile home demolition. These types of projects mostly require permits and you can count on us to take care of this for you.
Reasons for a Residential Demolition in Cleveland, OH
There are many scenarios in which this kind of assistance is beneficial and even necessary. A new structure may be needed after an earthquake, fire or flood, or some other incident that damaged the house or building severely. It won't take long for our team to tear down the weak parts of your home. If you own a home that you want to make major changes to, you need the help of our residential demolition team in Cleveland, OH. We will only need to study the place to know where we should start first.
Exceptional Quality Residential Demolition Equipment for Your Cleveland, OH House
The quality of the services provided by residential demolition contractors depends on two things-the experience of the team and the quality of their equipment. At our company, all our home demolition professionals are equipped to work on any size of residential building. For simple home demolition assignment, sledgehammers and chainsaws, etc. could be enough, but for larger demolition jobs, cranes, bulldozers, etc. may be needed. Rest assured that we can tear down the defective structure and remove every piece of steel and crushed cement within our promised day of completion.
Contact us Today and Book a Cleveland, Ohio Home Demolition
It is definitely not easy to tear down walls and pull out foundation beams. We have offered demolition services to the people of Cleveland, Ohio for over many years, offering high-end quality services. We promise to complete your request within a short span of time. If you're in need of an expert residential demolition contractor in Cleveland, OH to assist you with your next project, don't hesitate to give us a call at
(855) 885-3366
. Our company has proudly served many residential, commercial and industrial property owners in Cleveland, OH, and we're proud to assist you as well. Call us at
(855) 885-3366
for a full cost estimate.
Zip Code Areas We Service in Cleveland
44135, 44128, 44120, 44119, 44113, 44112, 44111, 44110, 44115, 44114, 44144, 44127, 44104, 44105, 44106, 44101, 44102, 44103, 44108, 44109, 44181, 44188, 44190, 44191, 44192, 44193, 44194, 44195, 44197, 44198, 44199