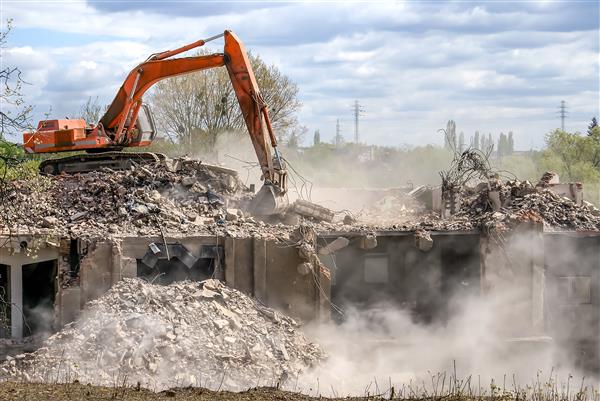 Trust Only the Authority in the Concrete Removal Business in Edmond, OK
When bigshot companies in Edmond, OK make you feel intimidated as you seek advice on demolition procedures, concrete removal and other related services, our clients enjoy professional and friendly consultation for free. Here at Omni Demolition, our concrete slab removal services are completed all the while making you feel like a VIP. We are the most knowledgeable when it comes to cost-effective concrete hauling and recycling. Whether you wish to remodel a small section of your house or rebuild the entire structure, you can count on us to provide a good service.
Special Equipment Used for Concrete Removal in Edmond, OK
Most fly-by-night companies do not invest in good equipment or worse, they utilize faulty machinery which can cause delays and substandard outcomes. Our contractors at Omni Demolition use a wide range of equipment when we perform our services such as concrete slab removal. Hydraulic concrete crushers, also known as smashers, are used for efficient and methodical concrete demolition and can turn concrete structures into manageable debris, making concrete hauling an easy process. We are equipped with all the appropriate expertise, machinery and tools to execute your demolition projects such as removing concrete driveway, concrete slab demolition, or concrete wall demolition. It pays to work with professionals, most especially when you don't know what to do. Pavement breakers are also used for heavy demolition jobs. In primary demolition, equipment and tools such as the wrecking ball, hammers and crushers demolish concrete into big sized rubble. Despite the power it possesses, it creates little noise and dust making it perfect for demolition work in inhabited areas.
Here to Help with Your Concrete Demolition Needs in Edmond, OK
Concrete demolition in Edmond, OK is necessary when you need to bring down an old structure in order to erect a new one. It not only allows you to erect new buildings but it also gets rid of aging, dilapidated and unsafe structures. No matter the size of your demolition and concrete hauling project, we are well able to handle it for you. Concrete demolition is also important in removing unsafe structures from a property. Apart from wall or ceiling cracks, you will need the help of a professional if you have problems with leaky water pipes or defective house wirings, most especially if they are buried underneath the concrete.
No Need to Stress Over Concrete Removal Permits and Requirements in Edmond, OK
You can't proceed with your concrete removal or concrete hauling project without securing a permit in Edmond, OK. Some concrete removal companies may charge extra for processing it on your behalf but not us—we are here to make the permit process as simple and effortless as possible. For one, you will need a permit. The purpose of a permit is to ensure that the governing body is able to monitor the work being done in its jurisdiction for the safety of all involved. We will make sure that you have all the permits you need to ensure an uninterrupted execution of your demolition project. Your main goal should be to minimize the risks of delaying the project by preparing the necessary documents beforehand.
How Much Should I Pay for a Concrete Demolition Project in Edmond, OK?
There are a number of factors that contribute to the cost of concrete removal with the biggest contributor being the total area of concrete to be removed. There are a number of factors that contribute to the overall cost of your concrete demolition project such as the type of concrete used. We vow to conduct clean and honest business because we give more value to a lifetime relationship with our clients. The good news is that we have a competent team in Edmond, OK that is able to customize solutions even for small projects such as patio demolition and patio removal for you at an affordable cost. We provide detailed and accurate estimates that are easy to understand. Another cost to factor in is demolition permits. Depending on where you are situated and size of the project, permits and associated costs can cost you around $200 or as high as $10,000 in some cases. Our quote covers the entire concrete demolition process.
How Long Can I expect a Concrete Demolition Project to Take in Edmond, OK?
Time taken to complete a concrete demolition project varies. We understand the importance of honoring our commitments and we deliver our concrete slab removal and concrete hauling services in Edmond, OK with no excuses. This all depends on a number of things such as the size of the concrete structure. As soon as we assess the situation, we can draft a plan and present it to you for approval. We do not give our clients overly ambitious timelines. The length of the project will mainly be affected by the size and current condition of the structure that needs to be demolished.
Recycling Concrete in Edmond, OK?
After a concrete demolition and removal project is completed, tons of concrete wastes are collected. It is a cost-saving measure on your end. Our concrete demolition contractors can use recycled concrete as a cheaper alternative of aggregate as opposed to newly mined aggregate. You can get paid by companies who reuse concrete in major constructions such as road paving and you also help minimize damage to the environment through responsible recycling – it's a win-win situation! We can guide you through the process if you choose to have your concrete waste recycled.
Hire a Premium Concrete Demolition Company in Edmond, Oklahoma
We offer various concrete demolition services. Our expert contractors at Omni Demolition have unparalleled skills and experience in the concrete slab removal business. Our concrete removal service is compliant with all safety policies and requirements of the state. We are capable of demolishing any type of concrete structure or building with precision. With our experts, you won't worry about accidents, hidden costs, and other concerns. Book a concrete removal service today!
Zip Code Areas We Service in Edmond
73012, 73013, 73007, 73003, 73034, 73083