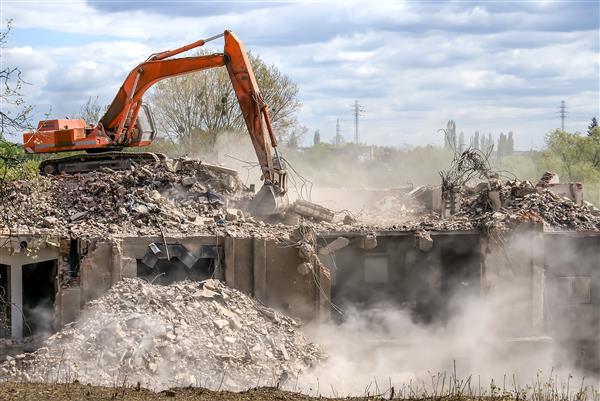 Trust Only the Authority in the Concrete Removal Business in Lawton, OK
Concrete removal is an essential part of any construction project in Lawton, OK. Here at Omni Demolition, our concrete slab removal services are completed all the while making you feel like a VIP. Our team of seasoned experts accomplishes everything from concrete hauling to onsite cleaning, with outstanding workmanship and dedication that no specialized training can teach. Without concrete removal, there wouldn't be space to erect new structures or to rebuild them.
Tools and Equipment We Use to Perform Our Concrete Removal Service in Lawton, OK
When looking for a contractor to hire, do not get drawn in by bargain prices. Instead, double check the company's performance and the condition of their equipment. We have access to pallet jackets, hoists, bobcats and other equipment so we can ensure the timely delivery of our Lawton, OK concrete slab removal services. We give importance to our client's time which is why we ensure equipment and material readiness to avoid any delays to your projects. We specialize in removing concrete driveway as well as concrete wall demolition. Our team ensures finishing within the projected time frame and keeping our clients updated on the current status of our operations. Book with us for stress-free services and operations that finish on time.
When Should I Book a Concrete Demolition Service in Lawton, OK?
Concrete removal is an essential part of making your home, building or structure beautiful. Whether the project requires breaking asphalt or concrete in residential, commercial or industrial spaces, we have the equipment and service crew ready to do the job. We have all the equipment needed to perform quality concrete hauling or demolition. We have experts in Lawton, OK who are well-equipped to help you knock down any part of your house. Regardless of the size, we will see to it that we finish the project on time. Do not just settle for a renovation job where they will only apply another layer of material on the affected structure, hiding the weakening structure below.
Getting Concrete Removal Permits in Lawton, OK – We Got That Covered
When it comes to conducting a concrete removal or concrete hauling project, existing policies and permit requirements may vary from state to state. Some of the concrete structures requiring permits include seawalls and sidewalks, among others. Unlike other concrete removal companies, Omni Demolition will take care of all the permit preparations for you. Often, the permits are necessary to allow governing bodies to check on how the demolition process is being conducted. Planning to have a concrete demolition job done in your property? Depending on the nature of your project you may or may not need one. We take care of everything, including necessary permits for deconstructing, to properly clearing out the construction site and hauling all wastes to be recycled. All you have to do is let us know what you need done and relax—we are here to do all the legwork for you.
Spending Wisely on Concrete Demolition Costs in Lawton, OK
The first step is to determine how much the job will cost you. In addition to permit application fees in Lawton, OK, there is no accurate range of expenses that we can give outright as every project requirement is unique. We are not after a one-time money-making scheme. Instead we take care of our clients to maintain a healthy and harmonious professional relationship that will last for years. It doesn't matter if you need a patio demolition, concrete hauling, patio removal or other services. For a budget of $10,000 you will be able to complete the removal of foundation and reinforced concrete. Working with us means you get straightforward information especially with something as crucial as costs. Manpower, permits and type of equipment used also determine the cost of the project.
Expected Duration of a Concrete Demolition in Lawton, OK
We pride ourselves in having a quick an efficient turn around time in our concrete demolition projects. It can take days, weeks or even months to complete a concrete slab removal and concrete hauling project in Lawton, OK. The removal process requires the use of an arsenal of state-of-the-art equipment, skilled experts and adequate manpower. Time taken to complete a given project depends on the size of the concrete slab removal and concrete hauling project. Your budget also determines the time it will take to complete your project.
How Can I Reuse the Concrete Waste Generated from My Project in Lawton, OK?
Whether you are an environmental advocate or you just want to make some extra money, recycling wastes from a completed concrete demolition and removal project is the way to go. Managing reusable resources is an effective way of minimizing the growing amount of wastes that households, commercial establishments and industrial buildings produce. The process of recycling done by our concrete demolition contractors includes salvaging rubble from demolition, crushing it, pre-sizing and sorting. We repurpose the material so they can be used to create asphalt pavement and other similar structures. We can guide you through the process if you choose to have your concrete waste recycled.
Your Company of Choice for All Your Concrete Demolition Needs in Lawton, Oklahoma
By choosing our experts, you can be completely sure that you will receive smooth and exceptional concrete demolition services as compared to hiring other companies. At Omni Demolition, your Concrete slab removal project needs the exceptional expertise and experience that we bring to the table in Lawton, OK. We guarantee to provide superior quality concrete slab removal, site cleanup and other services no matter where you live in the city. We use various techniques when we provide our services to ensure that we finish the project within the targeted time frame. Book a concrete removal service today!
Zip Code Areas We Service in Lawton
73503, 73507, 73501, 73505, 73502, 73506