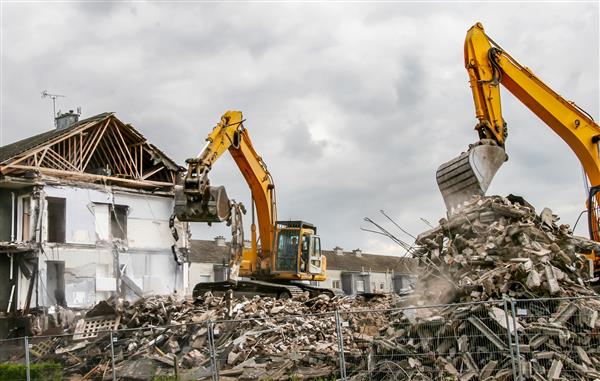 Omni Demolition: A Residential House Demolition Company You Can Count On
Hiring a Norman, OK house demolition team to help you knock down your home is the most ideal option if you want to minimize the risk of damaging other parts of your property and getting injured from equipment misuse. There are different types of demolition processes. Each process calls for skill and precision, which is why there are reliable house demolition companies that specialize in these construction phases. Don't let the damage worsen and affect the rest of your house. We don't offer excuses; we just offer professional and timely demolition services guaranteed to fit your budget. Whether you call us for a full-scale mansion demolition or an easy mobile home demolition, rest assured you will receive our best services. While the idea of having a new house is exciting and fascinating, some individuals are saddened by the act of demolishing the home that kept a lot of their memories.
How Our Home Demolition Service in Norman, OK Works
We make sure to create a comprehensive plan before we start a house demolition. We have been in this line of work for many years, making us your best option when you need help with demolition. The scale and method of all demolition strategies are dependent on the budget available, the size of the project, and any external factors that might be in play-for instance, the need to demolish a structure without causing any damage to the nearby structure. Let our residential demolition contractors work on each necessary part of your house. As one of the leading residential demolition companies in the city, you can count on us to provide reasonably priced home, condo, townhouse or mobile home demolition services. You don't have to worry about renting out expensive demolition equipment or tearing down your property one piece at a time.
What to Consider After Receiving a Norman, OK Home Demolition Cost Estimate
House demolition costs in Norman, OK are bound by some variables that determine the total expenses during a demolition project. You may be able to recoup most of the demolition costs by recycling the structural elements and contents of the demolition itself, whether by tax-deductible donations or through sales. By examining the rates, you can check which among the different home demolition companies in the area offers the most competitive services. At Omni Demolition, our residential demolition contractors offer the most affordable mobile home demolition rates coupled with unrivalled demolition services. With our detailed price quotation, we aim to help you decide which team to hire. Trust us at Omni Demolition to handle your project seriously.
Residential Demolition Permits to Acquire in Norman, OK
Every type of building construction, house demolition or even mobile home demolition requires a permit. The amount of demolition permits needed varies from state to state and involve nominal fees. Without a permit, you may have to pay for heavy fines imposed by the government, and you certainly would not want that to happen. We will brief you about everything you need to ensure a smooth demolition project.Other Preparations Needed Before Beginning a Norman, OK Residential DemolitionOn the day of the demolition, be sure that no one except for the contractors have access to your property, to avoid delays and accidents during the duration of the Norman, OK mobile home demolition or home demolition project. Start by clearing the area and removing all your furniture and valuables. The project may be put to a halt if the authorities spot any harmful chemicals in the property. Additionally, you will need to double check all the appliances and equipment. Make sure you remove any personal items or important home equipment. There shouldn't be anything left inside the house during the demolition job to avoid interruptions. You must also see to it that all your personal items are transported to another place. We can smoothly deliver the services you need on the schedule you want.
Why Do I Need a Norman, OK Residential Demolition Service?
The strength of various structures fades over time. Sometimes, a building degrades faster when it is exposed to extreme temperature changes, pest infestation, water damage or fire. Demolishing the house or parts of it is your best option, most especially if the property shows risks of caving in. Weigh in your options. Focus on the safety of your loved ones, most especially if you are dealing with weak foundation or walls. When structural safety is a concern, tearing down and starting from scratch is often the best initial step to making enhancements and upgrades to your estate. This calls for residential demolition work to be done in Norman, OK. Irrespective of the renovation you are about to make to your house, you need to hire the right company for the job if it involves taking down a portion of your home.
Gear Used for Residential Demolition in Norman, OK
Omni Demolition residential demolition contractors have always provided safe and reliable home demolition services in Norman, OK. A demolition contractor needs several kinds of special tools and equipment to perform their job properly, and a skilled demolition contractor should be able to competently operate all of the necessary equipment. We use a long list of equipment, including trucks, excavators and loaders. Rest assured that we can tear down the defective structure and remove every piece of steel and crushed cement within our promised day of completion.
Call for a Quick and Seamless Home Demolition in Norman, Oklahoma
Never worry about paying expensive equipment rental fees or dealing with accidents due to negligence. Whatever your demolition requirements are, we can give the best demolition contractor experience. Our crew is always available to help you. Our Norman, Oklahoma residential demolition contractors are equipped to handle any size of house. When you choose us for your removal and demolition needs, you can expect to receive a definite timeline and a full-detailed price quotation. Contact us today at
(855) 885-3366
so we can get started on your demolition project!
Zip Code Areas We Service in Norman
73019, 73026, 73072, 73071, 74857, 73069, 73068, 73070