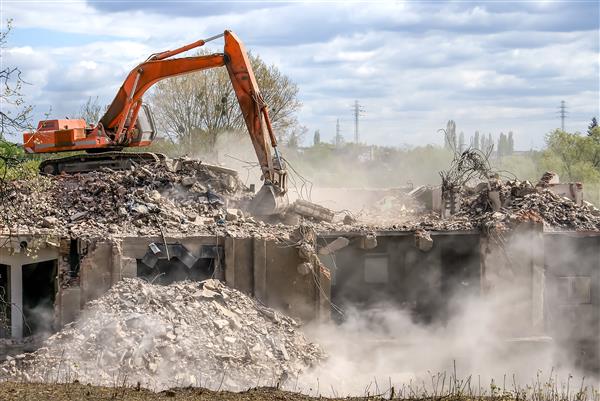 The Leading Company for All Your Concrete Removal Needs in Hillsboro, OR
We are experts in providing concrete removal in Hillsboro, OR. If you have a desire to transform your old home into a new one, then we will no doubt make it happen here at Omni Demolition with our concrete slab removal and concrete hauling services. We have spent years perfecting our services.
Tools and Equipment We Use to Perform Our Concrete Removal Service in Hillsboro, OR
You no longer need to worry about paying high equipment rental fees when you hire our team in Hillsboro, OR. At Omni Demolition, specialized heavy machinery and equipment are required for concrete slab removal. If you need assistance in removing concrete driveway, concrete slab demolition, or concrete wall demolition, we are the company most competent for the job. Through controlled and precise actions, chipping hammers are used to chip away specific areas. They also reduce concrete into recyclable pieces.
When Do You Need Concrete Demolition Services in Hillsboro, OR?
Concrete is designed to last a very long time if it is installed properly. However, like every other type of material, its structure will also degrade over time. Temporary resurfacing cracked surfaces or patching up crumbling foundations will only cause repeated spending, more hassles and even threaten the safety of the building occupants. Signing with us means you get professional demo as well as concrete hauling that is beyond the required standards. While a renovation job might be a less expensive option, we still recommend hiring a demolition specialist, as a renovation may be superficially covering up critical signs of an unsafe structure. All of the technicians follow safety procedures to ensure the project flows smoothly without any delays.
What Documents Do I Need to Secure Before a Concrete Removal Service in Hillsboro, OR?
A concrete removal or concrete hauling project in Hillsboro, OR, requires that you obtain a number of permits and approvals from the local council. Unlike other concrete removal companies, we at Omni Demolition will advise you on everything that is required in your concrete removal project-from how to get the necessary permits and the cost of the permits to the cost of the entire project and the time it will take to complete it. If you have just moved to Hillsboro, OR or if this is your first ever attempt in handling a major renovation or structural change, chances are you do not know which requirements you need and how you can get the necessary permits completed. You must submit your application together with all the required documents. Some of the required paperwork include clearances from your electric, water and gas companies. The good news is that at Omni Demolition, we will take care of everything.
How Much Does a Hillsboro, OR Concrete Demolition Cost?
For starters, there are demolition permits which can cost you a lot depending on the location of the project. Permits can cost an average of $200 to a few thousand dollars. Final costs depend on factors such as disposal fees(some companies charge this separately). Whether you have a patio demolition or a patio removal project, you can be sure that we are well equipped to handle any demolition project you may have. We provide detailed and accurate estimates that are easy to understand. We can assure you that we have the best priced packages in the area. The demolition project itself will usually cost you an estimated $1000 to $15,000+, depending on the size and situation.
How Long is a Concrete Demolition Service in Hillsboro, OR?
With the right equipment, tools and skill sets, a concrete demolition team can finish a service within a short time frame. With that in mind, your concrete slab removal and concrete hauling projects in Hillsboro, OR might take a couple of days, weeks or even months to complete. Our experts ensure that operations are done continuously and without incident. Time taken to complete a given project depends on the size of the concrete slab removal and concrete hauling project. Your budget also determines the time it will take to complete your project. The length of the project will mainly be affected by the size and current condition of the structure that needs to be demolished.
How Can I Reuse the Concrete Waste Generated from My Project in Hillsboro, OR?
It is not only an environmentally friendly process of utilizing concrete rubble but it is also a cost cutting measure for your concrete demolition and removal project. You can crush them up and use them as a base layer for your asphalt pavement. By recycling used up concrete, you can minimize waste and save money on your side projects. Our concrete demolition contractors facilitate the hauling of reusable concrete to ensure an organized clearing of the site. We encourage recycling of concrete debris. It reduces disposal to the city's landfills. Recycled concrete has been gaining popularity among the community of demolition and construction experts in the city.
Your Company of Choice for All Your Concrete Demolition Needs in Hillsboro, Oregon
Our team is only a call away when our clients need urgent concrete demolition services. Whether you require a simple concrete slab removal or a major interstate pavement, our team of experts is the most knowledgeable for the job. We will ensure that concrete slab removal and other types of concrete removal service are done according to your specifications. You can rest assured that we will deliver nothing less than exceptional results. We are also an environmentally friendly company with a focus on recycling reusable materials after a concrete demolition undertaking.
Zip Code Areas We Service in Hillsboro
97006, 97123, 97124, 97129