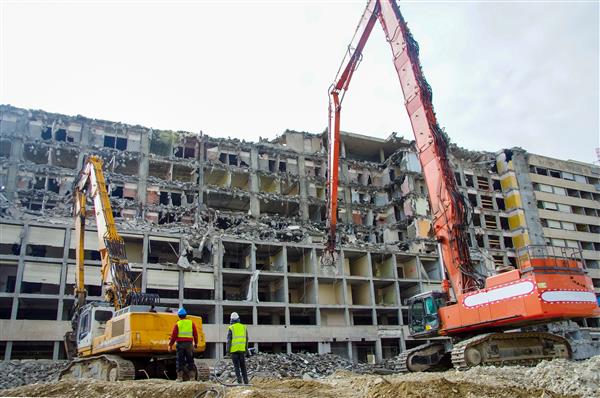 Demolition Contractors Erie, PA: Your Trusted Demolition Company
Having been in the demolition business for years, Omni Demolition has built an unshakable reputation as the leading demolition company in Erie, PA. Just like any other major construction or remodeling plan, having a property demolished requires the skills of professionals, along with the use of appropriate equipment. You never have to worry about timelines. Our demolition experts employ the safest and most efficient ways of wrecking and demolishing old homes, dilapidated buildings and any other structure you may want demolished. The primary projects we undertake are demolition and deconstruction.
Do You Need Demolition or Deconstruction in Erie, PA?
Demolition is the process of tearing down or pulling down buildings and structures by a demolition expert. Some projects require complete levelling while others simply need specific parts removed to be replaced. For every client call, we have a demolition expert equipped to do the job. Deconstruction differs from demolition in that, it involves tearing apart a building or a home in a manner that salvages materials. If you are going to rebuild or remodel an existing building and you wish to maintain some segments, a deconstruction is recommended.
Our Commitment to Your Demolition Project in Erie, PA
Our demolition experts guarantee to provide you with professional demolition services. Some demolition contractors may offer you an attractive contract with a very cheap price tag, but are you sure you are getting a steal? Hiring inexperienced contractors results in lousy jobs and may even cause delays on your targeted completion date. Our demolition contractor will handle your needs on a one-on-one level and ensure that your project is given the undivided attention it deserves.
We Offer a Wide Array of Professional Demolition Services in Erie, PA
Industrial Demolition services: Complexity and size do not intimidate us. We have successfully torn down enormous structures such as manufacturing plants, factories, warehouses and even utility installations.
Commercial Demolition services: Being a world-class demo company, you can rest easy knowing that your property is in safe and capable hands. We have the capability to bring down commercial structures such as warehouses, airplane hangars, shopping malls, garages, office buildings and sports facilities among others.
Concrete Demolition and Recycling Services: Once we have demolished your concrete structure, our demolition experts will crush and re-use the salvaged concrete as a base course for gravel.
Scrap Metal Demolition Services: Allow our demo company to take down your metal structure. Our experts will downsize and process scrap metal for the purpose of recycling or reusing.
We are the Leading Demolition Company in Erie, PA
Our team of demolition experts and demolition contractors will work tirelessly and dedicatedly to ensure that your project is completed on time. Our demolition experts are highly experienced in all types demolition services be they in a remote or challenging environment. As an established demolition company in all of Erie, PA, we see to it that our services, equipment and workmanship are always above customer satisfaction. Our demo company offers packages that are reasonably priced as well due to the fact that we have mastered an efficient way of demolition that cuts unnecessary expenses.
Main Methods Used in Demolition and Deconstruction in Erie, PA
Explosive Demolition: If you want to demolish a big structure, you have to bring out the big guns. Our demolition experts in Erie, PA use explosive demolition for larger buildings. It is as effective as it is safe.
Non-Explosive Demolition: Although somehow rare, our local demolition contractors use a wrecking ball to tear down a structure. Compared to using explosives, this method costs less; however, there is limited control on the amount of damage each swing can make.
Selective Demolition: This process entails tearing down a part of the structure. Efficiency is maximized by recycling reusable material thus reducing waste and lessening the impact on the environment. As the leading demo contractors, we have set standards that other building demolition companies have a hard time measuring up to.
Well-maintained Equipment Utilized for Demolition in Erie, PA
Hydraulic Breakers – Our demo company uses a percussion hammer attached to an excavator. This powerful equipment is used for bringing down concrete structures.
Wrecking balls – Huge metal balls suspended on a metal crane and swung into the building intended to be collapsed either once or as many as needed.
Hydraulic shears and rock breakers – Used by specialists to cut through various materials such as concrete, metal, wood, and steel.
Bulldozers – Commonly seen in construction sites, bulldozers are not only good for flattening surfaces but also for moving and transporting waste materials. It can also be maneuvered to knock down weak walls and structures.
Dumpers – A necessity in every demolition business, dumpers are used to haul waste materials off the demolition site. It ensures the pre-construction area is free from any trash or debris brought about by the demolition.
Cranes – Demolition contractors use a crane to attach a wrecking ball. A demo company can also use a crane for moving materials on the different levels of the structure or building. Crawler Loaders – They are efficient in moving heavy rubble and waste from the demolition site. They can also be used to demolish heavy structures as well as clear the ground.
Call us Today for Demolition Services in Erie, Pennsylvania
Our demolition company in Erie, Pennsylvania is the best one in town. There's a reason why we continue to be highly recommended by building contractors and the rest of our clientele. Find out why we have remained the #1 demolition company for years as you experience top of the line customer service. As the top Erie deconstruction and demolition company, no job is ever too big or too small for us. Call us at
(855) 885-3366
for a free consultation today.
Zip Code Areas We Service in Erie
16546, 16510, 16511, 16508, 16507, 16503, 16501, 16504, 16502, 16512, 16514, 16515, 16522, 16530, 16531, 16534, 16538, 16541, 16544, 16550, 16553, 16565