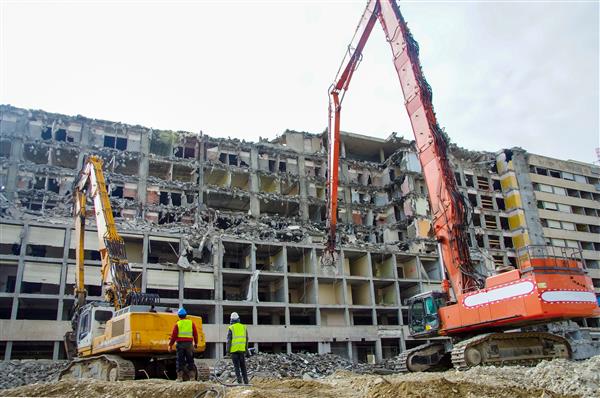 Demolition Contractors Warwick, RI: Your Go-To Demolition Company
Having been in the demolition business for years, Omni Demolition has built an unshakable reputation as the leading demolition company in Warwick, RI. We set the standards in world-class demolition services. We do not sugar-coat our services and we often deliver more than promised. We have a team of seasoned demolition experts ready to act on any project. We have the right equipment for any kind of demolition work.
Distinction Between Demolition and Deconstruction in Warwick, RI
Demolition is the process of tearing down or pulling down buildings and structures by a demolition expert. A demolition expert typically recommends a deconstruction before the actual demolition to be rid of any potentially dangerous materials in the building or to salvage items that can still be re-used in the future. Knowing the accurate requirements for your project is important to steering it into the right direction. It is usually done when one wants to remodel or improve a part of the building.
Economical Services for Your Demolition Project in Warwick, RI
Our demolition experts have a solid record of work experience aside from continually receiving refresher trainings every now and then to ensure that they are well updated with any enhancements or changes in technology and procedural protocol. Compared to other demolition contractors who are highly profit-driven, we are committed to giving back to the community through outstanding workmanship and transparent transactions. Being in the business for years, our experience and continued trainings ensure that you work with only the most able specialists in the industry. You will not find another demolition contractor in all of Warwick, RI who will help you save and spend wisely. From the start to the finish of your project, we are focused on your absolute satisfaction. From the start to the finish of your project, we are focused on your absolute satisfaction.
We Offer Demolition Services in Warwick, RI Fit for Your Needs
Industrial Demolition Services: This requires application of specialized techniques by highly trained professionals. We will safely and effectively bring down industrial structures such as factories, mills and manufacturing plants among others.
Commercial Demolition Services: This type of demolition requires tact in working around obstacles. Our demo company is highly skilled in demolishing commercial structures such as hotels, retail spaces, office buildings, warehouses, bridges and airplane hangars among others.
Concrete Demolition and Recycling Services: This type of demolition is environmentally friendly and saves on cost. Rubble from concrete demolition is reused by our demolition experts to make gravel or as one of the materials for making new concrete.
Scrap Metal Demolition Services: Our demo company will save you time and money by demolishing your metal structure, putting a recovery plan in place and selling the salvaged scrap metal for you.
A class Above the Rest in Warwick, RI
Our demolition experts and demolition contractors offer a professional and innovative approach to all your demolition projects. Our demolition experts and demolition contractors have an established performance record of completing demolition jobs in the right way, on budget and on time. As an established demolition company in all of Warwick, RI, we see to it that our services, equipment and workmanship are always above customer satisfaction. That is why we are recognized as the leading demo company.
Methods Used for Demolition and Deconstruction in Warwick, RI
Explosive Demolition: Our qualified demolition experts have years of experience in explosive demolition projects. Using our expertise and meticulous planning, we will safely execute your project with minimal disruption to your surroundings.
Non-Explosive Demolition: Certain buildings are not recommended for use of explosives, to which local demolition contractors opt for wrecking balls. Made of steel, a wrecking ball is suspended and swung into the building repeatedly causing it to topple or crumble down.
Selective Demolition: This type of demolition is done when you want to remodel or renovate a building. It can either be exterior or interior by nature. Exterior demolition involves tearing down a part of the building with a purpose of increasing it in size or making it smaller. Interior demolition focuses mostly on taking apart spaces for remodeling or renovation.
Utilizing the Proper Equipment for Demolition in Warwick, RI
Hydraulic Breakers-They turn excavators into powerful and effective demolition machines. Our demo company uses hydraulic breakers to break rocks, concrete and other hard materials.
Wrecking Balls – A wrecking ball is a heavy steel ball that is usually suspended from a crane. It is swung to the targeted structure or building in order to take it down.
Hydraulic Shears/ Rock breakers – They are fitted to an excavator and have the ability to cut through concrete, metal, rocks and wood.
Bulldozers – They are used to push demolition debris. They are also used to tear down smaller structures, clear the property of rubble or pile the debris.
Dumpers – A necessity in every demolition business, dumpers are used to haul waste materials off the demolition site. It ensures the pre-construction area is free from any trash or debris brought about by the demolition.
Cranes – Demolition companies use cranes to move materials from different levels of a structure. A demo company will also use this machinery together with a steel ball. For a wrecking ball to work, it has to be attached to the crane.
Crawler Loaders – Mostly used for excavating, this equipment is also utilized for its lifting and loading capabilities.
Go Ahead and Contact Us for All Your Demolition Needs in Warwick, Rhode Island
We are your dependable and trusted demolition company in Warwick, Rhode Island. There's a reason why we continue to be highly recommended by building contractors and the rest of our clientele. Our demolition company is the Warwick demolition and deconstruction company you have been looking for. Our Warwick deconstruction and demolition company is licensed and highly reputable. Contact us at
(855) 885-3366
.
Zip Code Areas We Service in Warwick
02818, 02886, 02889, 02888, 02887