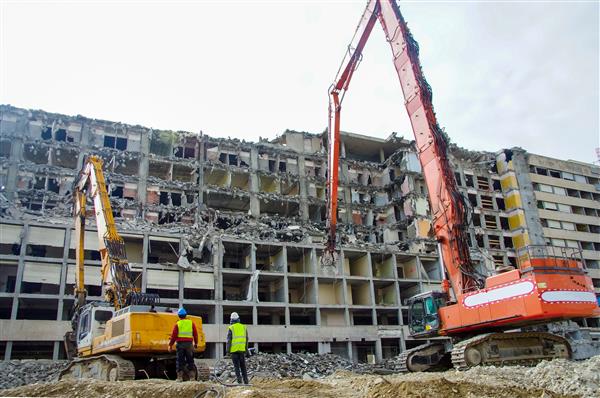 Recognizing an Outstanding Demolition Company from Inexperienced Demolition Contractors Charleston, SC
Having been in the demolition business for years, Omni Demolition has built an unshakable reputation as the leading demolition company in Charleston, SC. If you need to hire a professional demolition contractor in Charleston, SC without spending a ridiculous amount of money, you have come to the right place. Unlike other service providers, our demolition experts are all highly skilled and experienced in this business. The primary projects we undertake are demolition and deconstruction.
How is Demolition Different from Deconstruction in Charleston, SC?
Demolition is aimed at basically bringing down a structure. Deconstruction is when a demolition expert carefully dismantles or takes down a structure with the aim of reusing or recycling the materials. There are two categories of deconstruction, namely soft strip or selective deconstruction and whole-house deconstruction. The materials can be reused in rebuilding or reconstruction.
Why Sign Us for Your Demolition Project in Charleston, SC
Our demolition experts will meticulously execute your demolition project in a timely and safe manner. Our demolition contractor is at your service to fulfill all your needs. One of our biggest hallmarks is giving you undivided personal attention. Do not be tricked by demolition contractors who cannot walk the talk.
Take Advantage of Our Demolition Services in Charleston, SC
Industrial Demolition services: We are the authority in collapsing massive structures like bridges, factories, industrial buildings and plants.
Commercial Demolition Services: Despite commercial buildings being located in compact spaces, our demo company is able to bring down your building or structure in a safe way with minimal damage to the surrounding area. Using modernized equipment, our team of professionals have pulled down warehouses, grocery stores, shops, airplane hangars among others.
Concrete Demolition and Recycling Services: Once we have demolished your concrete structure, our demolition experts will crush and re-use the salvaged concrete as a base course for gravel.
Scrap Metal Demolition Services: Our demo company will expertly demolish your scrap metal projects. Our crew will downsize as well as dismantle the steel structures then process, bundle and recycle the materials.
What Distinguishes Us from Other Demolition Companies in Charleston, SC
Our demolition company in Charleston, SC offers a broad spectrum of solutions which enables us to deliver prompt and successful results. Our demolition experts are highly experienced in all types demolition services be they in a remote or challenging environment. We are a demolition company that takes our work seriously and consistently conduct regularly equipment maintenance, which ensures efficient and quick clearing operations. Our demo company appreciates all our clients and we demonstrate this by endeavoring to give you nothing but the very best.
Our Methods for Demolition and Deconstruction in Charleston, SC
Explosive Demolition: Done by licensed demolition experts in Charleston, SC, this method may sound dangerous and it could be when proper procedures are not followed. After explosives are strategically laid out, a switch is all it takes to completely take down a building.
Non-Explosive Demolition: Our local demolition contractors will use a wrecking ball to bring down your structure. This method is cheaper than explosive demolition.
Selective Demolition: A more complex method compared to using explosives or wrecking balls, selective demolition requires demo contractors to remove certain parts of a structure while keeping the rest of it in place. We have mastered this technique and take pride in being skilled in doing what other building demolition companies cannot.
Common Equipment Used for Demolition in Charleston, SC
Hydraulic breakers-Heavy-duty excavators are used at our demo company to aid in breaking or crushing concrete segments of the building. Be wary of contractors who have poorly maintained equipment such as hydraulic breakers because this will surely cause delays in your timeline.
Wrecking balls – Used mainly for non-explosive demos, these heavy impacting balls are helpful in progressively weakening a building until all that's left are frameworks that are then easier to tear down.
Hydraulic Shears and Rock Breakers – They are able to demolish steel structures. Hydraulic shears are also used for recycling or secondary breaking. Rock Breakers are robust pounding hammers that are usually fitted to excavators. They are used to demolish rocks, as the name suggests or concrete.
Bulldozers – These can be utilized to apply pressure on a structure and weaken it as well as to haul waste and other materials onsite.
Dumpers – Essential in clearing a demolition site, our dumpers make it easier and quicker to take out unwanted debris and materials from the site to be properly disposed of. Our demolition business has invested in quality dumpers to ensure a speedy clean-up of the property and that your project timeline is met.
Cranes – Demolition contractors utilize a crane to ease the burden of moving heavy materials or equipment back and forth on a construction site. Our demo company also uses cranes to suspend wrecking balls for non-explosive demos.
Crawler Loaders – Particularly useful in tight spaces, crawler loaders are versatile vehicles that function as a flexible loading and hauling machine. It can also be used for digging the ground.
Call Us for Outstanding Demolition Services in Charleston, South Carolina
Avoid dealing with deconstruction hassles and overpriced bills when you sign with our demolition company in Charleston, South Carolina. With us you are guaranteed to have a safe and worry-free operation to be completed by field experts. You're in great hands with our Charleston deconstruction and demolition company. Get in touch with the leading Charleston deconstruction and demolition company. Call us at
(855) 885-3366
for a free consultation today.
Zip Code Areas We Service in Charleston
29414, 29424, 29455, 29407, 29401, 29403, 29409, 29492, 29412, 29402, 29413, 29415, 29416, 29417, 29422, 29425, 29457