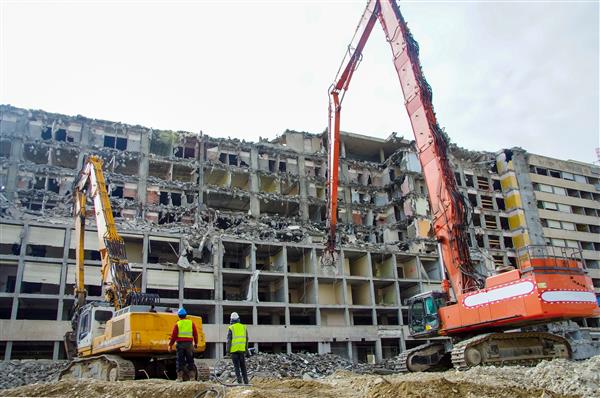 Demolition Contractors in Greenville, SC: Your Trusted Demolition Company
Omni Demolition has paved the way for many construction services in the city through the exemplary workmanship and warm customer service of our demolition contractors. Just like any other major construction or remodeling plan, having a property demolished requires the skills of professionals, along with the use of appropriate equipment. Our demolition contractor is on standby at all times ready to cater to your needs. If you need a structure or building taken down, our demolition experts will use the fastest and most economical method of demolition. You can rest assured that our affordable services are top-notch. To achieve this, our demolition experts apply strong verbal, communication, analytical, managerial, decision-making and time-management skills.
Better Understanding of Demolition and Deconstruction in Greenville, SC
Knowing the difference between a demolition and a deconstruction will save you from further confusion. Some projects require complete levelling while others simply need specific parts removed to be replaced. For every client call, we have a demolition expert equipped to do the job. A deconstruction may be implemented on its own or as a pre-demolition procedure. There are two types of deconstruction: selective and whole-house.
Why Sign Us for Your Demolition Project in Greenville, SC
We know that before you consider hiring us, you will want to understand how the job gets done by our demolition experts. Some demolition contractors may offer you an attractive contract with a very cheap price tag, but are you sure you are getting a steal? We pride ourselves in being reliable and efficient service providers who will cater to all your unique needs. You will not find another demolition contractor in all of Greenville, SC who will help you save and spend wisely.
Take Advantage of Our Demolition Services in Greenville, SC
Industrial Demolition services: Our best-in-class strategies and state-of-the-art equipment allow us to offer specialized industrial demolition services for your chemical plant, mills and factories.
Commercial Demolition services: You can call our demo company if you need someone to knock down commercial structures such as commercial centres, groceries, airplane hangars and the like.
Concrete Demolition and Recycling Services: Concrete recycling results in saving costs in that it decreases the cost of transportation and disposal. Our demolition experts will break, remove and then crush concrete after demolition. The concrete can be used as an aggregate in new concrete.
Scrap Metal Demolition Services: Our demo company will also clear out your property of any undesirable steel erections and salvage any existing metal scraps for recycling.
We are Unparalleled by Other Demolition Companies in Greenville, SC
Our highly trained demolition contractors are able to offer flexible services to suit your specific needs. Our demolition experts and demolition contractors have an established performance record of completing demolition jobs in the right way, on budget and on time. Our commitment to our patrons helped us become the most respectable demolition company in all of Greenville, SC. Our demo company delivers effective and safe results on your time and budget.
High Standard Methods for Demolition and Deconstruction in Greenville, SC
Explosive Demolition: We have a team of demolition experts in Greenville, SC who thoroughly oversee the process of using explosives to crumble a structure, including the strict adherence to safety regulations and environmental protocols.
Non-Explosive Demolition: Instead of explosives, local demolition contractors may also use a wrecking ball to tear down a building. This method also requires safety precaution as swinging wrecking balls are harder to control than it seems.
Selective Demolition: This process entails tearing down a part of the structure. Efficiency is maximized by recycling reusable material thus reducing waste and lessening the impact on the environment. As the leading demo contractors, we have set standards that other building demolition companies have a hard time measuring up to.
Well-maintained Equipment Utilized for Demolition in Greenville, SC
Hydraulic breakers – Massive earthmovers used at our demo company to drill and break concrete areas in no time.
Wrecking balls – A wrecking ball is used together with a crane. This heavy steel ball is suspended from a crane and is used to bring down an entire structure or part of it. Although not widely used, this method is as fast as it is cost effective.
Hydraulic Shears and Rock Breakers – They are usually attached to excavators and then used to make clean cuts through concrete, metal, wood and rocks of large structures.
Bulldozers – Commonly used where heavy lifting is required, this flexible machine can also be used to topple down weak structures.
Dumpers – In the demolition business, they are used for moving rubble and debris away from the demolition site.
Cranes – A necessity for demolition contractors, cranes serve multiple purposes including being used for wrecking balls and for transferring heavy tools within the site. Every demo company should have a well-maintained and stable crane to avoid any unforeseen accidents.
Crawler Loaders – They are very efficient in moving heavy materials and dirt piles. Some models of the crawler loaders are able to push down heavy smaller-sized structures. They are also used to clean the ground.
We are the Number to Call for Premium Demolition Services in Greenville, South Carolina
We are ranked as the leading demolition company in Greenville, South Carolina. Signing with us means you deal with our highly diligent specialists who will never present mediocre work to our clients. Our demolition company is the Greenville demolition and deconstruction company you have been looking for. Our work integrity and reasonable packages are only some of the reasons why we are a well renowned Greenville deconstruction and demolition company. Contact us at
(855) 885-3366
.
Zip Code Areas We Service in Greenville
29614, 29607, 29605, 29601, 29609, 29602, 29603, 29604, 29606, 29608, 29610, 29612, 29616