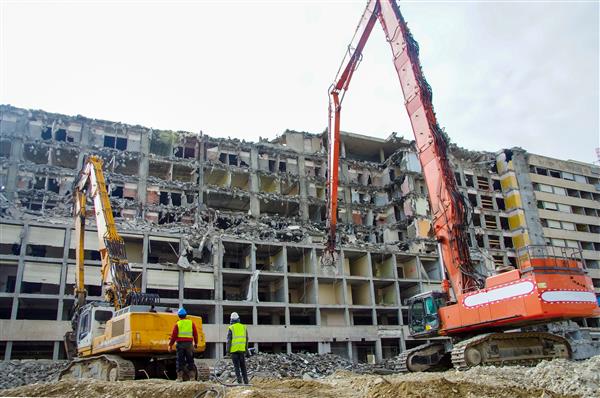 Professional Demolition Contractors North Charleston, SC – What You Need to Know when Hiring a Demolition Company
Omni Demolition is composed of reliable and dependable demolition contractors in North Charleston, SC. Our main goal is to provide affordable services without compromising the quality of our work. We offer unrivalled expertise and deliver tailor-made solutions to both simple and tough demolition projects. Our demolition experts always provide reliable and efficient services in a proactive manner. For complex demolition jobs, we offer reliable demolition services.
Dependable Demolition and Deconstruction in North Charleston, SC
Demolition is the process of tearing down or pulling down buildings and structures by a demolition expert. Demolition can either be selective or explosive. Explosive demolition uses mostly dynamite to bring down big buildings. Selective demolition involves bringing down a part of a building or tearing a section of a wall by a demolition expert. There are two categories of deconstruction, namely soft strip or selective deconstruction and whole-house deconstruction. Deconstruction could be a component included in the demolition where our skilled team removes all hazardous and re-usable objects prior to the building being knocked down. Some projects require complete levelling while others simply need specific parts removed to be replaced. For every client call, we have a demolition expert equipped to do the job.
What We Do in North Charleston, SC
Our demolition experts will only recommend the most appropriate services you require and provide upfront quotations, without any unexplained or unexpected charges. If you wish to have a an effortless and hassle-free experience when leveling a property in North Charleston, SC, we are the demolition contractor that you can rely on. Our management style is hands-on, giving us the opportunity to customize solutions to fit your demolition needs. You will not find another demolition contractor in all of North Charleston, SC who will help you save and spend wisely. Our job is thorough and you can be certain that once we are done, you do not have to worry about hazardous wastes being left behind. Our job is thorough and you can be certain that once we are done, you do not have to worry about hazardous wastes being left behind.
Our Demolition Services in North Charleston, SC
Industrial Demolition services: Our best-in-class strategies and state-of-the-art equipment allow us to offer specialized industrial demolition services for your chemical plant, mills and factories.
Commercial Demolition services: Need your commercial demolition project done right the first time? Our demo company will take care of that for you. Our portfolio includes: airplane hangars, restaurants, grocery stores, gas stations, warehouses and libraries among others.
Concrete Demolition and Recycling Services: Our demolition experts will help you realize your green-building initiative. We turn construction debris such as crushed concrete into gravel or a dry aggregate for making new concrete.
Scrap Metal Demolition Services: Our demo company will also clear out your property of any undesirable steel erections and salvage any existing metal scraps for recycling.
The Top Choice Among Demolition Companies in North Charleston, SC
Our team of demolition experts and demolition contractors will work tirelessly and dedicatedly to ensure that your project is completed on time. Our demolition experts and demolition contractors are dedicated to meeting all your needs. Our demolition company is experienced in implementing both small and large projects. Our demo company delivers effective and safe results on your time and budget.
Safely Regulated Methods for Demolition and Deconstruction in North Charleston, SC
Explosive Demolition: Our demolition experts in North Charleston, SC bring down structures or buildings by removing the main structural elements such as the walls and pillars with the help of explosives. This reduces the building's structural stability, causing it to collapse under its own weight. This method is faster, environmentally friendly and safer when compared to other methods.
Non-Explosive Demolition: Our local demolition contractors are flexible and in situations where explosive demolition may be unsafe, we may use a wrecking ball which is attached to a crane at a manageable height to bring down a building.
Selective Demolition: In cases of remodeling or renovation, demo contractors may be required to pull apart specific areas of the structure. We exceed other building demolition companies when it comes to precision in conducting selective demo such as disassembling interiors, floor coverings, ceilings and walls.
Utilizing the Proper Equipment for Demolition in North Charleston, SC
Hydraulic breakers – Also known as hydraulic hammers, our demo company uses this to demolish rocks or concrete structures.
Wrecking Balls – A wrecking ball is made from steel. It is suspended from a steel chain attached to a crane and is used to demolish large buildings. It is swung several times towards the intended structure until the structure crumbles. The working of a wrecking ball relies on the skills of an experienced operator.
Hydraulic shears and rock breakers – Used by specialists to cut through various materials such as concrete, metal, wood, and steel.
Bulldozers – A bulldozer is a heavy piece of equipment that has a robust bucket attachment. This attachment enables the bulldozer to clear trash, rubble and debris from a demolition site. Bulldozers are multi-purpose, they can also be used to push down heavy smaller-sized structures.
Dumpers – An efficient demolition business uses dumpers to haul wastes off the demo site for its clearing process. Not having dumpers means requiring a third party contractor to get rid of the trash and may cause delays on the project timeline.
Cranes – Demolition contractors use cranes to attach a wrecking ball to it. The wrecking ball suspended on a crane is then swung to the targeted structure. A demo company can use cranes to remove debris from high areas of a demolished structure. Cranes can also be used to load debris onto a dumper.
Crawler Loaders – They are effective in bringing down structures. They can also be used to clean up a demolition site. Crawler loaders can help move debris. Its tracks enable the unit to move easily and freely on the property.
For all Your Demolition Services in North Charleston, South Carolina, Call on Us
Our demolition company in North Charleston, South Carolina is the best one in town. You can rest easy knowing that we have a solution for all your demolition projects. Signing with our demolition company guarantees a stress-free project, from the accurate estimation, the actual operations, onsite clearance as well as processing required permits. Our work integrity and reasonable packages are only some of the reasons why we are a well renowned North Charleston deconstruction and demolition company. Call us at
(855) 885-3366
for a free consultation today.
Zip Code Areas We Service in North Charleston
29423, 29420, 29456, 29485, 29483, 29404, 29405, 29406, 29418, 29419