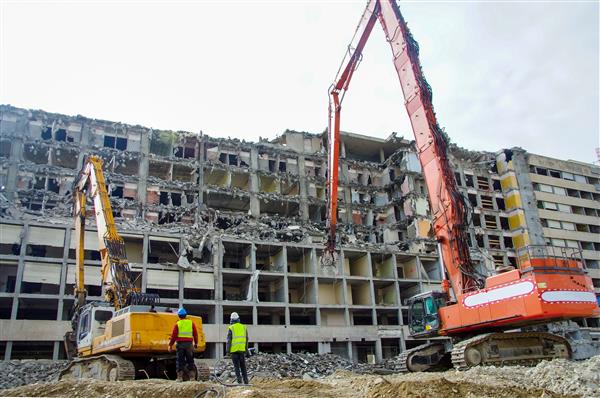 Demolition Contractors Rock Hill, SC: Your Trusted Demolition Company
Having been in the demolition business for years, Omni Demolition has built an unshakable reputation as the leading demolition company in Rock Hill, SC. As widely renowned experts in Rock Hill, SC, we see to it that the high standards we have established are met in every transaction. Our demolition contractor is on standby at all times ready to cater to your needs. Here at Omni Demolition, you can expect nothing less than high-quality customer service and spotless workmanship courtesy of our seasoned demolition experts. You can rest assured that our affordable services are top-notch. To achieve this, our demolition experts apply strong verbal, communication, analytical, managerial, decision-making and time-management skills.
We Do Demolition and Deconstruction in Rock Hill, SC
Demolition is the process of tearing down or pulling down buildings and structures by a demolition expert. Some projects require complete levelling while others simply need specific parts removed to be replaced. For every client call, we have a demolition expert equipped to do the job. Should a client wish to retain a building's frame or will only be rebuilding a certain part of the property, a deconstruction is in order. There are two types of deconstruction: selective and whole-house. As opposed to a full demolition which entails completely crushing a certain structure, deconstruction is the strategic taking apart of a building and putting away its reusable components.
Complete Accountability from Highly Skilled Specialists for Your Demolition Project in Rock Hill, SC
Our demolition experts guarantee to provide you with professional demolition services. An experienced and well-trained demolition contractor will manage your project and ensure that the job gets done. We pride ourselves in being reliable and efficient service providers who will cater to all your unique needs. Our demolition contractors are not only committed to providing first rate work but also ensure that all steps are taken to cause little to zero disturbance to the environment and to the properties adjacent to the site. Our job is thorough and you can be certain that once we are done, you do not have to worry about hazardous wastes being left behind. Our job is thorough and you can be certain that once we are done, you do not have to worry about hazardous wastes being left behind.
Check Our Broad Range of Demolition Services in Rock Hill, SC
Industrial Demolition services: We have tried and tested thorough demolition of industrialized buildings. Our record includes taking down plants, manufacturing buildings, mills and the like.
Commercial Demolition Services: We know all the ins and outs of this delicate procedure. No matter the job, you can be rest assured that our demo company will give you the best results. Our demolition experts have the know-how and experience to bring down buildings and structures even in very tight spaces. Be it tearing down a mall, strip center, warehouse, bridge, hangar or structures in metropolitan areas, we have got you covered.
Concrete Demolition and Recycling Services: Concrete recycling results in saving costs in that it decreases the cost of transportation and disposal. Our demolition experts will break, remove and then crush concrete after demolition. The concrete can be used as an aggregate in new concrete.
Scrap Metal Demolition Services: Our demo company is experienced in salvaging scrap from your demolition project. You can recycle the scrap metal. This will minimize on wastage and cost.
We are on Top of Other Demolition Companies in Rock Hill, SC
Our demolition experts and highly skilled demolition contractors consistently make innovations with the way demolitions are made. We take pride in employing some of the finest calibre of demolition experts throughout the city. We are a top-rated demolition company in Rock Hill, SC. When it comes to bringing down old, dilapidated or unwanted property, we have vast experience as a demo company and we will ensure that our services do not cause any unintended damage or pollution
Safely Regulated Methods for Demolition and Deconstruction in Rock Hill, SC
Explosive Demolition: Done by licensed demolition experts in Rock Hill, SC, this method may sound dangerous and it could be when proper procedures are not followed. After explosives are strategically laid out, a switch is all it takes to completely take down a building.
Non-Explosive Demolition: Instead of explosives, local demolition contractors may also use a wrecking ball to tear down a building. This method also requires safety precaution as swinging wrecking balls are harder to control than it seems.
Selective Demolition: This type of demolition is done when you want to remodel or renovate a building. It can either be exterior or interior by nature. Exterior demolition involves tearing down a part of the building with a purpose of increasing it in size or making it smaller. Interior demolition focuses mostly on taking apart spaces for remodeling or renovation.
Utilizing the Proper Equipment for Demolition in Rock Hill, SC
Hydraulic Breakers – This strong hammer is built to withstand heavy and rigorous use. As one of the high-quality demolition tools used by our demo company, it offers greater productivity in regards to speed, efficiency and its overall performance.
Wrecking Balls – Although less common in demolition sites, it is an efficient way of demolishing a concrete structure. This solid steel ball is attached to a crane. It is then swung to the targeted building several times to strike down the structure.
Hydraulic Shears and Rock Breakers – They are usually attached to excavators and then used to make clean cuts through concrete, metal, wood and rocks of large structures.
Bulldozers – A favorite among contractors, a bulldozer can be an intimidating piece of equipment on wheels although it is fairly easy to maneuver. It can be used to transport copious amounts of waste, as well as to wreck walls.
Dumpers – A dumper or a tipper truck is essential in the demolition business. This vehicle is specially designed to carry debris such as gravel, or demolition waste in bulk away from the property. It makes cleaning up the property after demolition easier and faster.
Cranes – Demolition contractors utilize a crane to ease the burden of moving heavy materials or equipment back and forth on a construction site. Our demo company also uses cranes to suspend wrecking balls for non-explosive demos.
Crawler Loaders – They are efficient in moving heavy rubble and waste from the demolition site. They can also be used to demolish heavy structures as well as clear the ground.
Contact Us for Cost-effective Demolition Services in Rock Hill, South Carolina
If you are in dire need of a reliable demolition company in Rock Hill, South Carolina but are quite not sure what kind of method you will require and how much it will cost you, do not hesitate to call us. When you have a demolition project, do not hesitate to contact us. Our demolition company never offers excuses; we simply provide professional and timely services guaranteed to accommodate your budget. Our Rock Hill deconstruction and demolition company has highly skilled personnel with years of experience in the demolition business. Go ahead and give us a call today at
(855) 885-3366
. We are always at your service.
Zip Code Areas We Service in Rock Hill
29732, 29733, 29730, 29731, 29734