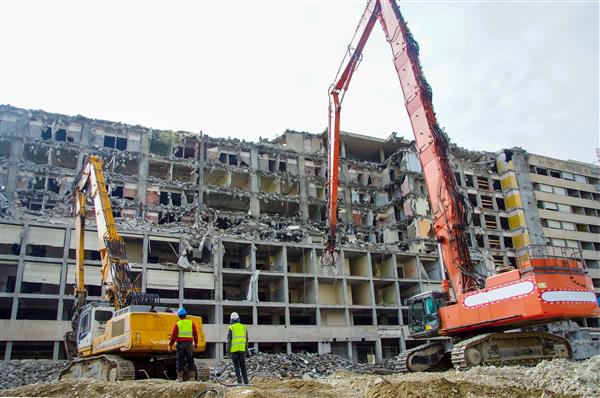 Demolition Contractors in Sioux Falls, SD: The Number 1 Demolition Company
Omni Demolition is recognized as the leading provider of demolition contractors in Sioux Falls, SD. We are dedicated to working on your project with no distractions whatsoever. If you need to hire a professional demolition contractor in Sioux Falls, SD without spending a ridiculous amount of money, you have come to the right place. Here at Omni Demolition, you can expect nothing less than high-quality customer service and spotless workmanship courtesy of our seasoned demolition experts. We are always on schedule. For all your projects, we ensure that we provide you with environmentally friendly services.
Better Understanding of Demolition and Deconstruction in Sioux Falls, SD
Demolition is the process of tearing down or pulling down buildings and structures by a demolition expert. Deconstruction is when a demolition expert carefully dismantles or takes down a structure with the aim of reusing or recycling the materials. Should a client wish to retain a building's frame or will only be rebuilding a certain part of the property, a deconstruction is in order. Deconstruction could be a component included in the demolition where our skilled team removes all hazardous and re-usable objects prior to the building being knocked down.
Why Come to Us for Your Demolition Project in Sioux Falls, SD
Our demolition experts will meticulously execute your demolition project in a timely and safe manner. As professional demolition contractors, we religiously adhere to state policies and regulations. Our management style is hands-on, giving us the opportunity to customize solutions to fit your demolition needs. Taking down a structure sounds chaotic but unlike other demolition contractors, our services are done with utmost care and with as little disturbance to the community as possible.
Our Demolition Services in Sioux Falls, SD
Industrial Demolition services: We have tried and tested thorough demolition of industrialized buildings. Our record includes taking down plants, manufacturing buildings, mills and the like.
Commercial Demolition Services: Despite commercial buildings being located in compact spaces, our demo company is able to bring down your building or structure in a safe way with minimal damage to the surrounding area. Using modernized equipment, our team of professionals have pulled down warehouses, grocery stores, shops, airplane hangars among others.
Concrete Demolition and Recycling Services: Our demolition experts will help you realize your green-building initiative. We turn construction debris such as crushed concrete into gravel or a dry aggregate for making new concrete.
Scrap Metal Demolition Services: Allow our demo company to take down your metal structure. Our experts will downsize and process scrap metal for the purpose of recycling or reusing.
We are the Leading Demolition Company in Sioux Falls, SD
We take pride in having some of the most seasoned demolition experts among numerous demolition contractors in Sioux Falls, SD. Our demolition experts and demolition contractors are dedicated to meeting all your needs. As an established demolition company in all of Sioux Falls, SD, we see to it that our services, equipment and workmanship are always above customer satisfaction. As an established demo company, we continue to make innovations in the field of construction while also maintaining the highest standards of our services.
The Types of Methods Used in Demolition and Deconstruction in Sioux Falls, SD
Explosive Demolition: Our demolition experts in Sioux Falls, SD implode your building making it collapse safely with minimal damage to the immediate surroundings.
Explosive Demolition: This method should be done only by experienced demolition experts in Sioux Falls, SD as it involves safety parameters that should be strictly observed. It involves turning a switch to initiate an explosion, which will then collapse the building into a mound of rubble.
Selective Demolition: Our demo contractors use this method when their goal is to recover or salvage demolition materials. Building demolition companies reuse or recycle the salvaged materials thus reducing waste.
Demolition Equipment in Sioux Falls, SD
Hydraulic breakers-Heavy-duty excavators are used at our demo company to aid in breaking or crushing concrete segments of the building. Be wary of contractors who have poorly maintained equipment such as hydraulic breakers because this will surely cause delays in your timeline.
Wrecking Balls – A wrecking ball is a heavy steel ball that is usually suspended from a crane. It is swung to the targeted structure or building in order to take it down.
Hydraulic shears and rock breakers – These specialized accessories allow cutting into a variety of materials such as metal, wood, rocks, and cement.
Bulldozers – It has a ripper and is used to move large quantities of rubble. It is also used to bring walls down.
Dumpers – Not every demolition business have their own dumpers but we use them for taking waste products and debris off the site.
Cranes – Demolition contractors use cranes to transfer materials within the site especially from lower to upper floors and vice versa. Aside from being used as a pulley, our demo company also uses cranes for wrecking balls.
Crawler Loaders – They are effective in bringing down structures. They can also be used to clean up a demolition site. Crawler loaders can help move debris. Its tracks enable the unit to move easily and freely on the property.
Contact Us for Cost-effective Demolition Services in Sioux Falls, South Dakota
Our demolition company is a leading demolition company in Sioux Falls, South Dakota with proven resources, knowledge, professionalism and experience to successfully manage any demolition project you may have. For years now, we have helped all our clients demolish and deconstruct their buildings and structures successfully. We have a brilliant track record of achieving 100% success despite hostile or challenging work environments. We are your one-stop-shop demolition company and we offer free consultation plus an accurate estimation of the costs. As the top Sioux Falls deconstruction and demolition company, no job is ever too big or too small for us. Call us today at
(855) 885-3366
and get your job done quickly, flawlessly and affordably.
Zip Code Areas We Service in Sioux Falls
57104, 57105, 57106, 57107, 57103, 57108, 57197, 57110, 57117, 57101, 57109, 57118, 57186, 57193, 57198