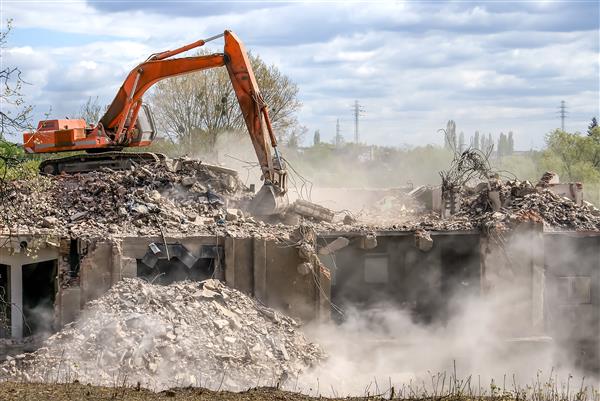 Your Ultimate Concrete Removal Company in Johnson City, TN
There are a number of reasons why you might need to hire our concrete removal services in Johnson City, TN. For your concrete slab removal and concrete hauling services, you can rest easy knowing that we have got you covered. Without concrete removal, there wouldn't be space to erect new structures or to rebuild them. After all the work is done and the dust settles, you'll find that our services are done with excellence and are very affordable.
Special Equipment Used for Concrete Removal in Johnson City, TN
Be careful of contractors in Johnson City, TN that use outdated and broken down equipment for this could mean impending delays to your project, or work that is so poorly done you will have to hire another company to redo the job. Other equipment used to ensure maximum success in service delivery are mounted breakers, which are popular in concrete slab removal because of their impact energy, speed and versatility. We highly recommend consulting with experts when you plan for your demolition project. We specialize in removing concrete driveway as well as concrete wall demolition. Depending on the nature of the project, we select different equipment to deliver maximum results. After we cut and crush the concrete, we can also provide concrete hauling services to get rid of or recycle the waste materials. We are meticulous in our service delivery ensuring that your solution is customized to achieve the best possible results.
When Should You Book a Concrete Demolition Service in Johnson City, TN?
Concrete, when constantly exposed to changing weather and temperature, can weaken and crack. There are various factors that affect the life span of concrete. Our concrete removal services and concrete hauling will not only help you get rid of old unsightly structures but will also ensure that your property has better aesthetic appeal. We have experts in Johnson City, TN who are well-equipped to help you knock down any part of your house. Regardless of the size, we will see to it that we finish the project on time. All of the technicians follow safety procedures to ensure the project flows smoothly without any delays.
Getting Concrete Removal Permits in Johnson City, TN – We Got That Covered
It is essential that before you start your concrete hauling project, you have already secured a concrete removal permit in Johnson City, TN. Unlike other concrete removal companies, we at Omni Demolition will advise you on everything that is required in your concrete removal project-from how to get the necessary permits and the cost of the permits to the cost of the entire project and the time it will take to complete it. Omni Demolition ensures a smooth operation for every single client that puts their faith in our services. Some property owners and even contractors hire permit services or companies who manage the building permit application process. At Omni Demolition, you can trust our team to assist you in securing the required clearances and permits.
Cost Estimates of Concrete Demolition in Johnson City, TN?
Other service providers in Johnson City, TN make their proposed contract sound complicated to justify unreasonably priced estimates. In addition to permit application fees in Johnson City, TN, there is no accurate range of expenses that we can give outright as every project requirement is unique. Final costs depend on factors such as disposal fees(some companies charge this separately). Whether you have a patio demolition or a patio removal project, you can be sure that we are well equipped to handle any demolition project you may have. No need to get worked up in guessing project costs when all you have to give us a call and we will be happy to give you a free estimate. The actual demolition cost alone can cost you from between $1000 – $15000+ The cost of disposing waste that contains rebar is also higher.
How Long Do Concrete Demolition Projects Take Place in Johnson City, TN?
Firstly, we begin with a site visit. Then we discuss all the aspects of the concrete demolition project with you. Next, we develop the best possible way to tackle the task at hand. We understand the importance of honoring our commitments and we deliver our concrete slab removal and concrete hauling services in Johnson City, TN with no excuses. In cases where a city inspector has checked whether all sewer, utilities, and water facilities have been taken care of, our own men double checks to ensure the safety of our demolition in Johnson City, TN. After we check the overall condition of your property in Johnson City, TN, we can start discussing the available options. This is because the speed and performance of hand held tools varies greatly with that of automatic or advanced machinery.
You Get More Value by Recycling Concrete in Johnson City, TN
A crucial aspect we consider in a concrete demolition and removal project is where to put the debris. Concrete recycling is an integral part of concrete demolition. Our concrete demolition contractors highly encourage recycling in accordance with our adherence to providing eco-friendly solutions. It is a much more environmentally friendly process as opposed to disposal. Concrete recycling also reduces waste in landfills.
Why Choose us for All Your Concrete Demolition Needs in Johnson City, Tennessee?
That is why you need our concrete demolition services in Johnson City, TN from experienced professionals to execute such complex undertakings. While the end result of our services is a torn down building or structure, we use a number of concrete slab removal techniques to achieve our purpose. We guarantee to provide superior quality concrete slab removal, site cleanup and other services no matter where you live in the city. You can rest assured that we will deliver nothing less than exceptional results. Get in touch with us for the best concrete removal service.
Zip Code Areas We Service in Johnson City
37614, 37615, 37601, 37604, 37602, 37605, 37684