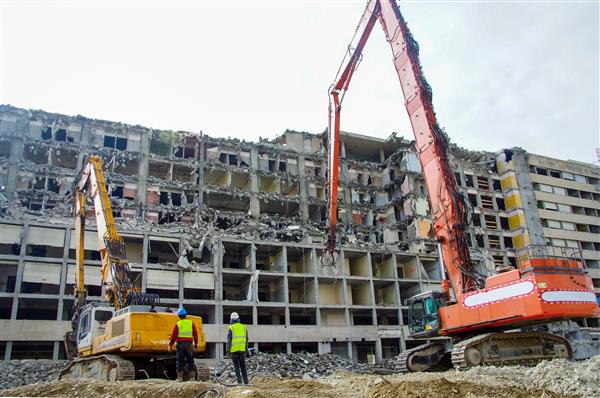 Demolition Contractors Nashville, TN The Demolition Company That You Can Count On
Omni Demolition is recognized as the leading provider of demolition contractors in Nashville, TN. We will make sure that the project is completed within your budget and stipulated timeframe. No job is ever too big, too small or too demanding for us. The commitment and competence of our demolition experts guarantee that you will be working with the most suitable partners. We have the resources and expertise to offer you the best solutions in a safe and professional manner.
What are the differences Between Demolition and Deconstruction in Nashville, TN
Demolition is the process of tearing down or pulling down buildings and structures by a demolition expert. Deconstruction is when a demolition expert carefully dismantles or takes down a structure with the aim of reusing or recycling the materials. Should a client wish to retain a building's frame or will only be rebuilding a certain part of the property, a deconstruction is in order. The structures can be pulled down manually.
Why Hire Us for Your Demolition Project in Nashville, TN
We maintain multi-disciplined and highly seasoned demolition experts and demolition contractors in Nashville, TN-fully trained in material handling and equipment operation. Some demolition contractors may offer you an attractive contract with a very cheap price tag, but are you sure you are getting a steal? It is our core mission to exceed all your expectations. But this is not just a one-time initiative, it is ingrained in the workmanship of each and every demolition contractor in our company.
Our Range of Demolition Services in Nashville, TN
Industrial Demolition services: We have tried and tested thorough demolition of industrialized buildings. Our record includes taking down plants, manufacturing buildings, mills and the like.
Commercial Demolition services: Being a world-class demo company, you can rest easy knowing that your property is in safe and capable hands. We have the capability to bring down commercial structures such as warehouses, airplane hangars, shopping malls, garages, office buildings and sports facilities among others.
Concrete demolition and recycling services: We are the only demolition experts who carefully set aside re-usable materials from your site for possible future use such as slabs to be crushed later on into gravel.
Scrap Metal Demolition Services: Our demo company is also experienced in extracting steel and metal from a building.
We Set the Pace for Other Demolition Companies in Nashville, TN
Compared to other service providers, we take pride in having hardworking demolition experts and highly skilled demolition contractors. We provide our clients with value for their money. Our demolition company is committed in service delivery. Our demo company offers packages that are reasonably priced as well due to the fact that we have mastered an efficient way of demolition that cuts unnecessary expenses.
Our Methods for Demolition and Deconstruction in Nashville, TN
Explosive Demolition: If you want to demolish a big structure, you have to bring out the big guns. Our demolition experts in Nashville, TN use explosive demolition for larger buildings. It is as effective as it is safe.
Non-Explosive Demolition: Our local demolition contractors will use a wrecking ball to demolish a building in situations that do not allow the use of explosives.
Selective Demolition: This process entails tearing down a part of the structure. Efficiency is maximized by recycling reusable material thus reducing waste and lessening the impact on the environment. As the leading demo contractors, we have set standards that other building demolition companies have a hard time measuring up to.
Well-maintained Equipment Utilized for Demolition in Nashville, TN
Hydraulic Breakers – This strong hammer is built to withstand heavy and rigorous use. As one of the high-quality demolition tools used by our demo company, it offers greater productivity in regards to speed, efficiency and its overall performance.
Wrecking Balls – A wrecking ball is made from steel. It is suspended from a steel chain attached to a crane and is used to demolish large buildings. It is swung several times towards the intended structure until the structure crumbles. The working of a wrecking ball relies on the skills of an experienced operator.
Hydraulic shears and rock breakers – When attached to excavators, these tools are helpful in cutting through any type of surface. Using electrical force, it can slice through metal, steel, concrete, rock and wood.
Bulldozers – Commonly seen in construction sites, bulldozers are not only good for flattening surfaces but also for moving and transporting waste materials. It can also be maneuvered to knock down weak walls and structures.
Dumpers – A dumper is a very useful piece of machinery in every demolition business. It is used to carry away demolition waste from demolition sites.
Cranes – Demolition contractors use cranes not only for swinging wrecking balls but also in moving objects within the site. Our demo company facilitates the use of cranes to lift heavy objects from lower grounds to higher areas.
Crawler Loaders – Also called caterpillars, crawlers have flexible ground mechanism allowing them to be useful even on uneven terrain. They are primarily used for excavating.
For all Your Demolition Services in Nashville, Tennessee, Call on Us
Our demolition company is a leading demolition company in Nashville, Tennessee with proven resources, knowledge, professionalism and experience to successfully manage any demolition project you may have. For years now, we have helped all our clients demolish and deconstruct their buildings and structures successfully. You can rest easy knowing that we have a solution for all your demolition projects. Signing with our demolition company guarantees a stress-free project, from the accurate estimation, the actual operations, onsite clearance as well as processing required permits. Our Nashville deconstruction and demolition company has highly skilled personnel with years of experience in the demolition business. Go ahead and give us a call today at
(855) 885-3366
. We are always at your service.
Zip Code Areas We Service in Nashville
37027, 37138, 37076, 37072, 37201, 37203, 37206, 37240, 37243, 37246, 37080, 37218, 37219, 37216, 37217, 37214, 37215, 37212, 37213, 37210, 37211, 37189, 37209, 37208, 37205, 37204, 37207, 37115, 37013, 37228, 37221, 37220, 37143, 37011, 37116, 37202, 37222, 37224, 37227, 37229, 37230, 37232, 37234, 37235, 37236, 37238, 37241, 37242, 37244, 37250