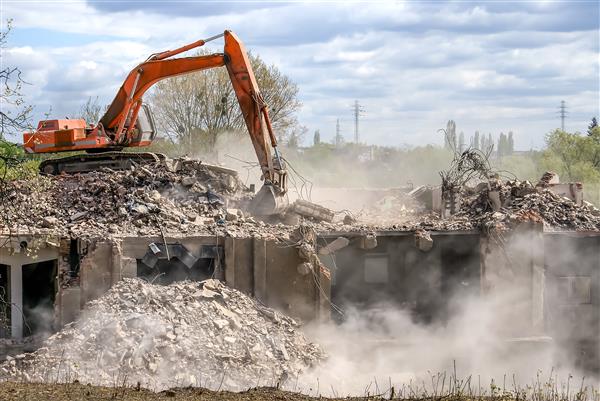 Trust Only the Authority in the Concrete Removal Business in Round Rock, TX
When looking for a concrete removal contractor in Round Rock, TX, relying on ads may not be the best option, so if you are doing your own research, we are here to help you make the right decision. Here at Omni Demolition, our concrete slab removal services are completed all the while making you feel like a VIP. We are the most knowledgeable when it comes to cost-effective concrete hauling and recycling. Whether it is taking down an old building to replace it with a new one or improving the condition of a derelict building, Omni Demolition has the right people for the job. Simply contact us about your project—we are ready to help.
Cutting Edge Equipment Made for Concrete Removal in Round Rock, TX
Our contractors at Omni Demolition can perform a wide range of services because they are well-equipped. Within a reasonable timeframe, we can cut, crush and remove any size of concrete structure. Some of the equipment we have includes bobcats, trackers, pallet jacks and track loaders. Omni Demolition does not only invest in quality equipment for concrete slab removal in Round Rock, TX, we utilize high end dumpers for concrete hauling as well. Here at here Omni Demolition, our bobcats, hoists, pallet jacks and all the other tools we use in the trade are all well-maintained to ensure continuous operations. For all your concrete demolition needs like removing concrete driveway, concrete slab demolition and concrete wall demolition, contact our highly trained experts for a comprehensive evaluation of your concrete removal and concrete hauling project. Compared to other companies, we conduct regular maintenance jobs on the equipment that we use. Pavement breakers are also used for heavy demolition jobs. In primary demolition, equipment and tools such as the wrecking ball, hammers and crushers demolish concrete into big sized rubble. Despite the power it possesses, it creates little noise and dust making it perfect for demolition work in inhabited areas.
Conditions that Require a Concrete Demolition in Round Rock, TX
Concrete is designed to last a very long time if it is installed properly. However, like every other type of material, its structure will also degrade over time. If your property in Round Rock, TX is showing deep and widespread cracks, sunken or fragmented concrete slabs, or signs of frost heave, it is time to call our phone number and consult with the experts. Along with concrete demolition we also offer concrete hauling services. If you see frost heave or concrete that is pushed upward, cobweb-like cracks on cement, sunken slabs and even fragmented foundations, it is best to call us for a concrete demo and plan on rebuilding your property. Having them torn down can be quite a challenge as opposed to erecting them.
Which Concrete Removal Permits are Required in Round Rock, TX?
You will need to obtain several permits and approvals from the government if you plan on carrying out a concrete removal or concrete hauling project in Round Rock, TX. While other concrete removal companies may include additional fees for processing the required permits, we at Omni Demolition have got you covered. You will definitely need a permit depending on the nature of your project. Usually, you have to obtain a form of approval from the appropriate regulatory body before you can lawfully proceed with the demolition. Permit requirements also vary depending on the geographical location of your demolition project. Therefore, it is important to familiarize yourself with the legal requirements of where you live. Different councils have their own different set of rules, based on whether you are demolishing an entire structure or just a part of it.
How Much Can a Concrete Demolition Project Cost in Round Rock, TX?
There are a number of factors that contribute to the cost of concrete removal with the biggest contributor being the total area of concrete to be removed. In addition to permit application fees in Round Rock, TX, there is no accurate range of expenses that we can give outright as every project requirement is unique. Final costs depend on factors such as disposal fees(some companies charge this separately). We have the expertise, manpower and equipment to carry out any demolition project in Round Rock, TX; even smaller jobs such as patio demolition and patio removal. Our professionals can use concrete saws, pry bars, sledgehammers or electric jackhammers to remove this type of concrete. Its demolition cost will be lower. We can assure you that we have the best priced packages in the area. We have the necessary skills and equipment to handle any concrete demolition project you may have.
Expected Duration of a Concrete Demolition in Round Rock, TX
A concrete demolition project requires thorough planning to ensure that it will be completed within the client's deadline. It can take days, weeks or even months to complete a concrete slab removal and concrete hauling project in Round Rock, TX. In cases where a city inspector has checked whether all sewer, utilities, and water facilities have been taken care of, our own men double checks to ensure the safety of our demolition in Round Rock, TX. As soon as we assess the situation, we can draft a plan and present it to you for approval. We adhere to all the fundamental and basic principles of effective project management.
What To Do With Crushed or Used Concrete in Round Rock, TX?
It is not only an environmentally friendly process of utilizing concrete rubble but it is also a cost cutting measure for your concrete demolition and removal project. Concrete recycling is an integral part of concrete demolition. The concrete is crushed by our concrete demolition contractors and used as a coarse aggregate for new concrete. You can get paid by companies who reuse concrete in major constructions such as road paving and you also help minimize damage to the environment through responsible recycling – it's a win-win situation! Concrete lasts long, and you can use it in various ways.
Work with Concrete Demolition Experts in Round Rock, Texas

Our team of experts uses modern concrete slab removal techniques and high end equipment, ensuring outstanding concrete demolition services at all times. Omni Demolition has all the skills, tools and equipment needed to perform a concrete slab removal or hauling service. They know how to execute their assigned tasks with accuracy and they know how to tactfully minimize the risks associated with concrete slab removal projects. We are a budget friendly company and we will get the job done right the first time. Our friendly customer care specialists will be happy to assist you and provide you with a no-commitment estimate.
Zip Code Areas We Service in Round Rock
78681, 78664, 78665, 78680, 78682, 78683