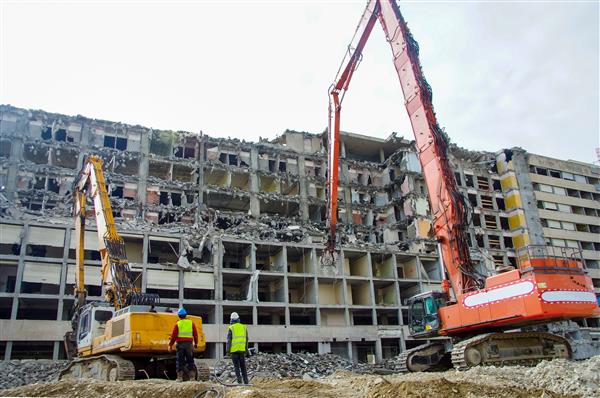 Demolition Contractors in Arlington, TX: The Number 1 Demolition Company
It can be a huge challenge finding reliable and affordable demolition contractors in Arlington, TX, but that is what Omni Demolition is here for. We are dedicated to working on your project with no distractions whatsoever. If you need to hire a professional demolition contractor in Arlington, TX without spending a ridiculous amount of money, you have come to the right place. Here at Omni Demolition, you can expect nothing less than high-quality customer service and spotless workmanship courtesy of our seasoned demolition experts. You can rest assured that our affordable services are top-notch. To achieve this, our demolition experts apply strong verbal, communication, analytical, managerial, decision-making and time-management skills.
What is the Difference between Demolition and Deconstruction in Arlington, TX
Demolition is the process of knocking down, levelling, razing, tearing down or pulling down a building or a structure. Demolition can either be selective or explosive. Explosive demolition uses mostly dynamite to bring down big buildings. Selective demolition involves bringing down a part of a building or tearing a section of a wall by a demolition expert. Deconstruction on the other hand is a type of demolition used in Arlington, TX. The structures can be pulled down manually. Our demolition expert tests and removes hazardous material before knocking down the building.
Highly Recommendable Services for Any Demolition Project in Arlington, TX
Our demolition experts guarantee to provide you with professional demolition services. Our demolition contractor is at your service to fulfill all your needs. We are knowledgeable in protocols and we prioritize safety at all times. Our demolition contractor will handle your needs on a one-on-one level and ensure that your project is given the undivided attention it deserves.
We Offer a Wide Array of Professional Demolition Services in Arlington, TX
Industrial Demolition Services: This requires application of specialized techniques by highly trained professionals. We will safely and effectively bring down industrial structures such as factories, mills and manufacturing plants among others.
Commercial Demolition services: Our demo company uses superior equipment and expertise in tackling various commercial demolition structures such as strip malls, warehouses, office buildings, hotels, bridges, grocery stores and airplane hangars among others.
Concrete demolition and recycling services: Let our demolition experts know if you wish to maximize the use of the structure's concrete materials and we will break them down into reusable gravel.
Scrap Metal Demolition Services: Our demo company will save you time and money by demolishing your metal structure, putting a recovery plan in place and selling the salvaged scrap metal for you.
What Sets Us Apart from Others Arlington, TX
Despite being highly preferred over other demolition contractors, we keep our feet grounded. Our resources are as varied as they are effective: dependable and advanced equipment as well as expert personnel. We are a demolition company that takes our work seriously and consistently conduct regularly equipment maintenance, which ensures efficient and quick clearing operations. Each project in our demo company is always given the care and attention that our customers deserve and expect.
Methods Conducted by Experts on Demolition and Deconstruction in Arlington, TX
Explosive Demolition: Explosive materials are strategically placed on the building or structure in Arlington, TX by our demolition experts. The explosives are timed to make a structure go down on itself in seconds in order to minimize damage to the surroundings.
Non-Explosive Demolition: Instead of explosives, local demolition contractors may also use a wrecking ball to tear down a building. This method also requires safety precaution as swinging wrecking balls are harder to control than it seems.
Selective Demolition: In cases of remodeling or renovation, demo contractors may be required to pull apart specific areas of the structure. We exceed other building demolition companies when it comes to precision in conducting selective demo such as disassembling interiors, floor coverings, ceilings and walls.
Main Equipment Used in Demolition in Arlington, TX
Hydraulic breakers-Heavy-duty excavators are used at our demo company to aid in breaking or crushing concrete segments of the building. Be wary of contractors who have poorly maintained equipment such as hydraulic breakers because this will surely cause delays in your timeline.
Wrecking balls – Heavy and solid balls made of steel, wrecking balls are safely suspended on a crane and used to weaken a building until it gives.
Hydraulic shears and rock breakers – When attached to excavators, these tools are helpful in cutting through any type of surface. Using electrical force, it can slice through metal, steel, concrete, rock and wood.
Bulldozers – Commonly seen in construction sites, bulldozers are not only good for flattening surfaces but also for moving and transporting waste materials. It can also be maneuvered to knock down weak walls and structures.
Dumpers – A dumper is a very useful piece of machinery in every demolition business. It is used to carry away demolition waste from demolition sites.
Cranes – Demolition contractors need a crane for attaching a wrecking ball to it. It can also be used to lift heavy things onto or off the structure. A demo company will almost always have this piece of machinery on a demolition site.
Crawler Loaders – Flexible heavy equipment, crawler loaders can move on top of uneven surfaces and are also used for excavating and lifting.
Call us Today for Demolition Services in Arlington, Texas
We are your dependable and trusted demolition company in Arlington, Texas. There's a reason why we continue to be highly recommended by building contractors and the rest of our clientele. Our demolition company's spotless track record in handling minor to major demolitions is your guarantee of our high quality service, expertise and commitment to each and every project. Our Arlington deconstruction and demolition company is licensed and highly reputable. For all your demolition needs, call us at
(855) 885-3366
.
Zip Code Areas We Service in Arlington
76040, 76006, 76001, 76002, 76018, 76013, 76012, 76011, 76010, 76017, 76016, 76015, 76014, 76003, 76004, 76005, 76007, 76019, 76094, 76096