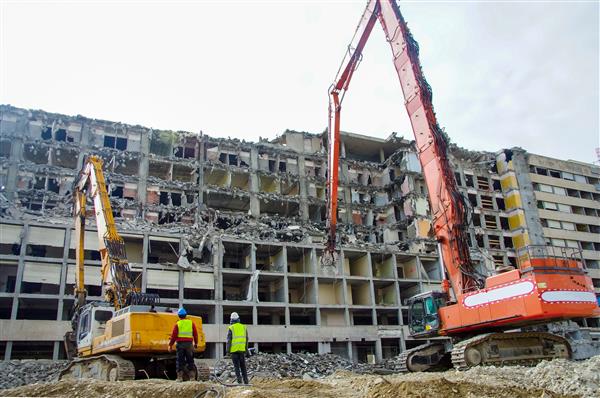 Demolition Contractors Austin, TX The Demolition Company That You Can Count On
Omni Demolition is composed of reliable and dependable demolition contractors in Austin, TX. Just like any other major construction or remodeling plan, having a property demolished requires the skills of professionals, along with the use of appropriate equipment. At any given time, our demolition contractor will be at your service to help you with your demolition, excavation and wrecking projects in Austin, TX. Our demolition experts always provide reliable and efficient services in a proactive manner. We are highly competent and able to handle any project you may have.
What are the differences Between Demolition and Deconstruction in Austin, TX
Demolition is the process of tearing down or pulling down buildings and structures by a demolition expert. Our demolition expert tests and removes hazardous material before knocking down the building. A deconstruction entails careful removal of a structure's segments or hazards such as electrical wires, gas pipes and hydro lines prior to a complete knocking down of the building. It entails tearing down the components of a building for the purpose of recycling, re-using as well as waste management. Selective deconstruction involves going into a property before demolition and removing high value and easily removable materials.
Why Hire Us for Your Demolition Project in Austin, TX
We know that before you consider hiring us, you will want to understand how the job gets done by our demolition experts. As professional demolition contractors, we religiously adhere to state policies and regulations. Property owners usually think first rate services always come with a steep price to pay, but not with us. But this is not just a one-time initiative, it is ingrained in the workmanship of each and every demolition contractor in our company. From the start to the finish of your project, we are focused on your absolute satisfaction. From the start to the finish of your project, we are focused on your absolute satisfaction.
Our Range of Demolition Services in Austin, TX
Industrial Demolition services: We have taken down massive structures such as warehouses, industrial buildings, bridges, power plants, and mills. Our special equipment and expertise allow for the safe demolition of vast properties.
Commercial Demolition services: Need your commercial demolition project done right the first time? Our demo company will take care of that for you. Our portfolio includes: airplane hangars, restaurants, grocery stores, gas stations, warehouses and libraries among others.
Concrete Demolition and Recycling Services: Concrete recycling results in saving costs in that it decreases the cost of transportation and disposal. Our demolition experts will break, remove and then crush concrete after demolition. The concrete can be used as an aggregate in new concrete.
Scrap Metal Demolition Services: Our demo company will save you time and money by demolishing your metal structure, putting a recovery plan in place and selling the salvaged scrap metal for you.
A class Above the Rest in Austin, TX
Compared to other service providers, we take pride in having hardworking demolition experts and highly skilled demolition contractors. Our demolition experts and demolition contractors have an established performance record of completing demolition jobs in the right way, on budget and on time. We are a top-rated demolition company in Austin, TX. Our demo company offers packages that are reasonably priced as well due to the fact that we have mastered an efficient way of demolition that cuts unnecessary expenses.
Main Methods Used in Demolition and Deconstruction in Austin, TX
Explosive Demolition: Conducted by our skilled demolition experts in Austin, TX, this method requires properly laying out detonators and explosives to bring a structure down to a pulp.
Non-Explosive Demolition: Our local demolition contractors will use a wrecking ball attached to a crane to knock down a building. The heavy wrecking ball is swung several times on the targeted structure before it can collapse.
Selective Demolition: Buildings are deconstructed with the aid of special equipment. It is a solution that maximizes efficiency while reducing waste. It is mainly used when building owners want to add extensions to the building, update the interior of a building, convert space or improve the health of the building. This is a delicate procedure that demands great precision and tact, which our demo contractors have and other building demolition companies overlook.
Well-maintained Equipment Utilized for Demolition in Austin, TX
Hydraulic Breakers – Our demo company uses a hydraulic breaker to demolish rocks and concrete structures. Its powerful hammer causes destruction on the targeted object in a matter of seconds.
Wrecking balls – Used mainly for non-explosive demos, these heavy impacting balls are helpful in progressively weakening a building until all that's left are frameworks that are then easier to tear down.
Hydraulic Shears and Rock Breakers – They are highly effective in cutting steel, metal, concrete, wood and rocks. Their high power to weight ratio enable hydraulic shears to yield a higher output.
Bulldozers – This powerful machinery has a number of uses in construction. A bulldozer can be used to knock down an old or derelict structure. It can also be used to push away debris and clean up the area.
Dumpers – Copious amount of time is spent clearing demolition sites and this is where dumpers come in very handy. An experienced demolition business deploys dumpers to haul debris and waste away from the site.
Cranes – Aside from being used to secure a wrecking ball, demolition contractors in our demo company also use cranes to lower and lift materials within the site.
Crawler Loaders – They can be used to bring down heavy smaller-sized structures. They can also be used to move debris.
Call Us for Outstanding Demolition Services in Austin, Texas
There is no other demolition company in Austin, Texas that offers high quality services with reasonable prices as us. With us you are guaranteed to have a safe and worry-free operation to be completed by field experts. You're in great hands with our Austin deconstruction and demolition company. Our work integrity and reasonable packages are only some of the reasons why we are a well renowned Austin deconstruction and demolition company. Go ahead and give us a call today at
(855) 885-3366
. We are always at your service.
Zip Code Areas We Service in Austin
78749, 78748, 78741, 78742, 78745, 78744, 78747, 78746, 78717, 78712, 78719, 78617, 78739, 78735, 78730, 78731, 78732, 78733, 78705, 78704, 78701, 78703, 78702, 78758, 78759, 78752, 78753, 78750, 78751, 78756, 78757, 78754, 78652, 78723, 78722, 78721, 78727, 78726, 78725, 78724, 78729, 78728, 73301, 73344, 78651, 78708, 78709, 78710, 78711, 78713, 78714, 78715, 78716, 78718, 78720, 78755, 78760, 78761, 78762, 78763, 78764, 78765, 78766, 78767, 78768, 78769, 78772, 78773, 78774, 78778, 78779, 78783, 78799