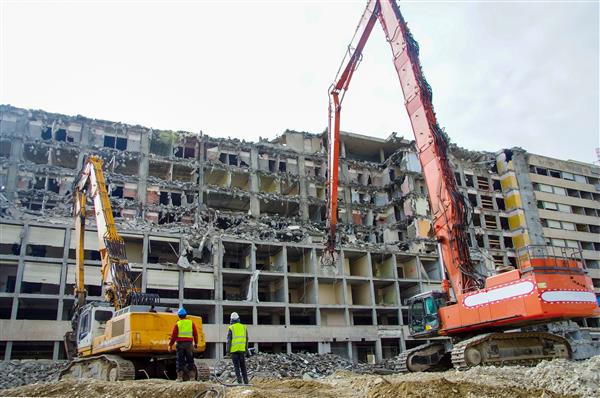 Expert Demolition Contractors Brownsville, TX: Your Partner Demolition Company
The strength of Omni Demolition lies not only in its state of the art equipment and the expertise of its demolition contractors but the commitment that we have in providing unsurpassable services. You are guaranteed to get the best value for your money with our expertise partnered with updated equipment and strict adherence to state safety regulations and policies. Our demolition experts always provide reliable and efficient services in a proactive manner. We have the resources and expertise to offer you the best solutions in a safe and professional manner.
Do You Need Demolition or Deconstruction in Brownsville, TX?
Demolition is taking down or dismantling a building or structure with a strong and overwhelming force whose end result is rubble or waste. Demolition is the actual tearing down of a structure to be done by a demolition expert. Some of the items salvaged in deconstruction are: roofing materials, windows, plumbing fixtures, doors, cabinets, flooring among others. On the other hand, whole-house deconstruction entails tearing down an entire structure and salvaging any reusable or recyclable materials.
Why Sign Us for Your Demolition Project in Brownsville, TX
Our demolition experts as well as our demolition contractors in Brownsville, TX have highly specialized equipment and all the resources needed to complete any project you may have for us, however big or small it may be. Our demolition contractor is at your service to fulfill all your needs. Hiring inexperienced contractors results in lousy jobs and may even cause delays on your targeted completion date. Our demolition contractor will handle your needs on a one-on-one level and ensure that your project is given the undivided attention it deserves.
Professional Demolition Services in Brownsville, TX
Industrial Demolition services: We are the authority in collapsing massive structures like bridges, factories, industrial buildings and plants.
Commercial Demolition services: We are the demo company to call when it comes to commercial spaces that require strategic planning, especially narrow and often crowded areas. Our capability in wrecking restaurants, grocery stores, and office buildings shows our mastery in handling business districts.
Concrete Demolition and Recycling Services: We are a safe demolition company. We also listen to what you are saying. Are you trying to cut down on costs and reduce wastage? Once our demolition experts have demolished your concrete structure, we can grind it into gravel or turn it into an aggregate for making new concrete.
Scrap Metal Demolition Services: Unlike other contractors who concentrate only on concrete, our demo company can assist in handling metal frames and recycling scraps.
We Take the Lead Among Other Demolition Companies in Brownsville, TX
Our demolition experts and demolition contractors offer a professional and innovative approach to all your demolition projects. We are a class above the rest. What sets us apart is our unshaken resolve to achieve 100% in customer satisfaction. Our demolition company is experienced in implementing both small and large projects. When it comes to bringing down old, dilapidated or unwanted property, we have vast experience as a demo company and we will ensure that our services do not cause any unintended damage or pollution
Types of Demolition and Deconstruction in Brownsville, TX
Explosive Demolition: Our demolition experts in Brownsville, TX bring down structures or buildings by removing the main structural elements such as the walls and pillars with the help of explosives. This reduces the building's structural stability, causing it to collapse under its own weight. This method is faster, environmentally friendly and safer when compared to other methods.
Non-Explosive Demolition: Our local demolition contractors are flexible and in situations where explosive demolition may be unsafe, we may use a wrecking ball which is attached to a crane at a manageable height to bring down a building.
Selective Demolition: This is also known as interior demolition. When your building or property is structurally sound but its interior needs to be remodeled or upgraded, our demo contractors apply selective demolition. We use highly advanced demolition techniques giving us a reputation that other building demolition companies cannot match.
Important Demolition Equipment in Brownsville, TX
Hydraulic breakers – Massive earthmovers used at our demo company to drill and break concrete areas in no time.
Wrecking balls – Heavy and solid balls made of steel, wrecking balls are safely suspended on a crane and used to weaken a building until it gives.
Hydraulic Shears and Rock Breakers – They can be able to quickly and effectively cut through rocks, concrete, steel, wood and metal.
Bulldozers – They are used to push demolition debris. They are also used to tear down smaller structures, clear the property of rubble or pile the debris.
Dumpers – Copious amount of time is spent clearing demolition sites and this is where dumpers come in very handy. An experienced demolition business deploys dumpers to haul debris and waste away from the site.
Cranes – Demolition contractors use cranes not only for swinging wrecking balls but also in moving objects within the site. Our demo company facilitates the use of cranes to lift heavy objects from lower grounds to higher areas.
Crawler Loaders – This heavy machinery is used to move aside debris material. It can also load the material onto a dump truck.
For all Your Demolition Services in Brownsville, Texas, Call on Us
A proper assessment from a qualified demolition company in Brownsville, Texas is necessary before you proceed with any major changes in your property. With us you are guaranteed to have a safe and worry-free operation to be completed by field experts. Our demolition company provides all our clients with dynamic solutions for all their Brownsville demolition and deconstruction needs. Our Brownsville deconstruction and demolition company is licensed and highly reputable. Call us today at
(855) 885-3366
and allow us to assist you with your demolition requirements.
Zip Code Areas We Service in Brownsville
78521, 78520, 78526, 78575, 78578, 78522, 78523