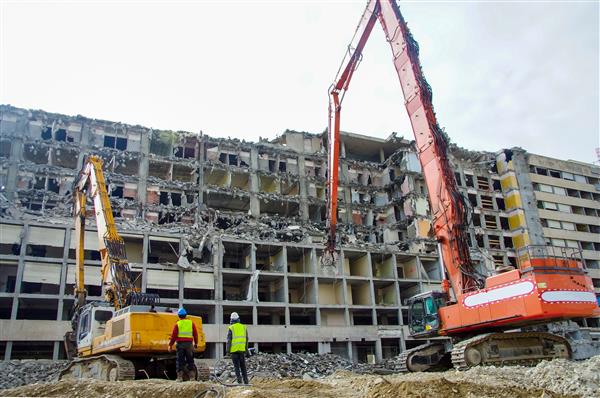 Demolition Contractors Edinburg, TX: The Number One Demolition Company
Having been in the demolition business for years, Omni Demolition has built an unshakable reputation as the leading demolition company in Edinburg, TX. Our goal is to establish strong customer ties through honest business and outstanding workmanship. No job is ever too big, too small or too demanding for us. Our demolition experts employ the safest and most efficient ways of wrecking and demolishing old homes, dilapidated buildings and any other structure you may want demolished. We are always on schedule. For all your projects, we ensure that we provide you with environmentally friendly services.
How is Demolition Different from Deconstruction in Edinburg, TX?
Demolition is a faster process in comparison to deconstruction. A demolition expert typically recommends a deconstruction before the actual demolition to be rid of any potentially dangerous materials in the building or to salvage items that can still be re-used in the future. Should a client wish to retain a building's frame or will only be rebuilding a certain part of the property, a deconstruction is in order. It is usually done when one wants to remodel or improve a part of the building.
You can Trust Us with Your Demolition Project in Edinburg, TX
Our demolition experts have done thousands of contracts and not a single one has given us negative feedback. Compared to other demolition contractors who are highly profit-driven, we are committed to giving back to the community through outstanding workmanship and transparent transactions. Hiring inexperienced contractors results in lousy jobs and may even cause delays on your targeted completion date. Our demolition contractor will handle your needs on a one-on-one level and ensure that your project is given the undivided attention it deserves.
Choose from Our Wide Variety of Demolition Services in Edinburg, TX
Industrial Demolition Services: This requires application of specialized techniques by highly trained professionals. We will safely and effectively bring down industrial structures such as factories, mills and manufacturing plants among others.
Commercial Demolition services: We are the demo company to call when it comes to commercial spaces that require strategic planning, especially narrow and often crowded areas. Our capability in wrecking restaurants, grocery stores, and office buildings shows our mastery in handling business districts.
Concrete Demolition and Recycling Services: Once we have demolished your concrete structure, our demolition experts will crush and re-use the salvaged concrete as a base course for gravel.
Scrap Metal Demolition Services: Instead of hiring another contractor, we will help you save money as our demo company will take care of handling misplaced steel erections and sorting metal scraps for salvaging.
We are on Top of Other Demolition Companies in Edinburg, TX
Our demolition company in Edinburg, TX offers a broad spectrum of solutions which enables us to deliver prompt and successful results. With us you are guaranteed safe and uninterrupted operations that you may encounter with inexperienced contractors with faulty machinery. Our demolition company is committed in service delivery. As an established demo company, we continue to make innovations in the field of construction while also maintaining the highest standards of our
Authorized Methods for Demolition and Deconstruction in Edinburg, TX
Explosive Demolition: Our qualified demolition experts have years of experience in explosive demolition projects. Using our expertise and meticulous planning, we will safely execute your project with minimal disruption to your surroundings.
Non-Explosive Demolition: Our local demolition contractors will use a wrecking ball attached to a crane to knock down a building. The heavy wrecking ball is swung several times on the targeted structure before it can collapse.
Selective Demolition: Buildings are deconstructed with the aid of special equipment. It is a solution that maximizes efficiency while reducing waste. It is mainly used when building owners want to add extensions to the building, update the interior of a building, convert space or improve the health of the building. This is a delicate procedure that demands great precision and tact, which our demo contractors have and other building demolition companies overlook.
The Main Equipment Used in Demolition in Edinburg, TX
Hydraulic breakers – Commonly known as hydraulic hammers, these are often used by our demo company to grind up slabs and concrete structures.
Wrecking balls – Attached to a crane, these heavy balls made of steel are used to weaken structures. They are swayed right into the building causing it to break and collapse.
Hydraulic Shears and Rock Breakers – They are used to cut through concrete, rocks, wood and metal.
Bulldozers – A favorite among contractors, a bulldozer can be an intimidating piece of equipment on wheels although it is fairly easy to maneuver. It can be used to transport copious amounts of waste, as well as to wreck walls.
Dumpers – A dumper or a tipper truck is essential in the demolition business. This vehicle is specially designed to carry debris such as gravel, or demolition waste in bulk away from the property. It makes cleaning up the property after demolition easier and faster.
Cranes – Aside from being used to secure a wrecking ball, demolition contractors in our demo company also use cranes to lower and lift materials within the site.
Crawler Loaders – This heavy machinery is used to move aside debris material. It can also load the material onto a dump truck.
Call Us for Outstanding Demolition Services in Edinburg, Texas
Your number one demolition company in Edinburg, Texas is always at your service. We believe in providing professional and affordable services. You're in great hands with our Edinburg deconstruction and demolition company. Get in touch with the leading Edinburg deconstruction and demolition company. Get in touch with us today at
(855) 885-3366
and we will be more than glad to help.
Zip Code Areas We Service in Edinburg
78539, 78542, 78541, 78540