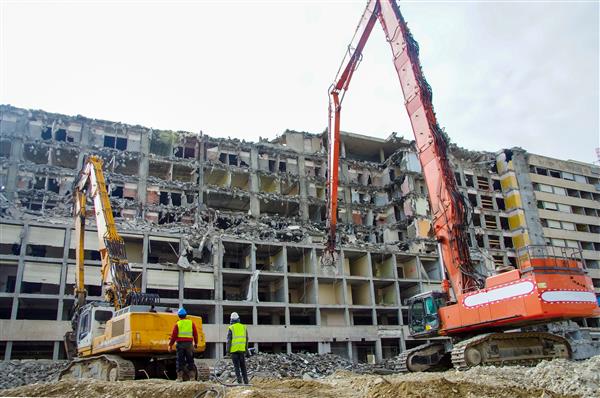 Professional Demolition Contractors El Paso, TX – What You Need to Know when Hiring a Demolition Company
Omni Demolition is recognized as the leading provider of demolition contractors in El Paso, TX. We set the standards in world-class demolition services. We do not sugar-coat our services and we often deliver more than promised. We have a team of seasoned demolition experts ready to act on any project. There are no second guesses when you sign with us.
We Do Demolition and Deconstruction in El Paso, TX
Demolition is taking down or dismantling a building or structure with a strong and overwhelming force whose end result is rubble or waste. It can either be done manually or mechanically by a demolition expert. On the other hand, deconstruction focuses on reusing, recycling, conserving and salvaging materials. In deconstruction, the building is taken down carefully. Demolition can either be selective or explosive. Explosive demolition uses mostly dynamite to bring down big buildings. Selective demolition involves bringing down a part of a building or tearing a section of a wall by a demolition expert. It entails tearing down the components of a building for the purpose of recycling, re-using as well as waste management. Deconstruction is when a demolition expert carefully dismantles or takes down a structure with the aim of reusing or recycling the materials.
What We Do in El Paso, TX
Our demolition experts as well as our demolition contractors in El Paso, TX have highly specialized equipment and all the resources needed to complete any project you may have for us, however big or small it may be. As professional demolition contractors, we religiously adhere to state policies and regulations. Hiring inexperienced contractors results in lousy jobs and may even cause delays on your targeted completion date. Our demolition contractors are not only committed to providing first rate work but also ensure that all steps are taken to cause little to zero disturbance to the environment and to the properties adjacent to the site.
Take Advantage of Our Demolition Services in El Paso, TX
Industrial Demolition services: Our countless contracts include leveling massive structures such as worn-down factories, mills, and chemical warehouses.
Commercial Demolition Services: This type of demolition requires tact in working around obstacles. Our demo company is highly skilled in demolishing commercial structures such as hotels, retail spaces, office buildings, warehouses, bridges and airplane hangars among others.
Concrete demolition and recycling services: Our demolition experts can break down concrete surfaces and slabs into reusable gravel.
Scrap Metal Demolition Services: Our demo company is also experienced in extracting steel and metal from a building.
We are Unparalleled by Other Demolition Companies in El Paso, TX
Compared to other service providers, we take pride in having hardworking demolition experts and highly skilled demolition contractors. Our demolition experts and demolition contractors have an established performance record of completing demolition jobs in the right way, on budget and on time. As an established demolition company in all of El Paso, TX, we see to it that our services, equipment and workmanship are always above customer satisfaction. Our demo company appreciates all our clients and we demonstrate this by endeavoring to give you nothing but the very best.
Methods Conducted by Experts on Demolition and Deconstruction in El Paso, TX
Explosive Demolition: Our demolition experts in El Paso, TX implode your building making it collapse safely with minimal damage to the immediate surroundings.
Non-Explosive Demolition: Although somehow rare, our local demolition contractors use a wrecking ball to tear down a structure. Compared to using explosives, this method costs less; however, there is limited control on the amount of damage each swing can make.
Selective Demolition: This is also known as interior demolition. When your building or property is structurally sound but its interior needs to be remodeled or upgraded, our demo contractors apply selective demolition. We use highly advanced demolition techniques giving us a reputation that other building demolition companies cannot match.
We Utilize Well-maintained Equipment for Demolition in El Paso, TX
Hydraulic breakers – Commonly known as hydraulic hammers, these are often used by our demo company to grind up slabs and concrete structures.
Wrecking balls – Heavy and solid balls made of steel, wrecking balls are safely suspended on a crane and used to weaken a building until it gives.
Hydraulic Shears and Rock Breakers – They are usually attached to excavators and then used to make clean cuts through concrete, metal, wood and rocks of large structures.
Bulldozers – This powerful machinery has a number of uses in construction. A bulldozer can be used to knock down an old or derelict structure. It can also be used to push away debris and clean up the area.
Dumpers – In the demolition business, they are used for moving rubble and debris away from the demolition site.
Cranes – Demolition contractors use a crane to attach a wrecking ball. A demo company can also use a crane for moving materials on the different levels of the structure or building.
Crawler Loaders – A flexible machine, crawlers are perfect for excavating narrow spaces. Although not very good for excavating, it can be used to haul items easily.
Contact Us for Cost-effective Demolition Services in El Paso, Texas
If you are looking for a reliable demolition company in El Paso, Texas, there is no need to look any further. With us you are guaranteed to have a safe and worry-free operation to be completed by field experts. Our demolition company is the El Paso demolition and deconstruction company you have been looking for. Our El Paso deconstruction and demolition company is licensed and highly reputable. Call us today at
(855) 885-3366
and get your job done quickly, flawlessly and affordably.
Zip Code Areas We Service in El Paso
79901, 79902, 79903, 79904, 79905, 79906, 79907, 79930, 79932, 79935, 79934, 79936, 79912, 79911, 79835, 79922, 79920, 79927, 79924, 79925, 79915, 79910, 79913, 79914, 79917, 79918, 79923, 79926, 79929, 79931, 79937, 79940, 79941, 79943, 79944, 79945, 79946, 79947, 79948, 79949, 79950, 79951, 79952, 79953, 79954, 79955, 79958, 79960, 79961, 79968, 79976, 79978, 79980, 79995, 79996, 79997, 79998, 79999, 88510, 88511, 88512, 88513, 88514, 88515, 88517, 88518, 88519, 88520, 88521, 88523, 88524, 88525, 88526, 88527, 88528, 88529, 88530, 88531, 88532, 88533, 88534, 88535, 88536, 88538, 88539, 88540, 88541, 88542, 88543, 88544, 88545, 88546, 88547, 88548, 88549, 88550, 88553, 88554, 88555, 88556, 88557, 88558, 88559, 88560, 88561, 88562, 88563, 88565, 88566, 88567, 88568, 88569, 88570, 88571, 88572, 88573, 88574, 88575, 88576, 88577, 88578, 88579, 88580, 88581, 88582, 88583, 88584, 88585, 88586, 88587, 88588, 88589, 88590, 88595