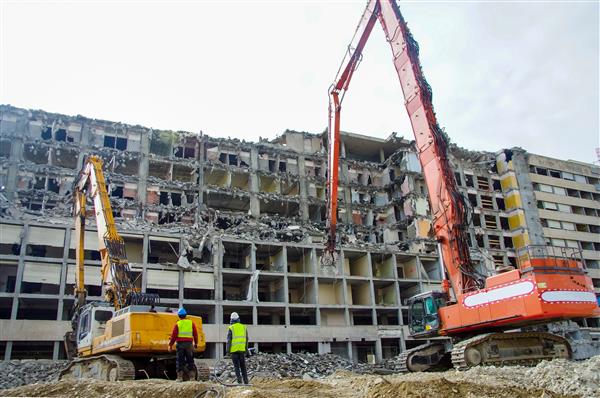 The Demolition Company with Demolition Contractors in Frisco, TX You Can Count On
For years, Omni Demolition has continuously served and established its reputation as the most trusted demolition contractor in Frisco, TX. We set the standards in world-class demolition services. We offer unrivalled expertise and deliver tailor-made solutions to both simple and tough demolition projects. Our demolition experts employ the safest and most efficient ways of wrecking and demolishing old homes, dilapidated buildings and any other structure you may want demolished. You can rest assured that our affordable services are top-notch. To achieve this, our demolition experts apply strong verbal, communication, analytical, managerial, decision-making and time-management skills.
The Main Variances of Demolition and Deconstruction in Frisco, TX
Demolition is the tearing down of buildings or structures partly or completely. A demolition expert may order a deconstruction if parts of the original structure need to be retained or hazardous materials and reusable items need to be extracted before an actual demolition. A deconstruction may be a prerequisite to the actual demolition process where hazardous materials are taken out prior to the tear down of the structure. The structures can be pulled down manually. Selective deconstruction involves going into a property before demolition and removing high value and easily removable materials.
Our Commitment to Your Demolition Project in Frisco, TX
Our demolition experts and demolition contractors in Frisco, TX offer superior services in demolition for all your projects. If you wish to have a an effortless and hassle-free experience when leveling a property in Frisco, TX, we are the demolition contractor that you can rely on. We have a proven record of accomplishment in excellence. Trust only the most preferred demolition contractor in all of Frisco, TX. From cost estimation up to the site clean-up, you can rest assured that we have everything covered. From cost estimation up to the site clean-up, you can rest assured that we have everything covered.
Professional Demolition Services in Frisco, TX
Industrial Demolition Services: This type of demolition service requires a surgical approach. We have a systemic, controlled and detailed solution in place for demolishing facilities such as chemical plants, manufacturing plants, port facilities, oil refineries, factories, and lumber mills among others.
Commercial Demolition services: Need your commercial demolition project done right the first time? Our demo company will take care of that for you. Our portfolio includes: airplane hangars, restaurants, grocery stores, gas stations, warehouses and libraries among others.
Concrete demolition and recycling services: If you want to save time and money, our demolition experts can also extract concrete materials and slabs onsite to be broken down into reusable gravel.
Scrap Metal Demolition Services: Our demo company will also clear out your property of any undesirable steel erections and salvage any existing metal scraps for recycling.
We Set the Pace for Other Demolition Companies in Frisco, TX
Our demolition experts and demolition contractors offer a professional and innovative approach to all your demolition projects. Our team uses sophisticated equipment and observes high standards in every operation. We are a demolition company that takes our work seriously and consistently conduct regularly equipment maintenance, which ensures efficient and quick clearing operations. Being a demo company in this business for years, we have perfected the process of demolishing structures as cost-effectively and safely as possible.
Main Methods for Demolition and Deconstruction in Frisco, TX
Explosive Demolition: Our demolition experts carefully consider all factors before flipping the switch that will initialize explosives to go off and promptly annihilate the target building in Frisco, TX.
Non-Explosive Demolition: Certain buildings are not recommended for use of explosives, to which local demolition contractors opt for wrecking balls. Made of steel, a wrecking ball is suspended and swung into the building repeatedly causing it to topple or crumble down.
Selective Demolition: This method is used when buildings are being remodeled or rebuilt and the client wishes to retain some parts of the structure. Not all contractors can perform this demolition as it involves meticulous planning and careful effort. Our demo contractors are veterans in conducting selective demolition especially in handling specialized equipment required for the job. You can trust our team of experts in providing calculated and top of the line performance, which other inexperienced building demolition companies cannot guarantee.
Well-maintained Equipment for Demolition in Frisco, TX
Hydraulic Breakers – Our demo company uses a hydraulic breaker to demolish rocks and concrete structures. Its powerful hammer causes destruction on the targeted object in a matter of seconds.
Wrecking balls – Huge metal balls suspended on a metal crane and swung into the building intended to be collapsed either once or as many as needed.
Hydraulic Shears and Rock Breakers – They are usually attached to excavators and then used to make clean cuts through concrete, metal, wood and rocks of large structures.
Bulldozers – Serving multiple purposes, bulldozers can be used to haul items and waste as well as help knock down weak structures or level mounds of soil.
Dumpers – A necessity in every demolition business, dumpers are used to haul waste materials off the demolition site. It ensures the pre-construction area is free from any trash or debris brought about by the demolition.
Cranes – Demolition contractors use cranes to transfer materials within the site especially from lower to upper floors and vice versa. Aside from being used as a pulley, our demo company also uses cranes for wrecking balls.
Crawler Loaders – They are very effective in removing materials from the demolition site. They are used to move or clear an area of demolition rubble. Crawler loaders can also be used to push down smaller-sized structures.
Call us Today for Demolition Services in Frisco, Texas
We are your dependable and trusted demolition company in Frisco, Texas. Our dedication is in ensuring that we maximize your asset potential. Contact us today and let our demolition company take the pressure off of you. Our Frisco deconstruction and demolition company is licensed and highly reputable. Contact us at
(855) 885-3366
.
Zip Code Areas We Service in Frisco
75034, 75035, 75033