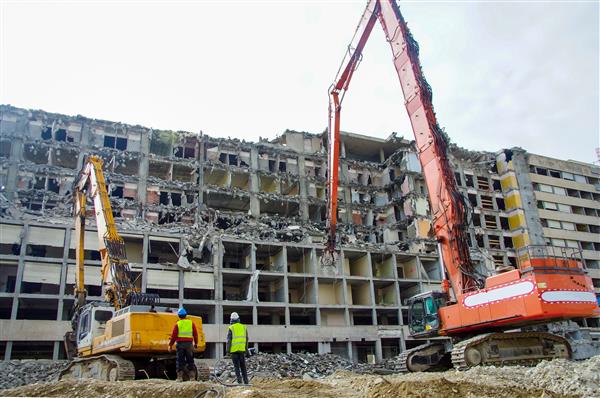 Demolition Contractors Georgetown, TX: Your Trusted Demolition Company
Omni Demolition has paved the way for many construction services in the city through the exemplary workmanship and warm customer service of our demolition contractors. You are guaranteed to get the best value for your money with our expertise partnered with updated equipment and strict adherence to state safety regulations and policies. We offer unrivalled expertise and deliver tailor-made solutions to both simple and tough demolition projects. Our demolition experts provide top-notch work. We are an environmentally friendly company.
What are the differences Between Demolition and Deconstruction in Georgetown, TX
Demolition is the process of tearing down or pulling down buildings and structures by a demolition expert. Our demolition experts are most experienced in going over construction sites to see what items may be salvaged and put aside to be used again, often saving time and resources. There are two categories of deconstruction, namely soft strip or selective deconstruction and whole-house deconstruction. The materials can be reused in rebuilding or reconstruction.
You can Trust Us with Your Demolition Project in Georgetown, TX
Our demolition experts will handle your property professionally from start to finish. Compared to other demolition contractors who are highly profit-driven, we are committed to giving back to the community through outstanding workmanship and transparent transactions. Most sales agents will promise everything just to close a deal but are no longer accountable when their team fails to deliver. You will not find another demolition contractor in all of Georgetown, TX who will help you save and spend wisely.
What Demolition Services Can You Expect to Find in Georgetown, TX?
Industrial Demolition Services: We can handle any challenging industrial demolition project you may have. With our world-class equipment and staff, we are able to demolish plants, mills, manufacturing buildings and so on.
Commercial Demolition services: We are the demo company to call when it comes to commercial spaces that require strategic planning, especially narrow and often crowded areas. Our capability in wrecking restaurants, grocery stores, and office buildings shows our mastery in handling business districts.
Concrete Demolition and Recycling Services: This type of demolition is environmentally friendly and saves on cost. Rubble from concrete demolition is reused by our demolition experts to make gravel or as one of the materials for making new concrete.
Scrap Metal Demolition Services: As an all-around demo company, we can also take care of any unwanted steel erections and metal scraps onsite. We follow a certain procedure in salvaging items that are still good for future use so you can be sure nothing goes to waste.
We are on Top of Other Demolition Companies in Georgetown, TX
Our demolition experts and demolition contractors offer a professional and innovative approach to all your demolition projects. We take pride in employing some of the finest calibre of demolition experts throughout the city. An emerging demo company from years back, we are now among the top contractors in the city when it comes to leveling residential, commercial and industrial properties. Our demo company is well equipped in handling any job, however simple or complex.
Safely Regulated Methods for Demolition and Deconstruction in Georgetown, TX
Explosive Demolition: It is also known as the implosion method. Our demolition experts fix a building's or structure's slabs, columns and beams with explosives. Once the explosives detonate, the columns collapse and so does the building or structure.
Explosive Demolition: This method should be done only by experienced demolition experts in Georgetown, TX as it involves safety parameters that should be strictly observed. It involves turning a switch to initiate an explosion, which will then collapse the building into a mound of rubble.
Selective Demolition: A more complex method compared to using explosives or wrecking balls, selective demolition requires demo contractors to remove certain parts of a structure while keeping the rest of it in place. We have mastered this technique and take pride in being skilled in doing what other building demolition companies cannot.
Demolition Equipment in Georgetown, TX
Hydraulic Breakers – A demo company uses hydraulic breakers to demolish concrete and pulverize rocks.
Wrecking balls – A wrecking ball is used together with a crane. This heavy steel ball is suspended from a crane and is used to bring down an entire structure or part of it. Although not widely used, this method is as fast as it is cost effective.
Hydraulic Shears/ Rock breakers – They are fitted to an excavator and have the ability to cut through concrete, metal, rocks and wood.
Bulldozers – They are used to push demolition debris. They are also used to tear down smaller structures, clear the property of rubble or pile the debris.
Dumpers – In every demolition business, dumpers are necessary to clear the site from rubble and debris.
Cranes – In demolition, demolition contractors need a crane. Cranes can be used to lift a small-sized excavator. A wrecking ball can also be attached to a crane for demolition making it an essential piece of machinery in a demo company.
Crawler Loaders – Flexible heavy equipment, crawler loaders can move on top of uneven surfaces and are also used for excavating and lifting.
For all your Demolition Needs contact us in Georgetown, Texas
Settling with an amateur demolition company in Georgetown, Texas may seem cost-effective at first but mishaps and faulty work onsite may cost more of your resources, time and energy. With us you are guaranteed to have a safe and worry-free operation to be completed by field experts. Our demolition company is the Georgetown demolition and deconstruction company you have been looking for. Our work integrity and reasonable packages are only some of the reasons why we are a well renowned Georgetown deconstruction and demolition company. Go ahead and give us a call today at
(855) 885-3366
. We are always at your service.
Zip Code Areas We Service in Georgetown
78633, 78626, 78628, 78627