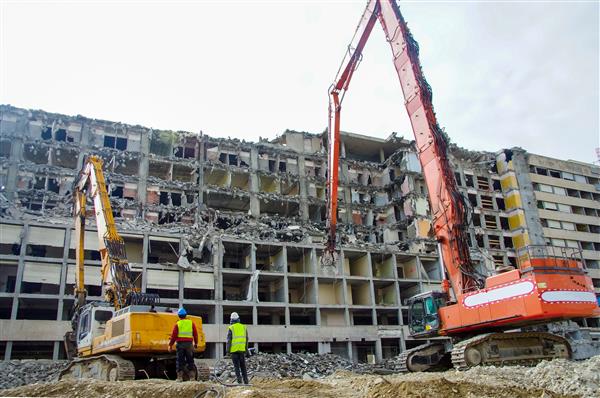 Demolition Contractors Killeen, TX The Demolition Company That You Can Count On
The strength of Omni Demolition lies not only in its state of the art equipment and the expertise of its demolition contractors but the commitment that we have in providing unsurpassable services. We are an established service provider when it comes to experience, skills and workmanship. We offer unrivalled expertise and deliver tailor-made solutions to both simple and tough demolition projects. If you need a structure or building taken down, our demolition experts will use the fastest and most economical method of demolition. This minimizes the chances of accidents or injuries at the demolition site.
The Objectives of Demolition and Deconstruction in Killeen, TX
Demolition is aimed at basically bringing down a structure. Some projects require complete levelling while others simply need specific parts removed to be replaced. For every client call, we have a demolition expert equipped to do the job. Deconstruction differs from demolition in that, it involves tearing apart a building or a home in a manner that salvages materials. We have the know-how in identifying the value of extracted materials and their potential for reuse.
Highly Recommendable Services for Any Demolition Project in Killeen, TX
We have demolition experts who plan everything meticulously, from the bringing in of our equipment up to the clearance of the property from wastes and debris. Our demolition contractors have years of experience in the business providing exceptional and enviable customer service across Killeen, TX. Most sales agents will promise everything just to close a deal but are no longer accountable when their team fails to deliver. You will not find another demolition contractor in all of Killeen, TX who will help you save and spend wisely.
Our Range of Demolition Services in Killeen, TX
Industrial Demolition services: We have an impeccable history in handling industrial buildings such as warehouses, chemical plants, mills and more. No matter how gigantic the structure is, our team of experts can surely manage.
Commercial Demolition services: Need your commercial demolition project done right the first time? Our demo company will take care of that for you. Our portfolio includes: airplane hangars, restaurants, grocery stores, gas stations, warehouses and libraries among others.
Concrete Demolition and Recycling Services: This type of demolition is environmentally friendly and saves on cost. Rubble from concrete demolition is reused by our demolition experts to make gravel or as one of the materials for making new concrete.
Scrap Metal Demolition Services: Instead of hiring another contractor, we will help you save money as our demo company will take care of handling misplaced steel erections and sorting metal scraps for salvaging.
We Set the Pace for Other Demolition Companies in Killeen, TX
Our demolition experts and highly skilled demolition contractors have worked on the most noteworthy projects in Killeen, TX. Our demolition experts and demolition contractors have an established performance record of completing demolition jobs in the right way, on budget and on time. Using cutting edge technology added to our team's expertise, our demolition company is guaranteed to deliver more than promised. Our demo company delivers effective and safe results on your time and budget.
Methods Used for Demolition and Deconstruction in Killeen, TX
Explosive Demolition: Our demolition experts in Killeen, TX implode your building making it collapse safely with minimal damage to the immediate surroundings.
Non-Explosive Demolition: Our local demolition contractors are flexible and in situations where explosive demolition may be unsafe, we may use a wrecking ball which is attached to a crane at a manageable height to bring down a building.
Selective Demolition: This type of demolition is done when you want to remodel or renovate a building. It can either be exterior or interior by nature. Exterior demolition involves tearing down a part of the building with a purpose of increasing it in size or making it smaller. Interior demolition focuses mostly on taking apart spaces for remodeling or renovation.
Cutting Edge Equipment Utilized for Demolition in Killeen, TX
Hydraulic breakers-Heavy-duty excavators are used at our demo company to aid in breaking or crushing concrete segments of the building. Be wary of contractors who have poorly maintained equipment such as hydraulic breakers because this will surely cause delays in your timeline.
Wrecking balls – A massive ball made of steel, it is suspended on a crane and maneuvered into a swinging motion to tear down a building. It sounds less dangerous than using explosives but the use of wrecking balls gives little control to the depth of damage done, hence it requires careful and professional handling.
Hydraulic shears and rock breakers – Used by specialists to cut through various materials such as concrete, metal, wood, and steel.
Bulldozers – Commonly used where heavy lifting is required, this flexible machine can also be used to topple down weak structures.
Dumpers – Dumpers are also known as tipper trucks. They are used for transporting rubble or waste from the demolition site. If you are in the demolition business, safety is paramount and some of the safety hazards are demolition wastes. A dumper is a very important in removing the large amount of debris from the site.
Cranes – Demolition contractors use cranes to attach a wrecking ball to it. The wrecking ball suspended on a crane is then swung to the targeted structure. A demo company can use cranes to remove debris from high areas of a demolished structure. Cranes can also be used to load debris onto a dumper.
Crawler Loaders – Also meant to be used in excavating, crawler loaders have declined in popularity compared to hydraulics that can be used in heavy drilling. This equipment, however, can run on its own power as opposed to hydraulic excavators that more often require towing.
For all Your Demolition Services in Killeen, Texas, Call on Us
A proper assessment from a qualified demolition company in Killeen, Texas is necessary before you proceed with any major changes in your property. We take any demolition challenge head on. You're in great hands with our Killeen deconstruction and demolition company. We are the Killeen deconstruction and demolition company to go to for premium and safe demo services. Dial
(855) 885-3366
for a professional Killeen demolition that will not break your bank.
Zip Code Areas We Service in Killeen
76541, 76543, 76542, 76549, 76540, 76547