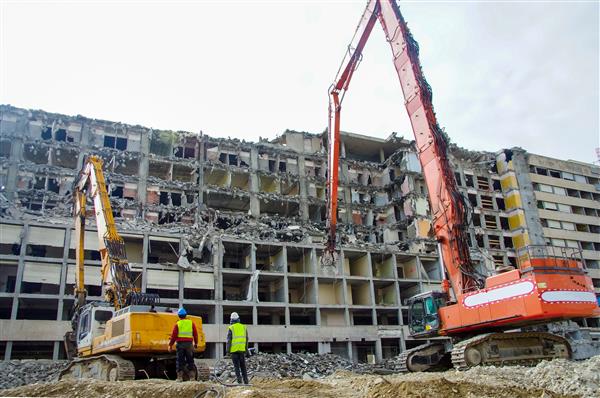 Demolition Contractors in Lewisville, TX: Your Trusted Demolition Company
When looking to hire demolition contractors in Lewisville, TX, Omni Demolition is your best choice. Just like any other major construction or remodeling plan, having a property demolished requires the skills of professionals, along with the use of appropriate equipment. You never have to worry about timelines. Led by deconstruction experts in the industry in Lewisville, TX, our demolition experts offer innovative approaches to all your projects, whether big or small. For complex demolition jobs, we offer reliable demolition services.
The Objectives of Demolition and Deconstruction in Lewisville, TX
Demolition is aimed at basically bringing down a structure. Our demolition experts are most experienced in going over construction sites to see what items may be salvaged and put aside to be used again, often saving time and resources. Should a client wish to retain a building's frame or will only be rebuilding a certain part of the property, a deconstruction is in order. The materials can be reused in rebuilding or reconstruction. They can also be torn down mechanically with the aid of hydraulic equipment such as bulldozers, excavators or planes.
Complete Accountability from Highly Skilled Specialists for Your Demolition Project in Lewisville, TX
We have demolition experts who plan everything meticulously, from the bringing in of our equipment up to the clearance of the property from wastes and debris. Compared to other demolition contractors who are highly profit-driven, we are committed to giving back to the community through outstanding workmanship and transparent transactions. Our word is our bond. We have an impeccable record of giving our clients value for their money while never compromising on the quality of our work. You will not find another demolition contractor in all of Lewisville, TX who will help you save and spend wisely. Whether small or large, we strive to always provide you with the highest possible standards of service in completing your projects within your budget and timeframe without complications. Whether small or large, we strive to always provide you with the highest possible standards of service in completing your projects within your budget and timeframe without complications.
Our Demolition Services in Lewisville, TX
Industrial Demolition services: We have tried and tested thorough demolition of industrialized buildings. Our record includes taking down plants, manufacturing buildings, mills and the like.
Commercial Demolition Services: Despite commercial buildings being located in compact spaces, our demo company is able to bring down your building or structure in a safe way with minimal damage to the surrounding area. Using modernized equipment, our team of professionals have pulled down warehouses, grocery stores, shops, airplane hangars among others.
Concrete Demolition and Recycling Services: Our demolition experts will help you realize your green-building initiative. We turn construction debris such as crushed concrete into gravel or a dry aggregate for making new concrete.
Scrap Metal Demolition Services: Unlike other contractors who concentrate only on concrete, our demo company can assist in handling metal frames and recycling scraps.
What Sets Us Apart from Others Lewisville, TX
We are professional demolition contractors who offer superior quality services. We take pride in employing some of the finest calibre of demolition experts throughout the city. Our demolition company is experienced in implementing both small and large projects. Our demo company offers packages that are reasonably priced as well due to the fact that we have mastered an efficient way of demolition that cuts unnecessary expenses.
Methods Conducted by Experts on Demolition and Deconstruction in Lewisville, TX
Explosive Demolition: Explosive materials are strategically placed on the building or structure in Lewisville, TX by our demolition experts. The explosives are timed to make a structure go down on itself in seconds in order to minimize damage to the surroundings.
Non-Explosive Demolition: Our local demolition contractors are flexible and in situations where explosive demolition may be unsafe, we may use a wrecking ball which is attached to a crane at a manageable height to bring down a building.
Selective Demolition: This method is used when buildings are being remodeled or rebuilt and the client wishes to retain some parts of the structure. Not all contractors can perform this demolition as it involves meticulous planning and careful effort. Our demo contractors are veterans in conducting selective demolition especially in handling specialized equipment required for the job. You can trust our team of experts in providing calculated and top of the line performance, which other inexperienced building demolition companies cannot guarantee.
Important Demolition Equipment in Lewisville, TX
Hydraulic Breakers – This strong hammer is built to withstand heavy and rigorous use. As one of the high-quality demolition tools used by our demo company, it offers greater productivity in regards to speed, efficiency and its overall performance.
Wrecking Balls – Buildings or structures that are more than 6 storeys high are demolished with the help of a wrecking ball suspended on a crane by a steel rope. The wrecking ball is pulled then released towards the structure. With force, the steel ball strikes the structure and demolishes it in bits.
Hydraulic Shears and Rock Breakers – They are used to cut through concrete, rocks, wood and metal.
Bulldozers – They are used to push demolition debris. They are also used to tear down smaller structures, clear the property of rubble or pile the debris.
Dumpers – An efficient demolition business uses dumpers to haul wastes off the demo site for its clearing process. Not having dumpers means requiring a third party contractor to get rid of the trash and may cause delays on the project timeline.
Cranes – In demolition, demolition contractors need a crane. Cranes can be used to lift a small-sized excavator. A wrecking ball can also be attached to a crane for demolition making it an essential piece of machinery in a demo company.
Crawler Loaders – They can be used to bring down heavy smaller-sized structures. They can also be used to move debris.
Call us Today for Demolition Services in Lewisville, Texas
A proper assessment from a qualified demolition company in Lewisville, Texas is necessary before you proceed with any major changes in your property. We will meet all your demands and give the same meticulous attention to your projects no matter the size. Our demolition company is the Lewisville demolition and deconstruction company you have been looking for. Unlike some unreliable Lewisville deconstruction and demolition companies who are all talk, we are devoted to deliver more than promised. Get in touch with us today at
(855) 885-3366
and we will be more than glad to help.
Zip Code Areas We Service in Lewisville
75067, 75065, 75056, 75057, 75077, 75029