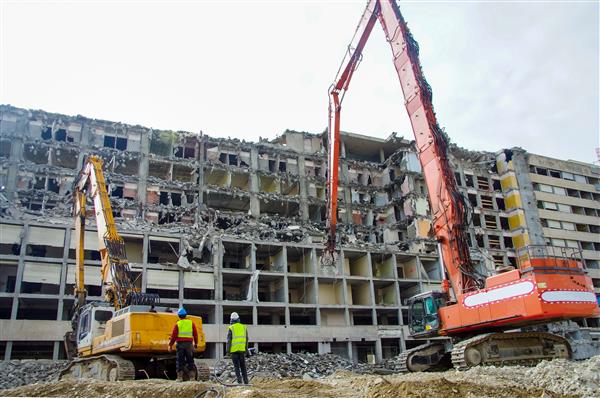 Recognizing an Outstanding Demolition Company from Inexperienced Demolition Contractors Lubbock, TX
Here at Omni Demolition, we believe that pricing is not the only factor that you must consider when getting the services of demolition contractors in Lubbock, TX. We set the standards in world-class demolition services. No job is ever too big, too small or too demanding for us. You can trust that our demolition experts are all well-versed when it comes to everything that has to do with eco-friendly demolition, as well as health and safety guidelines. There are no second guesses when you sign with us.
The Main Variances of Demolition and Deconstruction in Lubbock, TX
Demolition is taking down or dismantling a building or structure with a strong and overwhelming force whose end result is rubble or waste. Some projects require complete levelling while others simply need specific parts removed to be replaced. For every client call, we have a demolition expert equipped to do the job. Deconstruction differs from demolition in that, it involves tearing apart a building or a home in a manner that salvages materials. There are two types of deconstruction: selective and whole-house.
Economical Services for Your Demolition Project in Lubbock, TX
Our demolition experts will meticulously execute your demolition project in a timely and safe manner. An experienced and well-trained demolition contractor will manage your project and ensure that the job gets done. One of our biggest hallmarks is giving you undivided personal attention. Trust only the most preferred demolition contractor in all of Lubbock, TX.
Choose from Our Wide Variety of Demolition Services in Lubbock, TX
Industrial Demolition services: Complexity and size do not intimidate us. We have successfully torn down enormous structures such as manufacturing plants, factories, warehouses and even utility installations.
Commercial Demolition services: We isolate the targeted building before performing the actual demolition so as not to cause any damage to its neighboring structures. Our demo company, has handled tearing down malls, airplane hangars, markets, and even bridges.
Concrete Demolition and Recycling Services: Our demolition experts will help you realize your green-building initiative. We turn construction debris such as crushed concrete into gravel or a dry aggregate for making new concrete.
Scrap Metal Demolition Services: Our demo company will save you time and money by demolishing your metal structure, putting a recovery plan in place and selling the salvaged scrap metal for you.
We Stay Ahead Other Demolition Companies in Lubbock, TX
Our demolition company in Lubbock, TX offers a broad spectrum of solutions which enables us to deliver prompt and successful results. We take pride in employing some of the finest calibre of demolition experts throughout the city. As the number one demolition company in Lubbock, TX, we will work closely with you to guarantee an optimum outcome. As a trusted demo company, we have established a life-long relationship with our loyal patrons who can attest to our efficiency and commitment to getting the job done.
Main Methods Used in Demolition and Deconstruction in Lubbock, TX
Explosive Demolition: Our demolition experts in Lubbock, TX bring down structures or buildings by removing the main structural elements such as the walls and pillars with the help of explosives. This reduces the building's structural stability, causing it to collapse under its own weight. This method is faster, environmentally friendly and safer when compared to other methods.
Explosive Demolition: This method should be done only by experienced demolition experts in Lubbock, TX as it involves safety parameters that should be strictly observed. It involves turning a switch to initiate an explosion, which will then collapse the building into a mound of rubble.
Selective Demolition: In cases where property owners want to retain a certain part or frame of a structure, demo contractors will conduct the selective method. In this procedure, building demolition companies need to ensure the integrity of the structure is not compromised after some parts are removed.
Important Equipment Used for Demolition in Lubbock, TX
Hydraulic breakers – Our demo company uses hydraulic breakers or hammers in crushing otherwise solid surfaces such as concrete, cement and even rocks.
Wrecking Balls – Although less common in demolition sites, it is an efficient way of demolishing a concrete structure. This solid steel ball is attached to a crane. It is then swung to the targeted building several times to strike down the structure.
Hydraulic Shears and Rock Breakers – They are able to demolish steel structures. Hydraulic shears are also used for recycling or secondary breaking. Rock Breakers are robust pounding hammers that are usually fitted to excavators. They are used to demolish rocks, as the name suggests or concrete.
Bulldozers – It has a ripper and is used to move large quantities of rubble. It is also used to bring walls down.
Dumpers – A dumper is a very useful piece of machinery in every demolition business. It is used to carry away demolition waste from demolition sites.
Cranes – Demolition contractors use cranes not only for swinging wrecking balls but also in moving objects within the site. Our demo company facilitates the use of cranes to lift heavy objects from lower grounds to higher areas.
Crawler Loaders – They are very efficient in moving heavy materials and dirt piles. Some models of the crawler loaders are able to push down heavy smaller-sized structures. They are also used to clean the ground.
For All Your Demolition Service Needs in Lubbock, Texas, Contact Us Today
Our demolition company in Lubbock, Texas is the best one in town. We take any demolition challenge head on. Our demolition company never offers excuses; we simply provide professional and timely services guaranteed to accommodate your budget. Our Lubbock deconstruction and demolition company has highly skilled personnel with years of experience in the demolition business. Call us today at
(855) 885-3366
and allow us to assist you with your demolition requirements.
Zip Code Areas We Service in Lubbock
79406, 79401, 79423, 79424, 79416, 79412, 79410, 79411, 79414, 79404, 79407, 79403, 79415, 79413, 79402, 79408, 79409, 79430, 79452, 79453, 79457, 79464, 79490, 79491, 79493, 79499