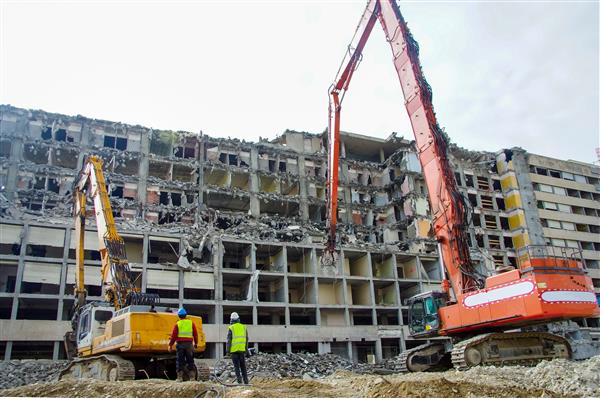 Demolition Contractors McAllen, TX The Demolition Company That You Can Count On
Omni Demolition has efficient and expertly trained demolition contractors. You are guaranteed to get the best value for your money with our expertise partnered with updated equipment and strict adherence to state safety regulations and policies. You never have to worry about timelines. Led by deconstruction experts in the industry in McAllen, TX, our demolition experts offer innovative approaches to all your projects, whether big or small. We are an environmentally friendly company.
The Main Variances of Demolition and Deconstruction in McAllen, TX
Demolition is aimed at basically bringing down a structure. Whether you require complete or selective knocking down of a building in McAllen, TX, we are the specialists to call. Should a client wish to retain a building's frame or will only be rebuilding a certain part of the property, a deconstruction is in order. The materials can be reused in rebuilding or reconstruction. A demolition expert typically recommends a deconstruction before the actual demolition to be rid of any potentially dangerous materials in the building or to salvage items that can still be re-used in the future.
What We Do in McAllen, TX
Our demolition experts have done thousands of contracts and not a single one has given us negative feedback. As professional demolition contractors, we religiously adhere to state policies and regulations. It is our core mission to exceed all your expectations. You will not find another demolition contractor in all of McAllen, TX who will help you save and spend wisely.
We Offer a Wide Array of Professional Demolition Services in McAllen, TX
Industrial Demolition services: Our best-in-class strategies and state-of-the-art equipment allow us to offer specialized industrial demolition services for your chemical plant, mills and factories.
Commercial Demolition Services: This type of demolition requires tact in working around obstacles. Our demo company is highly skilled in demolishing commercial structures such as hotels, retail spaces, office buildings, warehouses, bridges and airplane hangars among others.
Concrete Demolition and Recycling Services: We are a safe demolition company. We also listen to what you are saying. Are you trying to cut down on costs and reduce wastage? Once our demolition experts have demolished your concrete structure, we can grind it into gravel or turn it into an aggregate for making new concrete.
Scrap Metal Demolition Services: Our demo company will save you time and money by demolishing your metal structure, putting a recovery plan in place and selling the salvaged scrap metal for you.
Key Advantages Against Other Demolition Companies in McAllen, TX
Our demolition experts and demolition contractors offer a professional and innovative approach to all your demolition projects. We take pride in employing some of the finest calibre of demolition experts throughout the city. Our demolition company is experienced in implementing both small and large projects. Our demo company appreciates all our clients and we demonstrate this by endeavoring to give you nothing but the very best.
Authorized Methods for Demolition and Deconstruction in McAllen, TX
Explosive Demolition: Conducted by our skilled demolition experts in McAllen, TX, this method requires properly laying out detonators and explosives to bring a structure down to a pulp.
Non-Explosive Demolition: Our local demolition contractors will use a wrecking ball to bring down your structure. This method is cheaper than explosive demolition.
Selective Demolition: Buildings are deconstructed with the aid of special equipment. It is a solution that maximizes efficiency while reducing waste. It is mainly used when building owners want to add extensions to the building, update the interior of a building, convert space or improve the health of the building. This is a delicate procedure that demands great precision and tact, which our demo contractors have and other building demolition companies overlook.
Important Demolition Equipment in McAllen, TX
Hydraulic Breakers – A demo company uses hydraulic breakers to demolish concrete and pulverize rocks.
Wrecking balls – Although rarely used nowadays, wrecking balls are heavy steel balls used to gradually destroy a structure's integrity until it collapses.
Hydraulic Shears and Rock Breakers – They are usually attached to excavators and then used to make clean cuts through concrete, metal, wood and rocks of large structures.
Bulldozers – It has a ripper and is used to move large quantities of rubble. It is also used to bring walls down.
Dumpers – Not every demolition business have their own dumpers but we use them for taking waste products and debris off the site.
Cranes – Our demolition contractors utilize cranes not only for suspending wrecking balls but in heavy lifting and moving materials within the site. Our demo company uses different types of cranes depending on the task to be fulfilled.
Crawler Loaders – They are very efficient in moving heavy materials and dirt piles. Some models of the crawler loaders are able to push down heavy smaller-sized structures. They are also used to clean the ground.
For All Your Demolition Service Needs in McAllen, Texas, Contact Us Today
If you are looking for a reliable demolition company in McAllen, Texas, there is no need to look any further. We believe in providing professional and affordable services. Consult with a reliable demolition company and save yourself from all the worries. We deliver your McAllen demolition needs in a timely manner without compromising on the quality of our work. Call us today at
(855) 885-3366
and allow us to assist you with your demolition requirements.
Zip Code Areas We Service in McAllen
78504, 78503, 78501, 78502, 78505