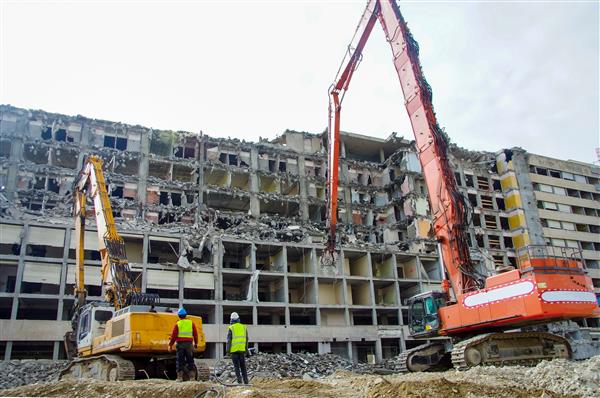 Expert Demolition Contractors Missouri City, TX: Your Partner Demolition Company
Our mission here at Omni Demolition is to ensure that we offer premium and high-caliber services through our expert demolition contractors. We are dedicated to working on your project with no distractions whatsoever. If you need to hire a professional demolition contractor in Missouri City, TX without spending a ridiculous amount of money, you have come to the right place. Our demolition experts provide top-notch work. Whether it may be a residential, commercial or industrial structure that needs to be taken care of, our crew has got it covered.
What is the Difference between Demolition and Deconstruction in Missouri City, TX
Demolition is the process of tearing down or pulling down buildings and structures by a demolition expert. Our demolition experts are most experienced in going over construction sites to see what items may be salvaged and put aside to be used again, often saving time and resources. There are two categories of deconstruction, namely soft strip or selective deconstruction and whole-house deconstruction. There are two types of deconstruction: selective and whole-house. As opposed to a full demolition which entails completely crushing a certain structure, deconstruction is the strategic taking apart of a building and putting away its reusable components.
Discover Our Amazing Services for All Your Demolition Projects in Missouri City, TX
Our demolition experts and demolition contractors in Missouri City, TX offer superior services in demolition for all your projects. Some demolition contractors may offer you an attractive contract with a very cheap price tag, but are you sure you are getting a steal? We are knowledgeable in protocols and we prioritize safety at all times. Do not be tricked by demolition contractors who cannot walk the talk.
Check Our Broad Range of Demolition Services in Missouri City, TX
Industrial Demolition Services: We can handle any challenging industrial demolition project you may have. With our world-class equipment and staff, we are able to demolish plants, mills, manufacturing buildings and so on.
Commercial Demolition services: Our demo company, has proven to be knowledgeable in demolishing commercial buildings despite their confinement in between other structures. Using specialized equipment plus our own unique strategy, we have in the past taken down airplane hangars, grocery stores, bridges, shops, and warehouses.
Concrete demolition and recycling services: If you want to save time and money, our demolition experts can also extract concrete materials and slabs onsite to be broken down into reusable gravel.
Scrap Metal Demolition Services: Our demo company will also clear out your property of any undesirable steel erections and salvage any existing metal scraps for recycling.
We are on Top of Other Demolition Companies in Missouri City, TX
Despite being highly preferred over other demolition contractors, we keep our feet grounded. Our team uses sophisticated equipment and observes high standards in every operation. We are a demolition company that takes our work seriously and consistently conduct regularly equipment maintenance, which ensures efficient and quick clearing operations. When it comes to bringing down old, dilapidated or unwanted property, we have vast experience as a demo company and we will ensure that our services do not cause any unintended damage or pollution
High Standard Methods for Demolition and Deconstruction in Missouri City, TX
Explosive Demolition: Done by licensed demolition experts in Missouri City, TX, this method may sound dangerous and it could be when proper procedures are not followed. After explosives are strategically laid out, a switch is all it takes to completely take down a building.
Non-Explosive Demolition: Certain buildings are not recommended for use of explosives, to which local demolition contractors opt for wrecking balls. Made of steel, a wrecking ball is suspended and swung into the building repeatedly causing it to topple or crumble down.
Selective Demolition: This type of demolition is done when you want to remodel or renovate a building. It can either be exterior or interior by nature. Exterior demolition involves tearing down a part of the building with a purpose of increasing it in size or making it smaller. Interior demolition focuses mostly on taking apart spaces for remodeling or renovation.
The Main Equipment Used in Demolition in Missouri City, TX
Hydraulic Breakers – Our demo company uses a hydraulic breaker to demolish rocks and concrete structures. Its powerful hammer causes destruction on the targeted object in a matter of seconds.
Wrecking balls – Used mainly for non-explosive demos, these heavy impacting balls are helpful in progressively weakening a building until all that's left are frameworks that are then easier to tear down.
Hydraulic shears and rock breakers – These specialized accessories allow cutting into a variety of materials such as metal, wood, rocks, and cement.
Bulldozers – They are used to remove huge rubble and dirt piles. They are also used to push down smaller-sized structures and buildings.
Dumpers – Dumpers are also known as tipper trucks. They are used for transporting rubble or waste from the demolition site. If you are in the demolition business, safety is paramount and some of the safety hazards are demolition wastes. A dumper is a very important in removing the large amount of debris from the site.
Cranes – Demolition companies use cranes to move materials from different levels of a structure. A demo company will also use this machinery together with a steel ball. For a wrecking ball to work, it has to be attached to the crane.
Crawler Loaders – A flexible machine, crawlers are perfect for excavating narrow spaces. Although not very good for excavating, it can be used to haul items easily.
For All Your Demolition Service Needs in Missouri City, Texas, Contact Us Today
We are your dependable and trusted demolition company in Missouri City, Texas. Our dedication is in ensuring that we maximize your asset potential. As an established demolition company, we maintain high standards of service and workmanship no matter how big or small a contract is. Get in touch with the leading Missouri City deconstruction and demolition company. Call us today at
(855) 885-3366
and get your job done quickly, flawlessly and affordably.
Zip Code Areas We Service in Missouri City
77489, 77545, 77071, 77459