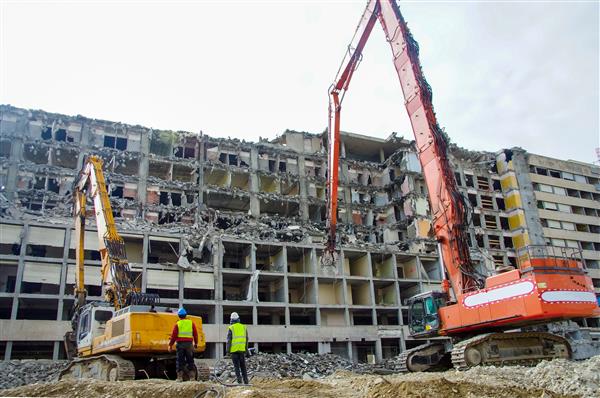 Demolition Contractors North Richland Hills, TX: The Number One Demolition Company
Our mission here at Omni Demolition is to ensure that we offer premium and high-caliber services through our expert demolition contractors. At any given time, our demolition contractor will be at your service to help you with your demolition, excavation and wrecking projects in North Richland Hills, TX. Here at Omni Demolition, you can expect nothing less than high-quality customer service and spotless workmanship courtesy of our seasoned demolition experts. You can rest assured that our affordable services are top-notch. To achieve this, our demolition experts apply strong verbal, communication, analytical, managerial, decision-making and time-management skills.
Demolition vs. Deconstruction in North Richland Hills, TX
Knowing the difference between a demolition and a deconstruction will save you from further confusion. Our demolition experts are most experienced in going over construction sites to see what items may be salvaged and put aside to be used again, often saving time and resources. A deconstruction may be implemented on its own or as a pre-demolition procedure. Deconstruction could be a component included in the demolition where our skilled team removes all hazardous and re-usable objects prior to the building being knocked down.
Highly Recommendable Services for Any Demolition Project in North Richland Hills, TX
Our demolition experts will meticulously execute your demolition project in a timely and safe manner. Hire the most recommended demolition contractor in all of North Richland Hills, TX. Our management style is hands-on, giving us the opportunity to customize solutions to fit your demolition needs. But this is not just a one-time initiative, it is ingrained in the workmanship of each and every demolition contractor in our company.
Our Range of Demolition Services in North Richland Hills, TX
Industrial Demolition Services: This requires application of specialized techniques by highly trained professionals. We will safely and effectively bring down industrial structures such as factories, mills and manufacturing plants among others.
Commercial Demolition services: You can call our demo company if you need someone to knock down commercial structures such as commercial centres, groceries, airplane hangars and the like.
Concrete demolition and recycling services: If you want to save time and money, our demolition experts can also extract concrete materials and slabs onsite to be broken down into reusable gravel.
Scrap Metal Demolition Services: Our demo company will also clear out your property of any undesirable steel erections and salvage any existing metal scraps for recycling.
We Stay Ahead Other Demolition Companies in North Richland Hills, TX
We take pride in having some of the most seasoned demolition experts among numerous demolition contractors in North Richland Hills, TX. We are on a continuous path to success and we have managed to do this through perfection in our demolition services. We are a top-rated demolition company in North Richland Hills, TX. As an established demo company, we continue to make innovations in the field of construction while also maintaining the highest standards of our services.
Our Methods for Demolition and Deconstruction in North Richland Hills, TX
Explosive Demolition: Done by licensed demolition experts in North Richland Hills, TX, this method may sound dangerous and it could be when proper procedures are not followed. After explosives are strategically laid out, a switch is all it takes to completely take down a building.
Non-Explosive Demolition: Our local demolition contractors are flexible and in situations where explosive demolition may be unsafe, we may use a wrecking ball which is attached to a crane at a manageable height to bring down a building.
Selective Demolition: In cases where property owners want to retain a certain part or frame of a structure, demo contractors will conduct the selective method. In this procedure, building demolition companies need to ensure the integrity of the structure is not compromised after some parts are removed.
Cutting Edge Equipment Utilized for Demolition in North Richland Hills, TX
Hydraulic breakers – Also known as hydraulic hammers, our demo company uses this to demolish rocks or concrete structures.
Wrecking Balls – A wrecking ball is a heavy steel ball that is usually suspended from a crane. It is swung to the targeted structure or building in order to take it down.
Hydraulic shears and rock breakers – Designed to cut through the toughest materials with very minimal effort, these tools are attached to excavators to do the job. They can slice through rocks, concrete, metal, wood and steel.
Bulldozers – These powerful machines are used to bring down smaller sized buildings or structures. They are also used to transfer debris and rubble to trucks.
Dumpers – If you are in the demolition business, you will definitely need a dumper/ tipper truck for transporting demolition waste.
Cranes – In demolition, demolition contractors need a crane. Cranes can be used to lift a small-sized excavator. A wrecking ball can also be attached to a crane for demolition making it an essential piece of machinery in a demo company.
Crawler Loaders – Flexible heavy equipment, crawler loaders can move on top of uneven surfaces and are also used for excavating and lifting.
Give Us a Call for Top of the Line Demolition Services in North Richland Hills, Texas
Avoid dealing with deconstruction hassles and overpriced bills when you sign with our demolition company in North Richland Hills, Texas. When you have a demolition project, do not hesitate to contact us. Signing with our demolition company guarantees a stress-free project, from the accurate estimation, the actual operations, onsite clearance as well as processing required permits. Get in touch with the leading North Richland Hills deconstruction and demolition company. Call us today at
(855) 885-3366
and get your job done quickly, flawlessly and affordably.
Zip Code Areas We Service in North Richland Hills
76180, 76182