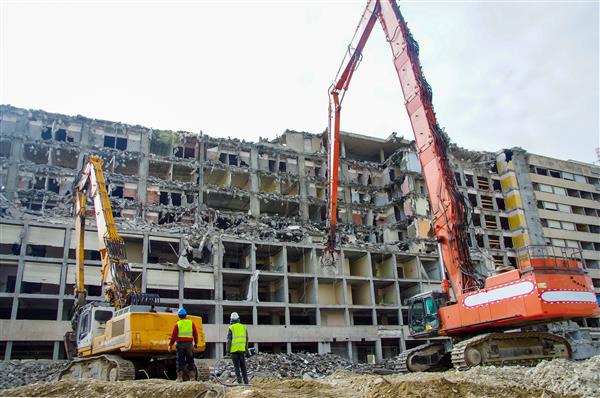 Demolition Contractors in Odessa, TX: The Number 1 Demolition Company
Omni Demolition has demolition contractors at your service whose specialty is providing superior-quality, safe and cost-effective services for all our clients. As widely renowned experts in Odessa, TX, we see to it that the high standards we have established are met in every transaction. We have an enduring assurance to safety. The commitment and competence of our demolition experts guarantee that you will be working with the most suitable partners. You can rest assured that our affordable services are top-notch. To achieve this, our demolition experts apply strong verbal, communication, analytical, managerial, decision-making and time-management skills.
Demolition vs. Deconstruction in Odessa, TX
Demolition is aimed at basically bringing down a structure. Deconstruction is when a demolition expert carefully dismantles or takes down a structure with the aim of reusing or recycling the materials. Knowing the accurate requirements for your project is important to steering it into the right direction. If you are going to rebuild or remodel an existing building and you wish to maintain some segments, a deconstruction is recommended.
Why Choose Us as Your Company of Choice for Your Demolition Project in Odessa, TX
Our demolition experts will handle your property professionally from start to finish. Our demolition contractor is at your service to fulfill all your needs. Our management style is hands-on, giving us the opportunity to customize solutions to fit your demolition needs. You will not find another demolition contractor in all of Odessa, TX who will help you save and spend wisely.
What Demolition Services Can You Expect to Find in Odessa, TX?
Industrial Demolition Services: This requires application of specialized techniques by highly trained professionals. We will safely and effectively bring down industrial structures such as factories, mills and manufacturing plants among others.
Commercial Demolition Services: Despite commercial buildings being located in compact spaces, our demo company is able to bring down your building or structure in a safe way with minimal damage to the surrounding area. Using modernized equipment, our team of professionals have pulled down warehouses, grocery stores, shops, airplane hangars among others.
Concrete Demolition and Recycling Services: Once we have demolished your concrete structure, our demolition experts will crush and re-use the salvaged concrete as a base course for gravel.
Scrap Metal Demolition Services: Our demo company will save you time and money by demolishing your metal structure, putting a recovery plan in place and selling the salvaged scrap metal for you.
Key Advantages Against Other Demolition Companies in Odessa, TX
Our demolition experts and demolition contractors offer a professional and innovative approach to all your demolition projects. We take pride in employing some of the finest calibre of demolition experts throughout the city. We are a demolition company that takes our work seriously and consistently conduct regularly equipment maintenance, which ensures efficient and quick clearing operations. Our demo company is well equipped in handling any job, however simple or complex.
The Types of Methods Used in Demolition and Deconstruction in Odessa, TX
Explosive Demolition: Our demolition experts in Odessa, TX bring down structures or buildings by removing the main structural elements such as the walls and pillars with the help of explosives. This reduces the building's structural stability, causing it to collapse under its own weight. This method is faster, environmentally friendly and safer when compared to other methods.
Non-Explosive Demolition: Our local demolition contractors will use a wrecking ball attached to a crane to knock down a building. The heavy wrecking ball is swung several times on the targeted structure before it can collapse.
Selective Demolition: This is a type of demolition whereby building materials, part of the structure or building are separated and then sorted for the purpose of reusing or recycling. Our demo contractors have mastered the art of selective demolition that other building demolition companies do not have.
We Utilize Well-maintained Equipment for Demolition in Odessa, TX
Hydraulic breakers – Also known as hydraulic hammers, our demo company uses this to demolish rocks or concrete structures.
Wrecking balls – Huge metal balls suspended on a metal crane and swung into the building intended to be collapsed either once or as many as needed.
Hydraulic shears and rock breakers – These are helpful in cutting all sorts of steel, wood, rocks, concrete and metal. They make a very clean cut within a short period of time.
Bulldozers – This powerful machinery has a number of uses in construction. A bulldozer can be used to knock down an old or derelict structure. It can also be used to push away debris and clean up the area.
Dumpers – A necessity in every demolition business, dumpers are used to haul waste materials off the demolition site. It ensures the pre-construction area is free from any trash or debris brought about by the demolition.
Cranes – In demolition, demolition contractors need a crane. Cranes can be used to lift a small-sized excavator. A wrecking ball can also be attached to a crane for demolition making it an essential piece of machinery in a demo company.
Crawler Loaders – They are effective in bringing down structures. They can also be used to clean up a demolition site. Crawler loaders can help move debris. Its tracks enable the unit to move easily and freely on the property.
Contact Us for Any Demolition Services in Odessa, Texas
Settling with an amateur demolition company in Odessa, Texas may seem cost-effective at first but mishaps and faulty work onsite may cost more of your resources, time and energy. When you have a demolition project, do not hesitate to contact us. Contact us today and let our demolition company take the pressure off of you. We are the Odessa deconstruction and demolition company to go to for premium and safe demo services. Feel free to get in touch with us today at
(855) 885-3366
!
Zip Code Areas We Service in Odessa
79761, 79762, 79763, 79765, 79760, 79768, 79769