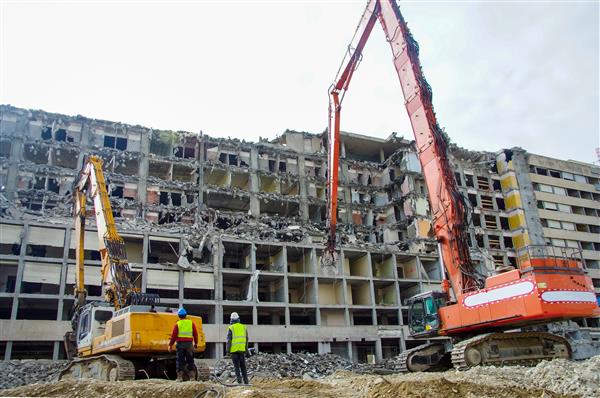 Demolition Contractors in Pearland, TX: Your Trusted Demolition Company
For years, Omni Demolition has continuously served and established its reputation as the most trusted demolition contractor in Pearland, TX. As widely renowned experts in Pearland, TX, we see to it that the high standards we have established are met in every transaction. We have an enduring assurance to safety. The commitment and competence of our demolition experts guarantee that you will be working with the most suitable partners. We have the resources and expertise to offer you the best solutions in a safe and professional manner.
Better Understanding of Demolition and Deconstruction in Pearland, TX
Demolition is the process of tearing down or pulling down buildings and structures by a demolition expert. Deconstruction is when a demolition expert carefully dismantles or takes down a structure with the aim of reusing or recycling the materials. Should a client wish to retain a building's frame or will only be rebuilding a certain part of the property, a deconstruction is in order. No matter how complex your project is, we are happy and ready to serve in Pearland, TX.
Why Choose Us as Your Company of Choice for Your Demolition Project in Pearland, TX
We know that before you consider hiring us, you will want to understand how the job gets done by our demolition experts. If you wish to have a an effortless and hassle-free experience when leveling a property in Pearland, TX, we are the demolition contractor that you can rely on. Our word is our bond. We have an impeccable record of giving our clients value for their money while never compromising on the quality of our work. Do not be tricked by demolition contractors who cannot walk the talk. From cost estimation up to the site clean-up, you can rest assured that we have everything covered. From cost estimation up to the site clean-up, you can rest assured that we have everything covered.
Our Range of Demolition Services in Pearland, TX
Industrial Demolition Services: We can handle any challenging industrial demolition project you may have. With our world-class equipment and staff, we are able to demolish plants, mills, manufacturing buildings and so on.
Commercial Demolition services: You can call our demo company if you need someone to knock down commercial structures such as commercial centres, groceries, airplane hangars and the like.
Concrete Demolition and Recycling Services: Our demolition experts will help you realize your green-building initiative. We turn construction debris such as crushed concrete into gravel or a dry aggregate for making new concrete.
Scrap Metal Demolition Services: Our demo company is experienced in salvaging scrap from your demolition project. You can recycle the scrap metal. This will minimize on wastage and cost.
Key Advantages Against Other Demolition Companies in Pearland, TX
We take pride in deploying demolition experts and demolition contractors who are not simply knowledgeable on the job but also skilled and experienced all across the state. Our demolition experts and demolition contractors have an established performance record of completing demolition jobs in the right way, on budget and on time. Our demolition company in Pearland, TX makes use of a unique approach that minimizes waste and maximizes recyclable materials. That is why we are recognized as the leading demo company.
Methods Used for Demolition and Deconstruction in Pearland, TX
Explosive Demolition: Our qualified demolition experts have years of experience in explosive demolition projects. Using our expertise and meticulous planning, we will safely execute your project with minimal disruption to your surroundings.
Non-Explosive Demolition: Although somehow rare, our local demolition contractors use a wrecking ball to tear down a structure. Compared to using explosives, this method costs less; however, there is limited control on the amount of damage each swing can make.
Selective Demolition: Recommended for buildings that are being rebuilt, selective demolition involves carefully removing some parts of the building to make way for a modified construction. Unlike new and upcoming building demolition companies, our demo contractors are experienced in extracting parts of the building while still maintaining its structural integrity.
Important Demolition Equipment in Pearland, TX
Hydraulic breakers-Heavy-duty excavators are used at our demo company to aid in breaking or crushing concrete segments of the building. Be wary of contractors who have poorly maintained equipment such as hydraulic breakers because this will surely cause delays in your timeline.
Wrecking balls – Heavy and solid balls made of steel, wrecking balls are safely suspended on a crane and used to weaken a building until it gives.
Hydraulic Shears/ Rock breakers – They are fitted to an excavator and have the ability to cut through concrete, metal, rocks and wood.
Bulldozers – They are used to remove huge rubble and dirt piles. They are also used to push down smaller-sized structures and buildings.
Dumpers – A necessity in every demolition business, dumpers are used to haul waste materials off the demolition site. It ensures the pre-construction area is free from any trash or debris brought about by the demolition.
Cranes – Demolition companies use cranes to move materials from different levels of a structure. A demo company will also use this machinery together with a steel ball. For a wrecking ball to work, it has to be attached to the crane.
Crawler Loaders – They are efficient in moving heavy rubble and waste from the demolition site. They can also be used to demolish heavy structures as well as clear the ground.
Call us Today for Demolition Services in Pearland, Texas
We are your dependable and trusted demolition company in Pearland, Texas. You can rest easy knowing that we have a solution for all your demolition projects. We are your one-stop-shop demolition company and we offer free consultation plus an accurate estimation of the costs. Our work integrity and reasonable packages are only some of the reasons why we are a well renowned Pearland deconstruction and demolition company. Call us
(855) 885-3366
today for all your demolition solutions.
Zip Code Areas We Service in Pearland
77047, 77089, 77584, 77581, 77588