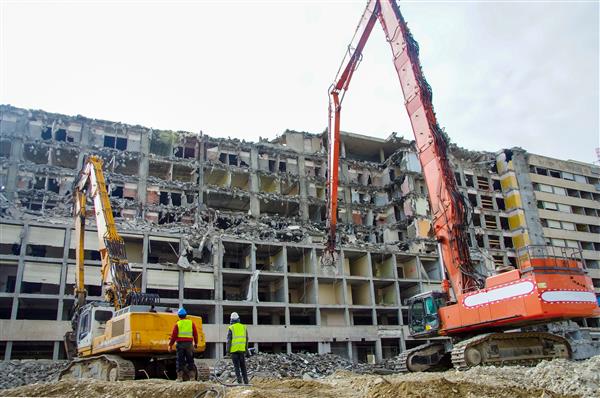 Demolition Contractors Plano, TX: Your Trusted Demolition Company
Our mission here at Omni Demolition is to ensure that we offer premium and high-caliber services through our expert demolition contractors. We will make sure that the project is completed within your budget and stipulated timeframe. If you need to hire a professional demolition contractor in Plano, TX without spending a ridiculous amount of money, you have come to the right place. Always making sure that our clients are not kept in the dark, our demolition experts will guide you accordingly when it comes to recommended methods, pricing and procedures to be enacted. You can rest assured that our affordable services are top-notch. To achieve this, our demolition experts apply strong verbal, communication, analytical, managerial, decision-making and time-management skills.
How is Demolition Different from Deconstruction in Plano, TX?
Knowing the difference between a demolition and a deconstruction will save you from further confusion. Demolition can either be selective or explosive. Explosive demolition uses mostly dynamite to bring down big buildings. Selective demolition involves bringing down a part of a building or tearing a section of a wall by a demolition expert. A deconstruction may be a prerequisite to the actual demolition process where hazardous materials are taken out prior to the tear down of the structure. If you are going to rebuild or remodel an existing building and you wish to maintain some segments, a deconstruction is recommended. A demolition expert may order a deconstruction if parts of the original structure need to be retained or hazardous materials and reusable items need to be extracted before an actual demolition.
Why Sign Us for Your Demolition Project in Plano, TX
Our demolition experts and demolition contractors in Plano, TX are highly skilled in meeting all your demands. If you wish to have a an effortless and hassle-free experience when leveling a property in Plano, TX, we are the demolition contractor that you can rely on. Our management style is hands-on, giving us the opportunity to customize solutions to fit your demolition needs. Our demolition contractor will handle your needs on a one-on-one level and ensure that your project is given the undivided attention it deserves.
Our Main Demolition Services in Plano, TX
Industrial Demolition Services: We can handle any challenging industrial demolition project you may have. With our world-class equipment and staff, we are able to demolish plants, mills, manufacturing buildings and so on.
Commercial Demolition services: We isolate the targeted building before performing the actual demolition so as not to cause any damage to its neighboring structures. Our demo company, has handled tearing down malls, airplane hangars, markets, and even bridges.
Concrete demolition and recycling services: Our demolition experts can break down concrete surfaces and slabs into reusable gravel.
Scrap Metal Demolition Services: Our demo company maximizes the value of scrap metal as part of our scrap metal demolition service. This significantly minimizes the cost of the project.
We Stay Ahead Other Demolition Companies in Plano, TX
Our demolition experts and demolition contractors offer a professional and innovative approach to all your demolition projects. Our team uses sophisticated equipment and observes high standards in every operation. No matter the nature of your project or timelines, our demolition company in Plano, TX will deliver to your satisfaction. Our demo company appreciates all our clients and we demonstrate this by endeavoring to give you nothing but the very best.
Our Methods for Demolition and Deconstruction in Plano, TX
Explosive Demolition: Conducted by our skilled demolition experts in Plano, TX, this method requires properly laying out detonators and explosives to bring a structure down to a pulp.
Non-Explosive Demolition: Certain buildings are not recommended for use of explosives, to which local demolition contractors opt for wrecking balls. Made of steel, a wrecking ball is suspended and swung into the building repeatedly causing it to topple or crumble down.
Selective Demolition: Our demo contractors are the most sought-after for their record in successfully extracting or tearing down selected parts of a structure. We are one of the few building demolition companies who can conduct a customized approach depending on the client requirement.
The process requires demo contractors to work around normal operating hours on small working spaces and under strict timetables. Our company, unlike other building demolition companies, understands the significance of all these considerations. We ensure that we provide an environment that is safe for everyone involved with as minimal disruption as possible.
The Main Equipment Used in Demolition in Plano, TX
Hydraulic breakers – Commonly known as hydraulic hammers, these are often used by our demo company to grind up slabs and concrete structures.
Wrecking balls – Although rarely used nowadays, wrecking balls are heavy steel balls used to gradually destroy a structure's integrity until it collapses.
Hydraulic Shears and Rock Breakers – They are highly effective in cutting steel, metal, concrete, wood and rocks. Their high power to weight ratio enable hydraulic shears to yield a higher output.
Bulldozers – Serving multiple purposes, bulldozers can be used to haul items and waste as well as help knock down weak structures or level mounds of soil.
Dumpers – In every demolition business, dumpers are necessary to clear the site from rubble and debris.
Cranes – Demolition contractors use cranes to attach a wrecking ball to it. The wrecking ball suspended on a crane is then swung to the targeted structure. A demo company can use cranes to remove debris from high areas of a demolished structure. Cranes can also be used to load debris onto a dumper.
Crawler Loaders – They are effective in bringing down structures. They can also be used to clean up a demolition site. Crawler loaders can help move debris. Its tracks enable the unit to move easily and freely on the property.
Call Us for Outstanding Demolition Services in Plano, Texas
We are your dependable and trusted demolition company in Plano, Texas. We believe in providing professional and affordable services. Consult with a reliable demolition company and save yourself from all the worries. Our Plano deconstruction and demolition company is licensed and highly reputable. Call us at
(855) 885-3366
for a free consultation today.
Zip Code Areas We Service in Plano
75093, 75023, 75025, 75024, 75074, 75075, 75026, 75086