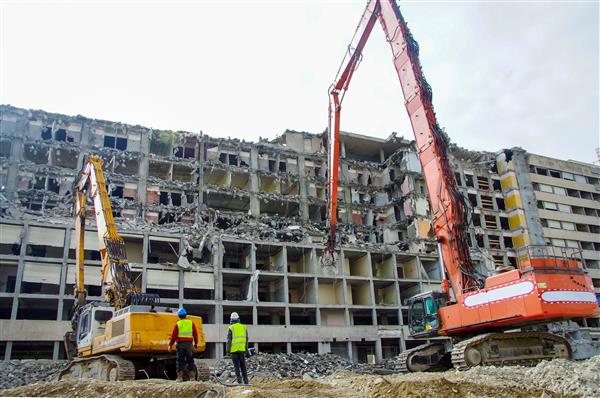 Demolition Contractors Sugar Land, TX: Your Trusted Demolition Company
When looking to hire demolition contractors in Sugar Land, TX, Omni Demolition is your best choice. We are an established service provider when it comes to experience, skills and workmanship. Our demolition experts employ the safest and most efficient ways of wrecking and demolishing old homes, dilapidated buildings and any other structure you may want demolished. The primary projects we undertake are demolition and deconstruction.
Better Understanding of Demolition and Deconstruction in Sugar Land, TX
Demolition is a faster process in comparison to deconstruction. A demolition expert may order a deconstruction if parts of the original structure need to be retained or hazardous materials and reusable items need to be extracted before an actual demolition. A deconstruction may be implemented on its own or as a pre-demolition procedure. We have the know-how in identifying the value of extracted materials and their potential for reuse. They can also be torn down mechanically with the aid of hydraulic equipment such as bulldozers, excavators or planes.
Why Sign Us for Your Demolition Project in Sugar Land, TX
Our demolition experts have a solid record of work experience aside from continually receiving refresher trainings every now and then to ensure that they are well updated with any enhancements or changes in technology and procedural protocol. Our demolition contractor is at your service to fulfill all your needs. Being in the business for years, our experience and continued trainings ensure that you work with only the most able specialists in the industry. Our demolition contractor will handle your needs on a one-on-one level and ensure that your project is given the undivided attention it deserves.
What Demolition Services Can You Expect to Find in Sugar Land, TX?
Industrial Demolition services: We have an impeccable history in handling industrial buildings such as warehouses, chemical plants, mills and more. No matter how gigantic the structure is, our team of experts can surely manage.
Commercial Demolition services: We isolate the targeted building before performing the actual demolition so as not to cause any damage to its neighboring structures. Our demo company, has handled tearing down malls, airplane hangars, markets, and even bridges.
Concrete Demolition and Recycling Services: Our demolition experts will help you realize your green-building initiative. We turn construction debris such as crushed concrete into gravel or a dry aggregate for making new concrete.
Scrap Metal Demolition Services: Our demo company will expertly demolish your scrap metal projects. Our crew will downsize as well as dismantle the steel structures then process, bundle and recycle the materials.
We Lead, Other Demolition Companies Follow in Sugar Land, TX
Our team of demolition experts and demolition contractors will work tirelessly and dedicatedly to ensure that your project is completed on time. Our demolition experts and demolition contractors have an established performance record of completing demolition jobs in the right way, on budget and on time. Using cutting edge technology added to our team's expertise, our demolition company is guaranteed to deliver more than promised. Being a demo company in this business for years, we have perfected the process of demolishing structures as cost-effectively and safely as possible.
High Standard Methods for Demolition and Deconstruction in Sugar Land, TX
Explosive Demolition: Done by licensed demolition experts in Sugar Land, TX, this method may sound dangerous and it could be when proper procedures are not followed. After explosives are strategically laid out, a switch is all it takes to completely take down a building.
Non-Explosive Demolition: Our local demolition contractors will use a wrecking ball to bring down your structure. This method is cheaper than explosive demolition.
Selective Demolition: Buildings are deconstructed with the aid of special equipment. It is a solution that maximizes efficiency while reducing waste. It is mainly used when building owners want to add extensions to the building, update the interior of a building, convert space or improve the health of the building. This is a delicate procedure that demands great precision and tact, which our demo contractors have and other building demolition companies overlook.
Demolition Equipment in Sugar Land, TX
Hydraulic Breakers – Our demo company will use this heavy hammer to demolish rocks or concrete structures. Hydraulic breakers are also an important part of recycling operations.
Wrecking balls – Used mainly for non-explosive demos, these heavy impacting balls are helpful in progressively weakening a building until all that's left are frameworks that are then easier to tear down.
Hydraulic Shears and Rock Breakers – They are used to cut through concrete, rocks, wood and metal.
Bulldozers – This powerful machinery has a number of uses in construction. A bulldozer can be used to knock down an old or derelict structure. It can also be used to push away debris and clean up the area.
Dumpers – A dumper or a tipper truck is essential in the demolition business. This vehicle is specially designed to carry debris such as gravel, or demolition waste in bulk away from the property. It makes cleaning up the property after demolition easier and faster.
Cranes – Demolition contractors use cranes to transfer materials within the site especially from lower to upper floors and vice versa. Aside from being used as a pulley, our demo company also uses cranes for wrecking balls.
Crawler Loaders – Also meant to be used in excavating, crawler loaders have declined in popularity compared to hydraulics that can be used in heavy drilling. This equipment, however, can run on its own power as opposed to hydraulic excavators that more often require towing.
Contact Us for Any Demolition Services in Sugar Land, Texas
Avoid dealing with deconstruction hassles and overpriced bills when you sign with our demolition company in Sugar Land, Texas. We have a brilliant track record of achieving 100% success despite hostile or challenging work environments. We are your one-stop-shop demolition company and we offer free consultation plus an accurate estimation of the costs. Our Sugar Land deconstruction and demolition company has highly skilled personnel with years of experience in the demolition business. Call us today at
(855) 885-3366
and get your job done quickly, flawlessly and affordably.
Zip Code Areas We Service in Sugar Land
77498, 77478, 77479, 77487, 77496