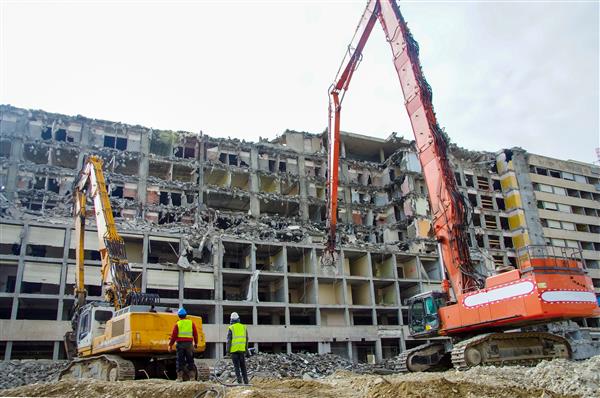 Expert Demolition Contractors Tyler, TX: Your Partner Demolition Company
The strength of Omni Demolition lies not only in its state of the art equipment and the expertise of its demolition contractors but the commitment that we have in providing unsurpassable services. Just like any other major construction or remodeling plan, having a property demolished requires the skills of professionals, along with the use of appropriate equipment. Our demolition contractor is on standby at all times ready to cater to your needs. Our demolition experts employ the safest and most efficient ways of wrecking and demolishing old homes, dilapidated buildings and any other structure you may want demolished. We are an environmentally friendly company.
Do You Need Demolition or Deconstruction in Tyler, TX?
Demolition is taking down or dismantling a building or structure with a strong and overwhelming force whose end result is rubble or waste. Demolition can either be selective or explosive. Explosive demolition uses mostly dynamite to bring down big buildings. Selective demolition involves bringing down a part of a building or tearing a section of a wall by a demolition expert. Deconstruction, on the other hand, is the disassembling of a building while preserving its re-usable parts. If you are going to rebuild or remodel an existing building and you wish to maintain some segments, a deconstruction is recommended. Our demolition experts are most experienced in going over construction sites to see what items may be salvaged and put aside to be used again, often saving time and resources.
Why Choose Us as Your Company of Choice for Your Demolition Project in Tyler, TX
Our demolition experts will handle your property professionally from start to finish. If you wish to have a an effortless and hassle-free experience when leveling a property in Tyler, TX, we are the demolition contractor that you can rely on. One of our biggest hallmarks is giving you undivided personal attention. No other demolition contractor in all of Tyler, TX will provide you with top-of-the-line workmanship at cost-effective packages. Our service delivery is focused on safety and efficiency. Our service delivery is focused on safety and efficiency.
Our Demolition Services in Tyler, TX
Industrial Demolition services: Complexity and size do not intimidate us. We have successfully torn down enormous structures such as manufacturing plants, factories, warehouses and even utility installations.
Commercial Demolition Services: This type of demolition requires tact in working around obstacles. Our demo company is highly skilled in demolishing commercial structures such as hotels, retail spaces, office buildings, warehouses, bridges and airplane hangars among others.
Concrete demolition and recycling services: Our demolition experts are knowledgeable in pulverizing slabs and concrete to be turned into eco-friendly gravel.
Scrap Metal Demolition Services: As an all-around demo company, we can also take care of any unwanted steel erections and metal scraps onsite. We follow a certain procedure in salvaging items that are still good for future use so you can be sure nothing goes to waste.
We Lead, Other Demolition Companies Follow in Tyler, TX
Our demolition experts and highly skilled demolition contractors consistently make innovations with the way demolitions are made. Our resources are as varied as they are effective: dependable and advanced equipment as well as expert personnel. You are guaranteed a hassle-free experience when you sign with us, the most trusted demolition company in Tyler, TX. You will never find a more reliable demolition company in Tyler, TX than us.
Safely Regulated Methods for Demolition and Deconstruction in Tyler, TX
Explosive Demolition: Our demolition experts carefully consider all factors before flipping the switch that will initialize explosives to go off and promptly annihilate the target building in Tyler, TX.
Non-Explosive Demolition: When a building structure does not allow the use of bombs, a wrecking ball is often utilized to take it down. Compared to other local demolition contractors, our experts use wrecking balls with careful precision. The heavy steel ball is swung into the targeted building causing it to gradually crumble.
Selective Demolition: This method is used when buildings are being remodeled or rebuilt and the client wishes to retain some parts of the structure. Not all contractors can perform this demolition as it involves meticulous planning and careful effort. Our demo contractors are veterans in conducting selective demolition especially in handling specialized equipment required for the job. You can trust our team of experts in providing calculated and top of the line performance, which other inexperienced building demolition companies cannot guarantee.
Demolition Equipment in Tyler, TX
Hydraulic breakers – Our demo company uses hydraulic breakers or hammers in crushing otherwise solid surfaces such as concrete, cement and even rocks.
Wrecking Balls – A wrecking ball is a heavy ball made from steel. It is attached to a crane and is used to strike down structures from a manageable height.
Hydraulic Shears and Rock Breakers – They are usually attached to excavators and then used to make clean cuts through concrete, metal, wood and rocks of large structures.
Bulldozers – Common equipment in construction sites used for excavating and hauling materials or waste. This machine can also be used to flatten or level structures hence the term bulldoze.
Dumpers – If you are in the demolition business, you will definitely need a dumper/ tipper truck for transporting demolition waste.
Cranes – In demolition, demolition contractors need a crane. Cranes can be used to lift a small-sized excavator. A wrecking ball can also be attached to a crane for demolition making it an essential piece of machinery in a demo company.
Crawler Loaders – A flexible machine, crawlers are perfect for excavating narrow spaces. Although not very good for excavating, it can be used to haul items easily.
We are the Number to Call for Premium Demolition Services in Tyler, Texas
Call our demolition company in Tyler, Texas. With us you are guaranteed to have a safe and worry-free operation to be completed by field experts. Contact us today and let our demolition company take the pressure off of you. Our Tyler deconstruction and demolition company has highly skilled personnel with years of experience in the demolition business. Contact us at
(855) 885-3366
.
Zip Code Areas We Service in Tyler
75709, 75702, 75703, 75701, 75710, 75711, 75712, 75713, 75798, 75799