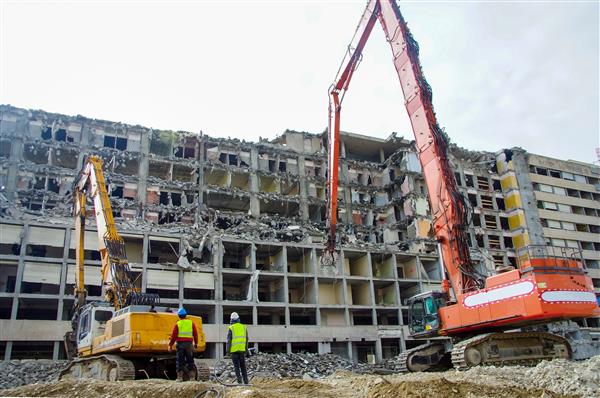 Recognizing an Outstanding Demolition Company from Inexperienced Demolition Contractors Wichita Falls, TX
Having been in the demolition business for years, Omni Demolition has built an unshakable reputation as the leading demolition company in Wichita Falls, TX. We will be able to complete your project in a professional, cost-effective and safe way. No job is ever too big, too small or too demanding for us. We have a team of seasoned demolition experts ready to act on any project. For complex demolition jobs, we offer reliable demolition services.
How is Demolition Different from Deconstruction in Wichita Falls, TX?
Demolition can be described as dismantling of buildings or a specific room by a demolition expert. Demolition can either be selective or explosive. Explosive demolition uses mostly dynamite to bring down big buildings. Selective demolition involves bringing down a part of a building or tearing a section of a wall by a demolition expert. A deconstruction may be implemented on its own or as a pre-demolition procedure. The structures can be pulled down manually. Some projects require complete levelling while others simply need specific parts removed to be replaced. For every client call, we have a demolition expert equipped to do the job.
Complete Accountability from Highly Skilled Specialists for Your Demolition Project in Wichita Falls, TX
Our demolition experts guarantee to provide you with professional demolition services. First and foremost, our selection of advanced and reliable equipment enables our demolition contractors to be highly efficient as well as cost-effective. Being in the business for years, our experience and continued trainings ensure that you work with only the most able specialists in the industry. Do not be tricked by demolition contractors who cannot walk the talk.
Our Main Demolition Services in Wichita Falls, TX
Industrial Demolition Services: We can handle any challenging industrial demolition project you may have. With our world-class equipment and staff, we are able to demolish plants, mills, manufacturing buildings and so on.
Commercial Demolition Services: This type of demolition requires tact in working around obstacles. Our demo company is highly skilled in demolishing commercial structures such as hotels, retail spaces, office buildings, warehouses, bridges and airplane hangars among others.
Concrete demolition and recycling services: We are the only demolition experts who carefully set aside re-usable materials from your site for possible future use such as slabs to be crushed later on into gravel.
Scrap Metal Demolition Services: Our demo company will expertly demolish your scrap metal projects. Our crew will downsize as well as dismantle the steel structures then process, bundle and recycle the materials.
Key Advantages Against Other Demolition Companies in Wichita Falls, TX
We take pride in having some of the most seasoned demolition experts among numerous demolition contractors in Wichita Falls, TX. Our team uses sophisticated equipment and observes high standards in every operation. We are a top-rated demolition company in Wichita Falls, TX. You will never find a more reliable demolition company in Wichita Falls, TX than us.
The Types of Methods Used in Demolition and Deconstruction in Wichita Falls, TX
Explosive Demolition: We have a team of demolition experts in Wichita Falls, TX who thoroughly oversee the process of using explosives to crumble a structure, including the strict adherence to safety regulations and environmental protocols.
Non-Explosive Demolition: Instead of explosives, local demolition contractors may also use a wrecking ball to tear down a building. This method also requires safety precaution as swinging wrecking balls are harder to control than it seems.
Selective Demolition: Recommended for buildings that are being rebuilt, selective demolition involves carefully removing some parts of the building to make way for a modified construction. Unlike new and upcoming building demolition companies, our demo contractors are experienced in extracting parts of the building while still maintaining its structural integrity.
The process requires demo contractors to work around normal operating hours on small working spaces and under strict timetables. Our company, unlike other building demolition companies, understands the significance of all these considerations. We ensure that we provide an environment that is safe for everyone involved with as minimal disruption as possible.
Important Demolition Equipment in Wichita Falls, TX
Hydraulic Breakers – Our demo company uses a percussion hammer attached to an excavator. This powerful equipment is used for bringing down concrete structures.
Wrecking balls – Used mainly for non-explosive demos, these heavy impacting balls are helpful in progressively weakening a building until all that's left are frameworks that are then easier to tear down.
Hydraulic shears and rock breakers – These are helpful in cutting all sorts of steel, wood, rocks, concrete and metal. They make a very clean cut within a short period of time.
Bulldozers – These powerful machines are used to bring down smaller sized buildings or structures. They are also used to transfer debris and rubble to trucks.
Dumpers – If you are in the demolition business, you will definitely need a dumper/ tipper truck for transporting demolition waste.
Cranes – Our demolition contractors utilize cranes not only for suspending wrecking balls but in heavy lifting and moving materials within the site. Our demo company uses different types of cranes depending on the task to be fulfilled.
Crawler Loaders – Mostly used for excavating, this equipment is also utilized for its lifting and loading capabilities.
For all Your Demolition Services in Wichita Falls, Texas, Call on Us
Your number one demolition company in Wichita Falls, Texas is always at your service. We take any demolition challenge head on. Contact us today and let our demolition company take the pressure off of you. Our Wichita Falls deconstruction and demolition company has highly skilled personnel with years of experience in the demolition business. For all your demolition needs, call us at
(855) 885-3366
.
Zip Code Areas We Service in Wichita Falls
76308, 76310, 76311, 76309, 76306, 76305, 76302, 76301, 76307