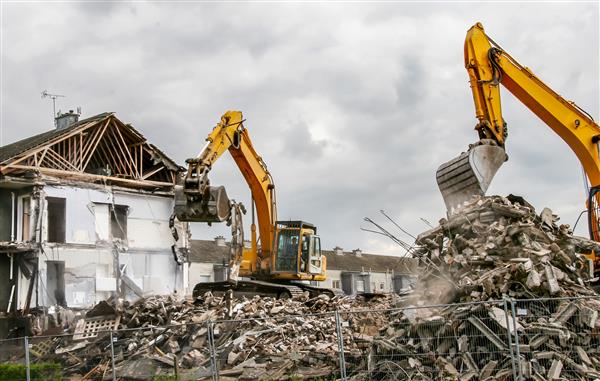 Omni Demolition: The Most Trusted Residential House Demolition Company
We provide complete house demolition services in Waco, TX for any size of project. We pride ourselves in being one of the best house demolition companies countrywide. Home demolition is not an easy task. In fact, there are many important considerations to bear in mind. One of which is safety because tearing down a structure will require the right equipment, tools, and skilled operators. Unlike a minor renovation, you can ensure that the building's overall condition is improved when you demolish and rebuild your house. Whether you require a simple mobile home demolition or a major residential complex levelling, you can enjoy superior quality services.
Home Demolition Techniques in Waco, TX
House demolition is our cup of tea and we are one of the most reputable demolition companies in Waco, TX. Accidents can happen in a home demolition site. Regardless if you need help knocking down your home to create a new structure, add new features or strengthen the entire building, we suggest hiring a specialist right away, so you can plan your project smoothly. Let our residential demolition contractors work on each necessary part of your house. As one of the leading residential demolition companies in the city, you can count on us to provide reasonably priced home, condo, townhouse or mobile home demolition services. We will give you a fixed timeline for the project and discuss the entire procedure before we proceed.
What to Consider After Getting a Home Demolition Quote in Waco, TX
House demolition costs in Waco, TX vary with the location and size of the property and may range anywhere from $8,000 to $15,000 or higher. Rest assured, our staff will provide you with a free cost estimate that briefly describes the services included in the package. You can compare our rates with other home demolition companies. At Omni Demolition, our residential demolition contractors promise the most cost effective charges together with unparalleled services whether it's for something small like a mobile home demolition or as big as a multi-level condominium. There's really no other way to get good results but to have it done by a professional. When you're browsing for a team for your home project, make sure you compare their rates.
What Documents You Need to Secure Before a Residential Demolition in Waco, TX Starts
Every type of building construction, house demolition or even mobile home demolition requires a permit. To apply for a clearance, you will need to complete paperwork for the gas, sewerage, asbestos clearance and electrical wirings. This way, your safety is 100 percent assured. To succeed in acquiring a permit, secure all the necessary documentations. To do this, you might need to pay a visit to the electricity company, sewerage system management, asbestos contamination experts and other offices to obtain the required paperwork.Other Preparations Needed Before Beginning a Waco, TX Residential DemolitionOn the day of the demolition, be sure that no one except for the contractors have access to your property, to avoid delays and accidents during the duration of the Waco, TX mobile home demolition or home demolition project. In addition, we recommend asking our demolition team how long the project will take so you can start planning for the next steps. Once your permit application is granted, the next step is to prep your house for demolition. Unscrew any wall-mounted decor, throw out unwanted furniture, relocate your appliances and more. As much as possible, consult with our team and ask for a timeline so you know what to expect.
Why You Should Book a Residential Demolition Service in Waco, TX
There are many scenarios in which this kind of assistance is beneficial and even necessary. Perhaps you are happy with the basic structure of your home, but want to add a room. To do this you need a residential demolition professional to do the job, to make sure that the rest of the house remains safe and intact. Weigh in your options. Focus on the safety of your loved ones, most especially if you are dealing with weak foundation or walls. If you own a home that you want to make major changes to, you need the help of our residential demolition team in Waco, TX. We will only need to study the place to know where we should start first.
Guaranteed Quality Residential Demolition in Waco, TX Property
Our residential demolition contractors provide safe and reliable home demolition services in Waco, TX. A demolition contractor needs several kinds of special tools and equipment to perform their job properly, and a skilled demolition contractor should be able to competently operate all of the necessary equipment. Even better, we have all the experience and technical know-how needed to carry out the task at hand. Through our high-powered tools and equipment, we can assure the timely completion of our services. You can always count on us when you need demolition services.
Contact us Today and Book a Waco, Texas Home Demolition
We are not your typical sloppy residential demolition company. We have offered demolition services to the people of Waco, Texas for over many years, offering high-end quality services. With all the right equipment, we assure you of minimal time, to complete the task at hand. After the call, we guarantee to send our residential demolition contractors to work on your Waco, Texas properties fast. Guided by the standards set by the industry and our extensive experience, we guarantee to provide the service you deserve. Our lines at
(855) 885-3366
are always open, and we are standing by to assist you any time.
Zip Code Areas We Service in Waco
76798, 76710, 76711, 76712, 76708, 76701, 76707, 76706, 76704, 76702, 76703, 76714, 76715, 76716, 76797, 76799