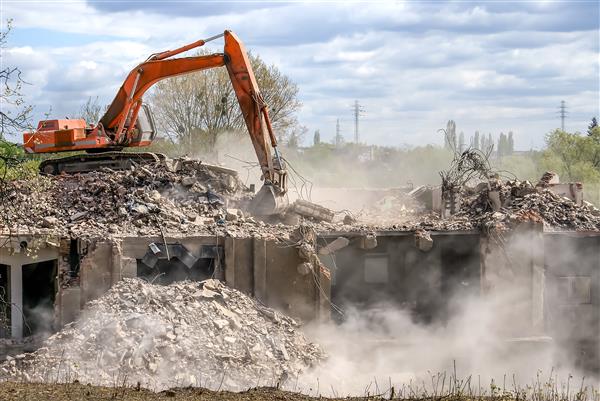 Trust Only the Authority in the Concrete Removal Business in Orem, UT
Hiring professionals for concrete removal services in Orem, UT is not a minor expense and imagine how frustrating it would be if you ended up employing amateurs. No need to risk it with small-time providers of concrete slab removal when you can sign with Omni Demolition for an affordable price. Our team of seasoned experts accomplishes everything from concrete hauling to onsite cleaning, with outstanding workmanship and dedication that no specialized training can teach. As such our contractors know how to carry out the necessary service you need to rebuild or remodel your home. They are dedicated to only one outcome: 100% success in project execution.
Concrete Removal Tools and Equipment We Use in Orem, UT
Our contractors at Omni Demolition can perform a wide range of services because they are well-equipped. Within a reasonable timeframe, we can cut, crush and remove any size of concrete structure. Some of the equipment we have includes bobcats, trackers, pallet jacks and track loaders. Other equipment used to ensure maximum success in service delivery are mounted breakers, which are popular in concrete slab removal because of their impact energy, speed and versatility. We are equipped with all the appropriate expertise, machinery and tools to execute your demolition projects such as removing concrete driveway, concrete slab demolition, or concrete wall demolition. It is important to get professional contractors for your demolition and concrete hauling job. They also reduce concrete into recyclable pieces. We are well equipped in handling all your concrete removal and concrete hauling projects.
Conditions that Require a Concrete Demolition in Orem, UT
Concrete removal is an essential part of making your home, building or structure beautiful. Structures and buildings crafted from concrete are made to withstand enormous pressures. Hence, removing them can be quite challenging. The concrete demolition and concrete hauling process is necessary in some circumstances such as when your structure has aged significantly, when your building has widespread cracking, when you are planning to improve or upgrade your structure and when frost heave occurs. If you see frost heave or concrete that is pushed upward, cobweb-like cracks on cement, sunken slabs and even fragmented foundations, it is best to call us for a concrete demo and plan on rebuilding your property. Safety is a primary concern for any concrete demolition job.
Getting Concrete Removal Permits in Orem, UT – We Got That Covered
You can't proceed with your concrete removal or concrete hauling project without securing a permit in Orem, UT. While other concrete removal companies may charge you extra fees to have your permits processed, our experts at Omni Demolition will sort it out for you. Omni Demolition ensures a smooth operation for every single client that puts their faith in our services. You will be required to submit a few documents depending on the type and size of your project. Different councils have their own different set of rules, based on whether you are demolishing an entire structure or just a part of it.
How Much Cost Will I Incur in a Concrete Demolition Project in Orem, UT?
There are a number of factors that contribute to the cost of concrete removal with the biggest contributor being the total area of concrete to be removed. There are a number of factors that contribute to the overall cost of your concrete demolition project such as the type of concrete used. Reinforced concrete has metal rods and steel mesh. This means that it will require the use of heavy machinery for demolition. As a result, the cost of removal will be higher. Unreinforced concrete on the other hand is easier to remove. Before you book services even as small as a patio demolition, make sure you ask for the rates first. You can ask our contractors to provide a free quote for a patio removal or other services. We provide detailed and accurate estimates that are easy to understand. As for the service, you might spend around $4,000 to $15,000+, depending on the urgency of the request, size of the project and overall condition of your property in Orem, UT. We provide all types of demolition services at affordable rates.
How Long Does It Take to Complete a Concrete Demolition Project in Orem, UT?
It doesn't take long to complete a concrete demolition project as long as a careful and detailed plan is made by the demolition team beforehand. The processes such as concrete slab removal, concrete hauling and recycling may be the same but the situations will always have some variation. This all depends on a number of things such as the size of the concrete structure. Count on us to ensure that your project is executed perfectly. This is because the speed and performance of hand held tools varies greatly with that of automatic or advanced machinery.
Recycling Concrete in Orem, UT?
A crucial aspect we consider in a concrete demolition and removal project is where to put the debris. Concrete recycling is an integral part of concrete demolition. The crushed concrete rubble is transformed by our concrete demolition contractors into useful aggregate. We encourage recycling of concrete debris. It reduces disposal to the city's landfills. Recycled concrete can also be used in a number of landscaping settings such as paving stones, water features, boulder rock walls, retaining walls, erosion structures, and other uses.
Recognize the Most Preferred Concrete Demolition Company in Orem, Utah
Our company, Omni Demolition has established a huge number of loyal patrons who prefer our concrete demolition services over other services providers in Orem, UT. Whether you require a simple concrete slab removal or a major interstate pavement, our team of experts is the most knowledgeable for the job. They know how to execute their assigned tasks with accuracy and they know how to tactfully minimize the risks associated with concrete slab removal projects. First rate customer service need not make a dent in your savings. Dial our phone number today and let us know what concrete removal service you require. Our friendly customer care specialists will be happy to assist you and provide you with a no-commitment estimate.
Zip Code Areas We Service in Orem
84097, 84058, 84057, 84059