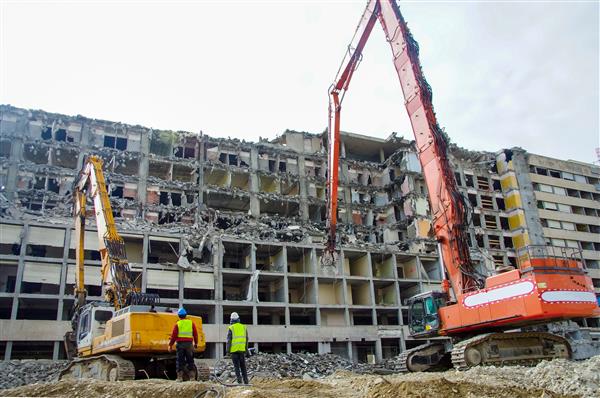 Demolition Contractors Salt Lake City, UT: The Number One Demolition Company
Our mission here at Omni Demolition is to ensure that we offer premium and high-caliber services through our expert demolition contractors. Our main goal is to provide affordable services without compromising the quality of our work. At any given time, our demolition contractor will be at your service to help you with your demolition, excavation and wrecking projects in Salt Lake City, UT. Always making sure that our clients are not kept in the dark, our demolition experts will guide you accordingly when it comes to recommended methods, pricing and procedures to be enacted. We have the right equipment for any kind of demolition work.
We Do Demolition and Deconstruction in Salt Lake City, UT
Demolition is taking down or dismantling a building or structure with a strong and overwhelming force whose end result is rubble or waste. A demolition expert may order a deconstruction if parts of the original structure need to be retained or hazardous materials and reusable items need to be extracted before an actual demolition. Deconstruction, on the other hand, is the disassembling of a building while preserving its re-usable parts. The structures can be pulled down manually.
Highly Recommendable Services for Any Demolition Project in Salt Lake City, UT
Our demolition experts have done thousands of contracts and not a single one has given us negative feedback. First and foremost, our selection of advanced and reliable equipment enables our demolition contractors to be highly efficient as well as cost-effective. We pride ourselves in being reliable and efficient service providers who will cater to all your unique needs. Our demolition contractor will handle your needs on a one-on-one level and ensure that your project is given the undivided attention it deserves.
Professional Demolition Services in Salt Lake City, UT
Industrial Demolition Services: This type of demolition service requires a surgical approach. We have a systemic, controlled and detailed solution in place for demolishing facilities such as chemical plants, manufacturing plants, port facilities, oil refineries, factories, and lumber mills among others.
Commercial Demolition services: Our demo company uses superior equipment and expertise in tackling various commercial demolition structures such as strip malls, warehouses, office buildings, hotels, bridges, grocery stores and airplane hangars among others.
Concrete demolition and recycling services: Let our demolition experts know if you wish to maximize the use of the structure's concrete materials and we will break them down into reusable gravel.
Scrap Metal Demolition Services: Allow our demo company to take down your metal structure. Our experts will downsize and process scrap metal for the purpose of recycling or reusing.
A class Above the Rest in Salt Lake City, UT
We take pride in deploying demolition experts and demolition contractors who are not simply knowledgeable on the job but also skilled and experienced all across the state. Our resources are as varied as they are effective: dependable and advanced equipment as well as expert personnel. We are a top-rated demolition company in Salt Lake City, UT. Being a demo company in this business for years, we have perfected the process of demolishing structures as cost-effectively and safely as possible.
High Standard Methods for Demolition and Deconstruction in Salt Lake City, UT
Explosive Demolition: Our demolition experts carefully consider all factors before flipping the switch that will initialize explosives to go off and promptly annihilate the target building in Salt Lake City, UT.
Non-Explosive Demolition: In instances where the height of the building makes it unsafe to use explosives, a wrecking ball is used by local demolition contractors to weaken the structure before tearing it down.
Selective Demolition: This method is used when buildings are being remodeled or rebuilt and the client wishes to retain some parts of the structure. Not all contractors can perform this demolition as it involves meticulous planning and careful effort. Our demo contractors are veterans in conducting selective demolition especially in handling specialized equipment required for the job. You can trust our team of experts in providing calculated and top of the line performance, which other inexperienced building demolition companies cannot guarantee.
Cutting Edge Equipment Utilized for Demolition in Salt Lake City, UT
Hydraulic breakers-Heavy-duty excavators are used at our demo company to aid in breaking or crushing concrete segments of the building. Be wary of contractors who have poorly maintained equipment such as hydraulic breakers because this will surely cause delays in your timeline.
Wrecking Balls – Buildings or structures that are more than 6 storeys high are demolished with the help of a wrecking ball suspended on a crane by a steel rope. The wrecking ball is pulled then released towards the structure. With force, the steel ball strikes the structure and demolishes it in bits.
Hydraulic shears and rock breakers – These specialized accessories allow cutting into a variety of materials such as metal, wood, rocks, and cement.
Bulldozers – Common equipment in construction sites used for excavating and hauling materials or waste. This machine can also be used to flatten or level structures hence the term bulldoze.
Dumpers – Essential in clearing a demolition site, our dumpers make it easier and quicker to take out unwanted debris and materials from the site to be properly disposed of. Our demolition business has invested in quality dumpers to ensure a speedy clean-up of the property and that your project timeline is met.
Cranes – Demolition contractors will need to use a crane in long-reach or high-reach demolition projects. A wrecking ball is suspended on a crane, from where it is swung to demolish a structure partly or wholly. A crane is a very important piece of equipment in any demo company.
Crawler Loaders – They can be used to bring down heavy smaller-sized structures. They can also be used to move debris.
Go Ahead and Contact Us for All Your Demolition Needs in Salt Lake City, Utah
Call our demolition company in Salt Lake City, Utah. You can rest easy knowing that we have a solution for all your demolition projects. We are your one-stop-shop demolition company and we offer free consultation plus an accurate estimation of the costs. As the top Salt Lake City deconstruction and demolition company, no job is ever too big or too small for us. Feel free to get in touch with us today at
(855) 885-3366
!
Zip Code Areas We Service in Salt Lake City
84116, 84115, 84113, 84112, 84111, 84144, 84128, 84180, 84108, 84101, 84102, 84103, 84104, 84105, 84106, 84110, 84114, 84122, 84132, 84133, 84134, 84136, 84138, 84139, 84143, 84145, 84147, 84148, 84150, 84151, 84152, 84158, 84189, 84190, 84199