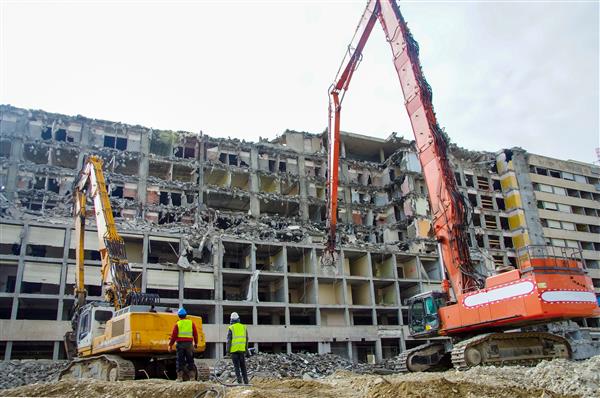 Demolition Contractors in South Jordan, UT: The Number 1 Demolition Company
When looking to hire demolition contractors in South Jordan, UT, Omni Demolition is your best choice. We are an established service provider when it comes to experience, skills and workmanship. No job is ever too big, too small or too demanding for us. Always making sure that our clients are not kept in the dark, our demolition experts will guide you accordingly when it comes to recommended methods, pricing and procedures to be enacted. For complex demolition jobs, we offer reliable demolition services.
We Do Demolition and Deconstruction in South Jordan, UT
Demolition is taking down or dismantling a building or structure with a strong and overwhelming force whose end result is rubble or waste. Some projects require complete levelling while others simply need specific parts removed to be replaced. For every client call, we have a demolition expert equipped to do the job. Some of the items salvaged in deconstruction are: roofing materials, windows, plumbing fixtures, doors, cabinets, flooring among others. We have the know-how in identifying the value of extracted materials and their potential for reuse.
Highly Recommendable Services for Any Demolition Project in South Jordan, UT
We maintain multi-disciplined and highly seasoned demolition experts and demolition contractors in South Jordan, UT-fully trained in material handling and equipment operation. Our demolition contractors have years of experience in the business providing exceptional and enviable customer service across South Jordan, UT. One of our biggest hallmarks is giving you undivided personal attention. Our demolition contractor will handle your needs on a one-on-one level and ensure that your project is given the undivided attention it deserves.
Our Range of Demolition Services in South Jordan, UT
Industrial Demolition services: We focus on enhancing safety and maximizing productivity. We are responsive and flexible enough to be able to deal with any complications that such a challenging demolition project may bring. With our knowledgeable technicians and superior equipment, we can handle demolishing refineries, highways, powerplants, bridges, mines and airports among others.
Commercial Demolition services: We isolate the targeted building before performing the actual demolition so as not to cause any damage to its neighboring structures. Our demo company, has handled tearing down malls, airplane hangars, markets, and even bridges.
Concrete Demolition and Recycling Services: We are a safe demolition company. We also listen to what you are saying. Are you trying to cut down on costs and reduce wastage? Once our demolition experts have demolished your concrete structure, we can grind it into gravel or turn it into an aggregate for making new concrete.
Scrap Metal Demolition Services: Our demo company maximizes the value of scrap metal as part of our scrap metal demolition service. This significantly minimizes the cost of the project.
We are the Leading Demolition Company in South Jordan, UT
Compared to other service providers, we take pride in having hardworking demolition experts and highly skilled demolition contractors. Our demolition experts and demolition contractors have an established performance record of completing demolition jobs in the right way, on budget and on time. No matter the nature of your project or timelines, our demolition company in South Jordan, UT will deliver to your satisfaction. As an established demo company, we continue to make innovations in the field of construction while also maintaining the highest standards of our services.
Safely Regulated Methods for Demolition and Deconstruction in South Jordan, UT
Explosive Demolition: Our demolition experts in South Jordan, UT bring down structures or buildings by removing the main structural elements such as the walls and pillars with the help of explosives. This reduces the building's structural stability, causing it to collapse under its own weight. This method is faster, environmentally friendly and safer when compared to other methods.
Non-Explosive Demolition: Our local demolition contractors use a wrecking ball attached to a crane to knock down buildings. It is a cheaper and faster method unlike explosive demolition.
Selective Demolition: In cases where property owners want to retain a certain part or frame of a structure, demo contractors will conduct the selective method. In this procedure, building demolition companies need to ensure the integrity of the structure is not compromised after some parts are removed.
Utilizing the Proper Equipment for Demolition in South Jordan, UT
Hydraulic breakers – Massive earthmovers used at our demo company to drill and break concrete areas in no time.
Wrecking balls – Although rarely used nowadays, wrecking balls are heavy steel balls used to gradually destroy a structure's integrity until it collapses.
Hydraulic Shears and Rock Breakers – They are used to cut through concrete, rocks, wood and metal.
Bulldozers – Commonly seen in construction sites, bulldozers are not only good for flattening surfaces but also for moving and transporting waste materials. It can also be maneuvered to knock down weak walls and structures.
Dumpers – Dumpers are also known as tipper trucks. They are used for transporting rubble or waste from the demolition site. If you are in the demolition business, safety is paramount and some of the safety hazards are demolition wastes. A dumper is a very important in removing the large amount of debris from the site.
Cranes – Demolition contractors use cranes not only for swinging wrecking balls but also in moving objects within the site. Our demo company facilitates the use of cranes to lift heavy objects from lower grounds to higher areas.
Crawler Loaders – They are very efficient in moving heavy materials and dirt piles. Some models of the crawler loaders are able to push down heavy smaller-sized structures. They are also used to clean the ground.
For All Your Demolition Service Needs in South Jordan, Utah, Contact Us Today
Settling with an amateur demolition company in South Jordan, Utah may seem cost-effective at first but mishaps and faulty work onsite may cost more of your resources, time and energy. We have a brilliant track record of achieving 100% success despite hostile or challenging work environments. Find out why we have remained the #1 demolition company for years as you experience top of the line customer service. Our South Jordan deconstruction and demolition company has highly skilled personnel with years of experience in the demolition business. Feel free to get in touch with us today at
(855) 885-3366
!
Zip Code Areas We Service in South Jordan
84095