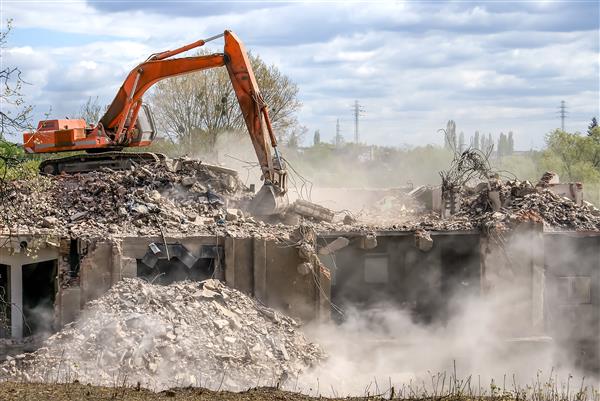 Affordable Complete Concrete Removal Service in Portsmouth, VA
Concrete removal is an essential part of any construction project in Portsmouth, VA. We do not just know the basics of concrete slab removal; we are certified experts. Our team of seasoned experts accomplishes everything from concrete hauling to onsite cleaning, with outstanding workmanship and dedication that no specialized training can teach. We guarantee professional workmanship and absolutely no guesswork when you sign with us. No amount of training can bring the average amateur provider up to speed with the kind of workmanship and commitment that we can only perfect through years of experience.
Special Equipment Used for Concrete Removal in Portsmouth, VA
At Omni Demolition, we use the best and most effective equipment for concrete removal projects, from pallet jacks and bobcats to jackhammers and hoists. We have access to pallet jackets, hoists, bobcats and other equipment so we can ensure the timely delivery of our Portsmouth, VA concrete slab removal services. We give importance to our client's time which is why we ensure equipment and material readiness to avoid any delays to your projects. Some of the services we offer include removing concrete driveway, concrete slab demolition, and concrete wall demolition. We offer a wide range of services, which include concrete slab demolition. After we cut and crush the concrete, we can also provide concrete hauling services to get rid of or recycle the waste materials.
When Do You Need Concrete Demolition Services in Portsmouth, VA?
Concrete is designed to last a very long time if it is installed properly. However, like every other type of material, its structure will also degrade over time. Whether the project requires breaking asphalt or concrete in residential, commercial or industrial spaces, we have the equipment and service crew ready to do the job. At Omni Demolition, we will see to it that you receive superior quality concrete hauling and demolition service in Portsmouth, VA. Concrete structures are built to withstand great pressure. Since concrete is a sturdy material, you will need to hire the services of experts to have your project executed safely and with precision.
Getting Concrete Removal Permits in Portsmouth, VA – We Got That Covered
The state and local authorities in Portsmouth, VA require necessary permits whether you will be conducting a concrete removal or concrete hauling project. There are several concrete removal companies in the city, so make sure you select one that will help you all throughout the process. Planning to have a concrete demolition job done in your property? Depending on the nature of your project you may or may not need one. You must submit your application together with all the required documents. Some of the required paperwork include clearances from your electric, water and gas companies. All you have to do is let us know what you need done and relax—we are here to do all the legwork for you.
Concrete Demolition Expenses in Portsmouth, VA
Processing a demolition permit can cost around $200 on average. Permits can cost an average of $200 to a few thousand dollars. Hauling and disposal costs depend on the amount of debris and the distance from the demolition site to the disposal facility. There will be tricky companies who will make a simple patio demolition or patio removal as complicated as possible to deceive you into agreeing to unreasonably expensive estimates. For a budget of $10,000 you will be able to complete the removal of foundation and reinforced concrete. This is because, removing reinforced steel in the concrete structures requires manual cutting. The cost of disposing waste that contains rebar is also higher.
Typical Timeline for a Concrete Demolition Operation in Portsmouth, VA
No concrete demolition project is completely the same as each requires varied materials, manpower, equipment and time frame to finish. Our team of experts, however, is the most knowledgeable in the industry when it comes to concrete slab removal, or concrete hauling so we can guarantee the quickest operations without compromising quality and safety. Depending on our agreement and forecast, work can be completed within a day, a week or even a month. The bigger the demolition structure, the more time it will take to complete the job. Rest assured we will take good care of your demolition needs in Portsmouth, VA and provide a clearly defined timeline for the entire project.
Is it Possible to Recycle Concrete in Portsmouth, VA?
Constructions, concrete demolition and removal projects produce a lot of by-products and potential waste. Concrete recycling is an integral part of concrete demolition. The concrete is crushed by our concrete demolition contractors and used as a coarse aggregate for new concrete. It is a much more environmentally friendly process as opposed to disposal. Contractors also take advantage of recycled concrete as they are not only environmentally-friendly but also cost-effective while still proven durable.
Contact Our Portsmouth, Virginia Concrete Demolition Experts
Our concrete slab removal services are unmatched. Moreover, we are well equipped to handle any other concrete removal service you may be in need of. At Omni Demolition, we handle all types of concrete demolition project-from scanning work to wall cutting, and from sawing to core drilling, there is no concrete slab removal project that is out of bounds for us. Our concrete removal service is compliant with all safety policies and requirements of the state. We are capable of demolishing any type of concrete structure or building with precision. Book a concrete removal service today!
Zip Code Areas We Service in Portsmouth
23703, 23709, 23708, 23704, 23707, 23701, 23702, 23705