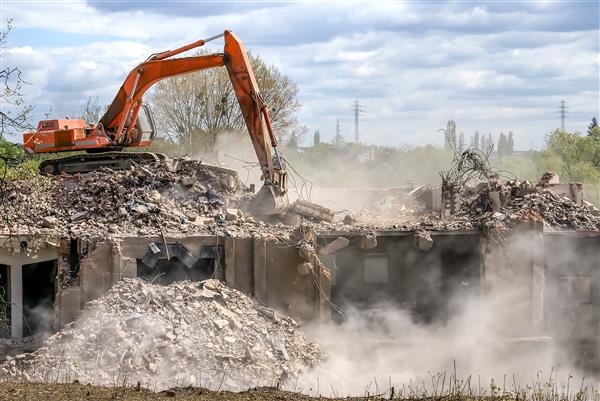 Trust Only the Authority in the Concrete Removal Business in Richmond, VA
When looking for a concrete removal contractor in Richmond, VA, relying on ads may not be the best option, so if you are doing your own research, we are here to help you make the right decision. If you want to repair or remodel your home because you want to change the wires or the pipes below the slab, you ought to call in a concrete slab removal expert to help you. We offer affordable concrete hauling services without compromising quality and safety. When your concrete structure has become old, shaky, unstable and unsightly, it is definitely time to consider getting rid of it for aesthetic reasons and most importantly, for safety purposes. At Omni Demolition you can benefit from our affordable fees and quick delivery time.
Specialized Equipment Used for Concrete Removal in Richmond, VA
You no longer need to worry about paying high equipment rental fees when you hire our team in Richmond, VA. Our contractors at Omni Demolition use a wide range of equipment when we perform our services such as concrete slab removal. A few examples of the equipment we use include chipping hammers, demolition hammers and hydraulic concrete crushers. We are equipped with all the appropriate expertise, machinery and tools to execute your demolition projects such as removing concrete driveway, concrete slab demolition, or concrete wall demolition. Our team periodically conducts machine inspection and maintenance to guarantee that everything we need for the job is in tip-top condition. Concrete removal and concrete hauling solutions vary in techniques as well as approaches.
Here to Help with Your Concrete Demolition Needs in Richmond, VA
One of the most important questions when it comes to concrete demolition services in Richmond, VA is if the circumstances call for demolition at all. It is also necessary in situations where you want to improve a part of a structure or building. We have all the equipment needed to perform quality concrete hauling or demolition. We have experts in Richmond, VA who are well-equipped to help you knock down any part of your house. Regardless of the size, we will see to it that we finish the project on time. With our trusted services, you have our assurance that the job will be done correctly and safely.
What Documents Do I Need to Secure Before a Concrete Removal Service in Richmond, VA?
A concrete removal or concrete hauling project in Richmond, VA, requires that you obtain a number of permits and approvals from the local council. While other concrete removal companies may include additional fees for processing the required permits, we at Omni Demolition have got you covered. Omni Demolition ensures a smooth operation for every single client that puts their faith in our services. Some property owners and even contractors hire permit services or companies who manage the building permit application process. Your main goal should be to minimize the risks of delaying the project by preparing the necessary documents beforehand.
How Much Can a Concrete Demolition Project Cost in Richmond, VA?
Processing a demolition permit can cost around $200 on average. In addition to permit application fees in Richmond, VA, there is no accurate range of expenses that we can give outright as every project requirement is unique. The good news is that you are guaranteed to get bigger savings when hiring us as opposed to our competitors. Whether you have a patio demolition or a patio removal project, you can be sure that we are well equipped to handle any demolition project you may have. Another factor that contributes to the overall cost is whether or not the concrete debris will be recycled. We can help you regardless of the type of project you wish to work on. The demolition project itself will usually cost you an estimated $1000 to $15,000+, depending on the size and situation.
Estimated Time Required for a Concrete Demolition Project in Richmond, VA
We are confident in our service delivery timelines. One of our primary focuses is on the time taken to complete your concrete demolition project. Our team of experts, however, is the most knowledgeable in the industry when it comes to concrete slab removal, or concrete hauling so we can guarantee the quickest operations without compromising quality and safety. We put a lot of thought into every step of the process so the safety of our workers and the satisfaction of our clients are completely assured. We have handled countless demo jobs in Richmond, VA and our loyal clients can testify to our diligence in completing our projects on time. We adhere to all the fundamental and basic principles of effective project management.
What Can I Do With My Concrete Waste in Richmond, VA?
Whether you are an environmental advocate or you just want to make some extra money, recycling wastes from a completed concrete demolition and removal project is the way to go. Concrete recycling is an integral part of concrete demolition. With the help of our professional concrete demolition contractors, you can recover some costs and contribute to other projects with your recycled concrete. The aggregate is used in the production of new structural concrete. Once concrete waste is salvaged, the uncontaminated concrete free of paper, wood and other materials is crushed.
Reasons for Hiring Our Concrete Demolition Company in Richmond, Virginia
Our team of experts uses modern concrete slab removal techniques and high end equipment, ensuring outstanding concrete demolition services at all times. Whether you require a simple concrete slab removal or a major interstate pavement, our team of experts is the most knowledgeable for the job. Aside from demolishing your concrete walls, pavements or ceilings, we can also help you do concrete slab removal, concrete cleanup and other tasks. Rest assured we will provide the best concrete removal service in the area for an affordable price. At Omni Demolition you are guaranteed not only commitment and proven expertise from our team of veteran specialists but also 100% site safety and transparency when it comes to billing and procedures being done on your property. Call us today at
(855) 885-3366
and tell us about your project.
Zip Code Areas We Service in Richmond
23219, 23222, 23223, 23220, 23221, 23226, 23227, 23224, 23225, 23230, 23235, 23234, 23173, 23218, 23232, 23241, 23242, 23249, 23255, 23260, 23261, 23269, 23273, 23274, 23276, 23278, 23279, 23282, 23284, 23285, 23286, 23288, 23289, 23290, 23291, 23292, 23293, 23295, 23297, 23298