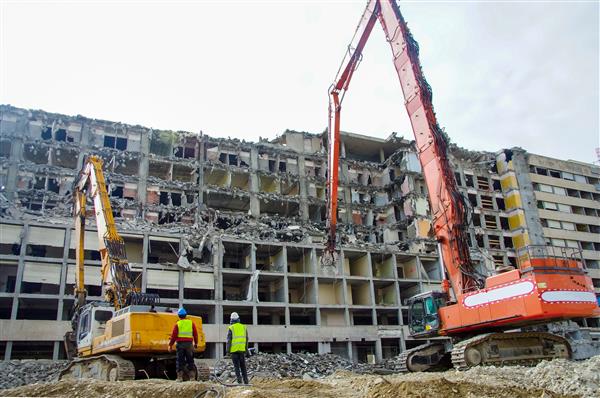 Professional Demolition Contractors Alexandria, VA – What You Need to Know when Hiring a Demolition Company
Our mission here at Omni Demolition is to ensure that we offer premium and high-caliber services through our expert demolition contractors. Our goal is to establish strong customer ties through honest business and outstanding workmanship. Our demolition contractor is on standby at all times ready to cater to your needs. Our team of demolition experts provide outstanding demolition services whether complete or selective. For complex demolition jobs, we offer reliable demolition services.
Demolition vs. Deconstruction in Alexandria, VA
Demolition is the process of tearing down or pulling down buildings and structures by a demolition expert. Some projects require complete levelling while others simply need specific parts removed to be replaced. For every client call, we have a demolition expert equipped to do the job. Should a client wish to retain a building's frame or will only be rebuilding a certain part of the property, a deconstruction is in order. On the other hand, whole-house deconstruction entails tearing down an entire structure and salvaging any reusable or recyclable materials.
Economical Services for Your Demolition Project in Alexandria, VA
Our demolition experts have a solid record of work experience aside from continually receiving refresher trainings every now and then to ensure that they are well updated with any enhancements or changes in technology and procedural protocol. As professional demolition contractors, we religiously adhere to state policies and regulations. Property owners usually think first rate services always come with a steep price to pay, but not with us. Taking down a structure sounds chaotic but unlike other demolition contractors, our services are done with utmost care and with as little disturbance to the community as possible.
Professional Demolition Services in Alexandria, VA
Industrial Demolition services: Our best-in-class strategies and state-of-the-art equipment allow us to offer specialized industrial demolition services for your chemical plant, mills and factories.
Commercial Demolition services: Need your commercial demolition project done right the first time? Our demo company will take care of that for you. Our portfolio includes: airplane hangars, restaurants, grocery stores, gas stations, warehouses and libraries among others.
Concrete Demolition and Recycling Services: Once we have demolished your concrete structure, our demolition experts will crush and re-use the salvaged concrete as a base course for gravel.
Scrap Metal Demolition Services: Allow our demo company to take down your metal structure. Our experts will downsize and process scrap metal for the purpose of recycling or reusing.
What Sets Us Apart from Others Alexandria, VA
Our demolition experts and highly skilled demolition contractors have worked on the most noteworthy projects in Alexandria, VA. Our team uses sophisticated equipment and observes high standards in every operation. As the number one demolition company in Alexandria, VA, we will work closely with you to guarantee an optimum outcome. Each project in our demo company is always given the care and attention that our customers deserve and expect.
Our Approved Methods for Demolition and Deconstruction in Alexandria, VA
Explosive Demolition: Our qualified demolition experts have years of experience in explosive demolition projects. Using our expertise and meticulous planning, we will safely execute your project with minimal disruption to your surroundings.
Non-Explosive Demolition: When a building structure does not allow the use of bombs, a wrecking ball is often utilized to take it down. Compared to other local demolition contractors, our experts use wrecking balls with careful precision. The heavy steel ball is swung into the targeted building causing it to gradually crumble.
Selective Demolition: Our demo contractors use this method when their goal is to recover or salvage demolition materials. Building demolition companies reuse or recycle the salvaged materials thus reducing waste.
Important Demolition Equipment in Alexandria, VA
Hydraulic Breakers-They turn excavators into powerful and effective demolition machines. Our demo company uses hydraulic breakers to break rocks, concrete and other hard materials.
Wrecking balls – Although rarely used nowadays, wrecking balls are heavy steel balls used to gradually destroy a structure's integrity until it collapses.
Hydraulic shears and rock breakers – Designed to cut through the toughest materials with very minimal effort, these tools are attached to excavators to do the job. They can slice through rocks, concrete, metal, wood and steel.
Bulldozers – These can be utilized to apply pressure on a structure and weaken it as well as to haul waste and other materials onsite.
Dumpers – Essential in clearing a demolition site, our dumpers make it easier and quicker to take out unwanted debris and materials from the site to be properly disposed of. Our demolition business has invested in quality dumpers to ensure a speedy clean-up of the property and that your project timeline is met.
Cranes – Demolition contractors use cranes to attach a wrecking ball to it. The wrecking ball suspended on a crane is then swung to the targeted structure. A demo company can use cranes to remove debris from high areas of a demolished structure. Cranes can also be used to load debris onto a dumper.
Crawler Loaders – They are very efficient in moving heavy materials and dirt piles. Some models of the crawler loaders are able to push down heavy smaller-sized structures. They are also used to clean the ground.
Go Ahead and Contact Us for All Your Demolition Needs in Alexandria, Virginia
We are ranked as the leading demolition company in Alexandria, Virginia. You can rest easy knowing that we have a solution for all your demolition projects. As an established demolition company, we maintain high standards of service and workmanship no matter how big or small a contract is. As the top Alexandria deconstruction and demolition company, no job is ever too big or too small for us. Go ahead and give us a call today at
(855) 885-3366
. We are always at your service.
Zip Code Areas We Service in Alexandria
22302, 22301, 22304, 22305, 22311, 22314, 20598, 22313, 22320, 22331, 22332, 22333, 22334