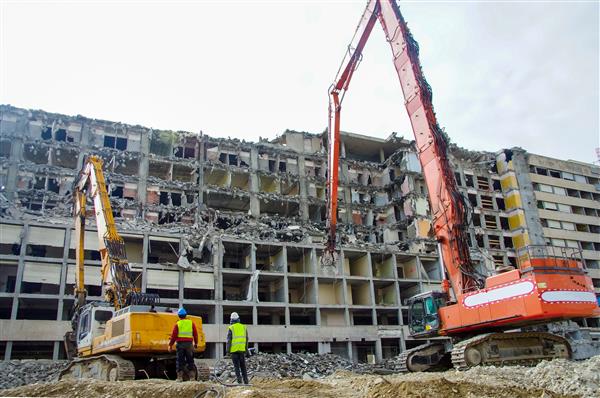 Professional Demolition Contractors Chesapeake, VA – What You Need to Know when Hiring a Demolition Company
Omni Demolition has paved the way for many construction services in the city through the exemplary workmanship and warm customer service of our demolition contractors. We will be able to complete your project in a professional, cost-effective and safe way. No job is ever too big, too small or too demanding for us. Our demolition experts employ the safest and most efficient ways of wrecking and demolishing old homes, dilapidated buildings and any other structure you may want demolished. You can rest assured that our affordable services are top-notch. To achieve this, our demolition experts apply strong verbal, communication, analytical, managerial, decision-making and time-management skills.
Demolition vs. Deconstruction in Chesapeake, VA
Demolition is taking down or dismantling a building or structure with a strong and overwhelming force whose end result is rubble or waste. We are the professionals when it comes to deconstruction or the steady taking apart of a building while retaining the valuable parts. A deconstruction entails careful removal of a structure's segments or hazards such as electrical wires, gas pipes and hydro lines prior to a complete knocking down of the building. In instances where a building will be remodelled or reconstructed, a deconstruction is more appropriate. Demolition is the actual tearing down of a structure to be done by a demolition expert.
What We Do in Chesapeake, VA
Our demolition experts have a solid record of work experience aside from continually receiving refresher trainings every now and then to ensure that they are well updated with any enhancements or changes in technology and procedural protocol. Some demolition contractors may offer you an attractive contract with a very cheap price tag, but are you sure you are getting a steal? We have a proven record of accomplishment in excellence. No other demolition contractor in all of Chesapeake, VA has a crew that is as dedicated and diligent as ours.
We Offer a Wide Array of Professional Demolition Services in Chesapeake, VA
Industrial Demolition services: Our countless contracts include leveling massive structures such as worn-down factories, mills, and chemical warehouses.
Commercial Demolition services: Our demo company uses superior equipment and expertise in tackling various commercial demolition structures such as strip malls, warehouses, office buildings, hotels, bridges, grocery stores and airplane hangars among others.
Concrete demolition and recycling services: Our demolition experts are knowledgeable in pulverizing slabs and concrete to be turned into eco-friendly gravel.
Scrap Metal Demolition Services: Our demo company is also experienced in extracting steel and metal from a building.
We are Unparalleled by Other Demolition Companies in Chesapeake, VA
Our demolition experts and highly skilled demolition contractors have worked on the most noteworthy projects in Chesapeake, VA. Our team uses sophisticated equipment and observes high standards in every operation. We are a demolition company that takes our work seriously and consistently conduct regularly equipment maintenance, which ensures efficient and quick clearing operations. As a trusted demo company, we have established a life-long relationship with our loyal patrons who can attest to our efficiency and commitment to getting the job done.
Main Methods for Demolition and Deconstruction in Chesapeake, VA
Explosive Demolition: If you want to demolish a big structure, you have to bring out the big guns. Our demolition experts in Chesapeake, VA use explosive demolition for larger buildings. It is as effective as it is safe.
Non-Explosive Demolition: Our local demolition contractors will use a wrecking ball attached to a crane to knock down a building. The heavy wrecking ball is swung several times on the targeted structure before it can collapse.
Selective Demolition: This type of demolition is done when you want to remodel or renovate a building. It can either be exterior or interior by nature. Exterior demolition involves tearing down a part of the building with a purpose of increasing it in size or making it smaller. Interior demolition focuses mostly on taking apart spaces for remodeling or renovation.
Demolition Equipment in Chesapeake, VA
Hydraulic breakers – Massive earthmovers used at our demo company to drill and break concrete areas in no time.
Wrecking Balls – Although less common in demolition sites, it is an efficient way of demolishing a concrete structure. This solid steel ball is attached to a crane. It is then swung to the targeted building several times to strike down the structure.
Hydraulic Shears/ Rock breakers – They are fitted to an excavator and have the ability to cut through concrete, metal, rocks and wood.
Bulldozers – Commonly seen in construction sites, bulldozers are not only good for flattening surfaces but also for moving and transporting waste materials. It can also be maneuvered to knock down weak walls and structures.
Dumpers – In every demolition business, dumpers are necessary to clear the site from rubble and debris.
Cranes – Demolition contractors utilize a crane to ease the burden of moving heavy materials or equipment back and forth on a construction site. Our demo company also uses cranes to suspend wrecking balls for non-explosive demos.
Crawler Loaders – They are very effective in removing materials from the demolition site. They are used to move or clear an area of demolition rubble. Crawler loaders can also be used to push down smaller-sized structures.
Call us Today for Demolition Services in Chesapeake, Virginia
Settling with an amateur demolition company in Chesapeake, Virginia may seem cost-effective at first but mishaps and faulty work onsite may cost more of your resources, time and energy. Signing with us means you deal with our highly diligent specialists who will never present mediocre work to our clients. As an established demolition company, we maintain high standards of service and workmanship no matter how big or small a contract is. We are the Chesapeake deconstruction and demolition company to go to for premium and safe demo services. Call us today at
(855) 885-3366
and allow us to assist you with your demolition requirements.
Zip Code Areas We Service in Chesapeake
23323, 23325, 23324, 23322, 23321, 23320, 23326, 23327, 23328