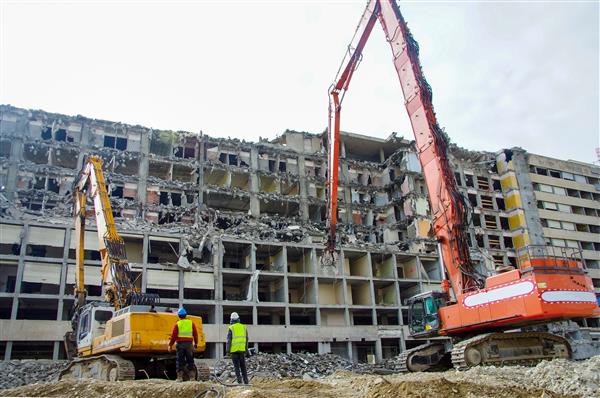 Demolition Contractors Norfolk, VA: The Number One Demolition Company
For years, Omni Demolition has continuously served and established its reputation as the most trusted demolition contractor in Norfolk, VA. We do not sugar-coat our services and we often deliver more than promised. Led by deconstruction experts in the industry in Norfolk, VA, our demolition experts offer innovative approaches to all your projects, whether big or small. Whether it may be a residential, commercial or industrial structure that needs to be taken care of, our crew has got it covered.
How is Demolition Different from Deconstruction in Norfolk, VA?
Demolition is the process of knocking down, levelling, razing, tearing down or pulling down a building or a structure. Demolition is the actual tearing down of a structure to be done by a demolition expert. Deconstruction is when a demolition expert takes a structure apart carefully, one piece at a time. The rubble from the process is either disposed-off as waste, used as clean fill or re-used as aggregate. In case of metal structures, the scrap metal is recycled.
Why Come to Us for Your Demolition Project in Norfolk, VA
Our demolition experts have done thousands of contracts and not a single one has given us negative feedback. First and foremost, our selection of advanced and reliable equipment enables our demolition contractors to be highly efficient as well as cost-effective. It is our core mission to exceed all your expectations. Taking down a structure sounds chaotic but unlike other demolition contractors, our services are done with utmost care and with as little disturbance to the community as possible. Our service delivery is focused on safety and efficiency. Our service delivery is focused on safety and efficiency.
Our Demolition Services in Norfolk, VA
Industrial Demolition Services: This type of demolition service requires a surgical approach. We have a systemic, controlled and detailed solution in place for demolishing facilities such as chemical plants, manufacturing plants, port facilities, oil refineries, factories, and lumber mills among others.
Commercial Demolition Services: We know all the ins and outs of this delicate procedure. No matter the job, you can be rest assured that our demo company will give you the best results. Our demolition experts have the know-how and experience to bring down buildings and structures even in very tight spaces. Be it tearing down a mall, strip center, warehouse, bridge, hangar or structures in metropolitan areas, we have got you covered.
Concrete demolition and recycling services: Our demolition experts are knowledgeable in pulverizing slabs and concrete to be turned into eco-friendly gravel.
Scrap Metal Demolition Services: Our demo company will save you time and money by demolishing your metal structure, putting a recovery plan in place and selling the salvaged scrap metal for you.
The Top Choice Among Demolition Companies in Norfolk, VA
Our demolition experts and demolition contractors offer a professional and innovative approach to all your demolition projects. We provide our clients with value for their money. Our demolition company is experienced in implementing both small and large projects. Our demo company appreciates all our clients and we demonstrate this by endeavoring to give you nothing but the very best.
Safely Regulated Methods for Demolition and Deconstruction in Norfolk, VA
Explosive Demolition: Conducted by our skilled demolition experts in Norfolk, VA, this method requires properly laying out detonators and explosives to bring a structure down to a pulp.
Non-Explosive Demolition: Our local demolition contractors are flexible and in situations where explosive demolition may be unsafe, we may use a wrecking ball which is attached to a crane at a manageable height to bring down a building.
Selective Demolition: This method is used when buildings are being remodeled or rebuilt and the client wishes to retain some parts of the structure. Not all contractors can perform this demolition as it involves meticulous planning and careful effort. Our demo contractors are veterans in conducting selective demolition especially in handling specialized equipment required for the job. You can trust our team of experts in providing calculated and top of the line performance, which other inexperienced building demolition companies cannot guarantee.
Demolition Equipment in Norfolk, VA
Hydraulic breakers-Heavy-duty excavators are used at our demo company to aid in breaking or crushing concrete segments of the building. Be wary of contractors who have poorly maintained equipment such as hydraulic breakers because this will surely cause delays in your timeline.
Wrecking balls – A wrecking ball is used together with a crane. This heavy steel ball is suspended from a crane and is used to bring down an entire structure or part of it. Although not widely used, this method is as fast as it is cost effective.
Hydraulic shears and rock breakers – When attached to excavators, these tools are helpful in cutting through any type of surface. Using electrical force, it can slice through metal, steel, concrete, rock and wood.
Bulldozers – A favorite among contractors, a bulldozer can be an intimidating piece of equipment on wheels although it is fairly easy to maneuver. It can be used to transport copious amounts of waste, as well as to wreck walls.
Dumpers – A dumper or a tipper truck is essential in the demolition business. This vehicle is specially designed to carry debris such as gravel, or demolition waste in bulk away from the property. It makes cleaning up the property after demolition easier and faster.
Cranes – Aside from being used to secure a wrecking ball, demolition contractors in our demo company also use cranes to lower and lift materials within the site.
Crawler Loaders – They are very effective in removing materials from the demolition site. They are used to move or clear an area of demolition rubble. Crawler loaders can also be used to push down smaller-sized structures.
For all your Demolition Needs contact us in Norfolk, Virginia
Your number one demolition company in Norfolk, Virginia is always at your service. We have a brilliant track record of achieving 100% success despite hostile or challenging work environments. Our demolition company never offers excuses; we simply provide professional and timely services guaranteed to accommodate your budget. As the top Norfolk deconstruction and demolition company, no job is ever too big or too small for us. Call us today at
(855) 885-3366
and allow us to assist you with your demolition requirements.
Zip Code Areas We Service in Norfolk
23509, 23508, 23504, 23503, 23502, 23507, 23505, 23551, 23518, 23513, 23517, 23523, 23510, 23511, 23501, 23506, 23514, 23515, 23519, 23529, 23541