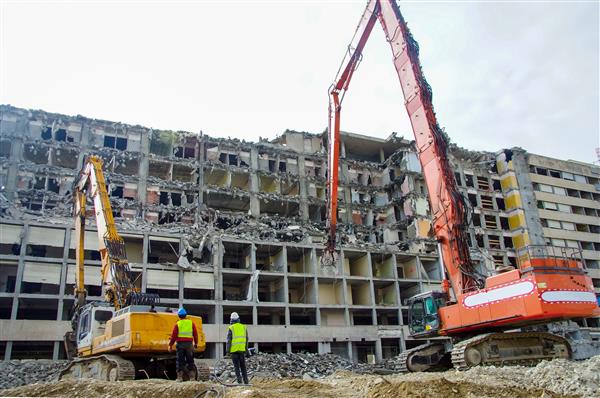 Demolition Contractors Auburn, WA: Your Go-To Demolition Company
Omni Demolition is composed of reliable and dependable demolition contractors in Auburn, WA. We set the standards in world-class demolition services. No need to break the bank to avail of first rate service and exceptional outcome. Unlike other service providers, our demolition experts are all highly skilled and experienced in this business. You can rest assured that our affordable services are top-notch. To achieve this, our demolition experts apply strong verbal, communication, analytical, managerial, decision-making and time-management skills.
Demolition vs. Deconstruction in Auburn, WA
Demolition can be described as dismantling of buildings or a specific room by a demolition expert. Deconstruction is when a demolition expert carefully dismantles or takes down a structure with the aim of reusing or recycling the materials. Deconstruction in Auburn, WA involves taking a structure apart. It is usually done when one wants to remodel or improve a part of the building. As opposed to a full demolition which entails completely crushing a certain structure, deconstruction is the strategic taking apart of a building and putting away its reusable components.
Why Sign Us for Your Demolition Project in Auburn, WA
Our demolition experts will meticulously execute your demolition project in a timely and safe manner. If you wish to have a an effortless and hassle-free experience when leveling a property in Auburn, WA, we are the demolition contractor that you can rely on. Being in the business for years, our experience and continued trainings ensure that you work with only the most able specialists in the industry. Do not be tricked by demolition contractors who cannot walk the talk.
Our Main Demolition Services in Auburn, WA
Industrial Demolition Services: We can handle any challenging industrial demolition project you may have. With our world-class equipment and staff, we are able to demolish plants, mills, manufacturing buildings and so on.
Commercial Demolition Services: Despite commercial buildings being located in compact spaces, our demo company is able to bring down your building or structure in a safe way with minimal damage to the surrounding area. Using modernized equipment, our team of professionals have pulled down warehouses, grocery stores, shops, airplane hangars among others.
Concrete Demolition and Recycling Services: Concrete recycling results in saving costs in that it decreases the cost of transportation and disposal. Our demolition experts will break, remove and then crush concrete after demolition. The concrete can be used as an aggregate in new concrete.
Scrap Metal Demolition Services: Our demo company will expertly demolish your scrap metal projects. Our crew will downsize as well as dismantle the steel structures then process, bundle and recycle the materials.
We are on Top of Other Demolition Companies in Auburn, WA
Our demolition experts and highly skilled demolition contractors have worked on the most noteworthy projects in Auburn, WA. Our demolition experts and demolition contractors have an established performance record of completing demolition jobs in the right way, on budget and on time. We are a top-rated demolition company in Auburn, WA. We continue to fulfil our commitment as a demo company when it comes to putting our clients as top priority.
Methods Conducted by Experts on Demolition and Deconstruction in Auburn, WA
Explosive Demolition: Explosive materials are strategically placed on the building or structure in Auburn, WA by our demolition experts. The explosives are timed to make a structure go down on itself in seconds in order to minimize damage to the surroundings.
Non-Explosive Demolition: Our local demolition contractors will use a wrecking ball to bring down your structure. This method is cheaper than explosive demolition.
Selective Demolition: Buildings are deconstructed with the aid of special equipment. It is a solution that maximizes efficiency while reducing waste. It is mainly used when building owners want to add extensions to the building, update the interior of a building, convert space or improve the health of the building. This is a delicate procedure that demands great precision and tact, which our demo contractors have and other building demolition companies overlook.
Main Equipment Used in Demolition in Auburn, WA
Hydraulic breakers – Commonly known as hydraulic hammers, these are often used by our demo company to grind up slabs and concrete structures.
Wrecking balls – Used mainly for non-explosive demos, these heavy impacting balls are helpful in progressively weakening a building until all that's left are frameworks that are then easier to tear down.
Hydraulic Shears and Rock Breakers – They are used to cut through concrete, rocks, wood and metal.
Bulldozers – It has a ripper and is used to move large quantities of rubble. It is also used to bring walls down.
Dumpers – A necessity in every demolition business, dumpers are used to haul waste materials off the demolition site. It ensures the pre-construction area is free from any trash or debris brought about by the demolition.
Cranes – Demolition contractors use cranes to transfer materials within the site especially from lower to upper floors and vice versa. Aside from being used as a pulley, our demo company also uses cranes for wrecking balls.
Crawler Loaders – Mostly used for excavating, this equipment is also utilized for its lifting and loading capabilities.
Go Ahead and Contact Us for All Your Demolition Needs in Auburn, Washington
There is no other demolition company in Auburn, Washington that offers high quality services with reasonable prices as us. With us you are guaranteed to have a safe and worry-free operation to be completed by field experts. Our demolition company's spotless track record in handling minor to major demolitions is your guarantee of our high quality service, expertise and commitment to each and every project. Our Auburn deconstruction and demolition company is licensed and highly reputable. Call us at
(855) 885-3366
for a free consultation today.
Zip Code Areas We Service in Auburn
98001, 98002, 98092