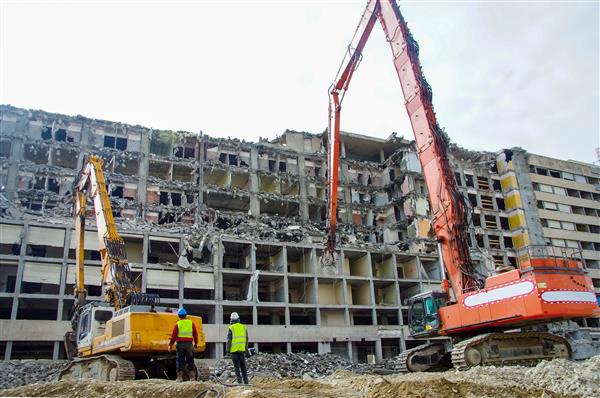 Recognizing an Outstanding Demolition Company from Inexperienced Demolition Contractors Everett, WA
For years, Omni Demolition has continuously served and established its reputation as the most trusted demolition contractor in Everett, WA. You are guaranteed to get the best value for your money with our expertise partnered with updated equipment and strict adherence to state safety regulations and policies. Our contractors ensure that the necessary safety measures and procedures are in place in the work environment. Led by deconstruction experts in the industry in Everett, WA, our demolition experts offer innovative approaches to all your projects, whether big or small. We have the right equipment for any kind of demolition work.
The Difference Between Demolition and Deconstruction in Everett, WA
Demolition is the process of knocking down, levelling, razing, tearing down or pulling down a building or a structure. A demolition expert may order a careful deconstruction prior to a demolition to carefully remove chemically hazardous materials as a safety precaution. Deconstruction differs from demolition in that, it involves tearing apart a building or a home in a manner that salvages materials. We have the know-how in identifying the value of extracted materials and their potential for reuse.
What We Do in Everett, WA
We have demolition experts who plan everything meticulously, from the bringing in of our equipment up to the clearance of the property from wastes and debris. As professional demolition contractors, we religiously adhere to state policies and regulations. Property owners usually think first rate services always come with a steep price to pay, but not with us. Our demolition contractors are not only committed to providing first rate work but also ensure that all steps are taken to cause little to zero disturbance to the environment and to the properties adjacent to the site.
Professional Demolition Services in Everett, WA
Industrial Demolition services: We have an impeccable history in handling industrial buildings such as warehouses, chemical plants, mills and more. No matter how gigantic the structure is, our team of experts can surely manage.
Commercial Demolition services: We are a prominent demo company in handling commercial buildings even in the most unimaginable spaces. We have taken down storehouses, grocery stores, airplane hangars, and large public structures among others.
Concrete demolition and recycling services: Our demolition experts are experienced in salvaging not only metal scraps but concrete structures and slabs as well.
Scrap Metal Demolition Services: Our demo company is also experienced in extracting steel and metal from a building.
The Top Choice Among Demolition Companies in Everett, WA
We take pride in having some of the most seasoned demolition experts among numerous demolition contractors in Everett, WA. Our demolition experts are highly experienced in all types demolition services be they in a remote or challenging environment. We are a top-rated demolition company in Everett, WA. As an established demo company, we continue to make innovations in the field of construction while also maintaining the highest standards of our services.
Authorized Methods for Demolition and Deconstruction in Everett, WA
Explosive Demolition: If you want to demolish a big structure, you have to bring out the big guns. Our demolition experts in Everett, WA use explosive demolition for larger buildings. It is as effective as it is safe.
Non-Explosive Demolition: When a building structure does not allow the use of bombs, a wrecking ball is often utilized to take it down. Compared to other local demolition contractors, our experts use wrecking balls with careful precision. The heavy steel ball is swung into the targeted building causing it to gradually crumble.
Selective Demolition: This type of demolition is done when you want to remodel or renovate a building. It can either be exterior or interior by nature. Exterior demolition involves tearing down a part of the building with a purpose of increasing it in size or making it smaller. Interior demolition focuses mostly on taking apart spaces for remodeling or renovation.
Utilizing the Proper Equipment for Demolition in Everett, WA
Hydraulic Breakers-They turn excavators into powerful and effective demolition machines. Our demo company uses hydraulic breakers to break rocks, concrete and other hard materials.
Wrecking balls – Heavy and solid balls made of steel, wrecking balls are safely suspended on a crane and used to weaken a building until it gives.
Hydraulic shears and rock breakers – These specialized accessories allow cutting into a variety of materials such as metal, wood, rocks, and cement.
Bulldozers – These can be utilized to apply pressure on a structure and weaken it as well as to haul waste and other materials onsite.
Dumpers – A dumper is a very useful piece of machinery in every demolition business. It is used to carry away demolition waste from demolition sites.
Cranes – Demolition contractors will need to use a crane in long-reach or high-reach demolition projects. A wrecking ball is suspended on a crane, from where it is swung to demolish a structure partly or wholly. A crane is a very important piece of equipment in any demo company.
Crawler Loaders – They are effective in bringing down structures. They can also be used to clean up a demolition site. Crawler loaders can help move debris. Its tracks enable the unit to move easily and freely on the property.
For All Your Demolition Service Needs in Everett, Washington, Contact Us Today
We are your dependable and trusted demolition company in Everett, Washington. There's a reason why we continue to be highly recommended by building contractors and the rest of our clientele. Our demolition company's spotless track record in handling minor to major demolitions is your guarantee of our high quality service, expertise and commitment to each and every project. Our work integrity and reasonable packages are only some of the reasons why we are a well renowned Everett deconstruction and demolition company. Give us a call at
(855) 885-3366
and we guarantee a refreshing customer experience that you can only get from us.
Zip Code Areas We Service in Everett
98207, 98204, 98205, 98203, 98201, 98208, 98275, 98206, 98213