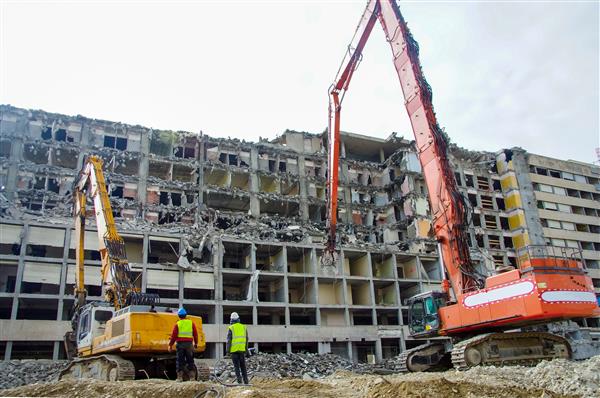 Demolition Contractors in Kirkland, WA: The Number 1 Demolition Company
Omni Demolition has demolition contractors at your service whose specialty is providing superior-quality, safe and cost-effective services for all our clients. As widely renowned experts in Kirkland, WA, we see to it that the high standards we have established are met in every transaction. We offer unrivalled expertise and deliver tailor-made solutions to both simple and tough demolition projects. Our demolition experts provide top-notch work. You can rest assured that our affordable services are top-notch. To achieve this, our demolition experts apply strong verbal, communication, analytical, managerial, decision-making and time-management skills.
Better Understanding of Demolition and Deconstruction in Kirkland, WA
Demolition is the process of tearing down or pulling down buildings and structures by a demolition expert. A demolition expert may order a deconstruction if parts of the original structure need to be retained or hazardous materials and reusable items need to be extracted before an actual demolition. A deconstruction may be implemented on its own or as a pre-demolition procedure. In instances where a building will be remodelled or reconstructed, a deconstruction is more appropriate.
Why Sign Us for Your Demolition Project in Kirkland, WA
Our demolition experts as well as our demolition contractors in Kirkland, WA have highly specialized equipment and all the resources needed to complete any project you may have for us, however big or small it may be. If you wish to have a an effortless and hassle-free experience when leveling a property in Kirkland, WA, we are the demolition contractor that you can rely on. We have a proven record of accomplishment in excellence. Our demolition contractors are not only committed to providing first rate work but also ensure that all steps are taken to cause little to zero disturbance to the environment and to the properties adjacent to the site.
Our Range of Demolition Services in Kirkland, WA
Industrial Demolition services: Our best-in-class strategies and state-of-the-art equipment allow us to offer specialized industrial demolition services for your chemical plant, mills and factories.
Commercial Demolition services: You can call our demo company if you need someone to knock down commercial structures such as commercial centres, groceries, airplane hangars and the like.
Concrete Demolition and Recycling Services: Our demolition experts will help you realize your green-building initiative. We turn construction debris such as crushed concrete into gravel or a dry aggregate for making new concrete.
Scrap Metal Demolition Services: Our demo company is also experienced in extracting steel and metal from a building.
What Sets Us Apart from Others Kirkland, WA
Despite being highly preferred over other demolition contractors, we keep our feet grounded. Our demolition experts and demolition contractors are dedicated to meeting all your needs. No matter the nature of your project or timelines, our demolition company in Kirkland, WA will deliver to your satisfaction. You will never find a more reliable demolition company in Kirkland, WA than us.
The Types of Methods Used in Demolition and Deconstruction in Kirkland, WA
Explosive Demolition: Our demolition experts in Kirkland, WA implode your building making it collapse safely with minimal damage to the immediate surroundings.
Non-Explosive Demolition: Our local demolition contractors use a wrecking ball attached to a crane to knock down buildings. It is a cheaper and faster method unlike explosive demolition.
Selective Demolition: Our demo contractors are the most sought-after for their record in successfully extracting or tearing down selected parts of a structure. We are one of the few building demolition companies who can conduct a customized approach depending on the client requirement.
Cutting Edge Equipment Utilized for Demolition in Kirkland, WA
Hydraulic breakers-Heavy-duty excavators are used at our demo company to aid in breaking or crushing concrete segments of the building. Be wary of contractors who have poorly maintained equipment such as hydraulic breakers because this will surely cause delays in your timeline.
Wrecking Balls – A wrecking ball is a heavy ball made from steel. It is attached to a crane and is used to strike down structures from a manageable height.
Hydraulic shears and rock breakers – When attached to excavators, these tools are helpful in cutting through any type of surface. Using electrical force, it can slice through metal, steel, concrete, rock and wood.
Bulldozers – A bulldozer is a heavy piece of equipment that has a robust bucket attachment. This attachment enables the bulldozer to clear trash, rubble and debris from a demolition site. Bulldozers are multi-purpose, they can also be used to push down heavy smaller-sized structures.
Dumpers – A dumper or a tipper truck is essential in the demolition business. This vehicle is specially designed to carry debris such as gravel, or demolition waste in bulk away from the property. It makes cleaning up the property after demolition easier and faster.
Cranes – Demolition companies use cranes to move materials from different levels of a structure. A demo company will also use this machinery together with a steel ball. For a wrecking ball to work, it has to be attached to the crane.
Crawler Loaders – They are efficient in moving heavy rubble and waste from the demolition site. They can also be used to demolish heavy structures as well as clear the ground.
Dial OurNumber for Top Rated Demolition Services in Kirkland, Washington
Our demolition company is a leading demolition company in Kirkland, Washington with proven resources, knowledge, professionalism and experience to successfully manage any demolition project you may have. For years now, we have helped all our clients demolish and deconstruct their buildings and structures successfully. You can rest easy knowing that we have a solution for all your demolition projects. Consult with a reliable demolition company and save yourself from all the worries. Our Kirkland deconstruction and demolition company has highly skilled personnel with years of experience in the demolition business. Feel free to get in touch with us today at
(855) 885-3366
!
Zip Code Areas We Service in Kirkland
98033, 98011, 98034, 98083