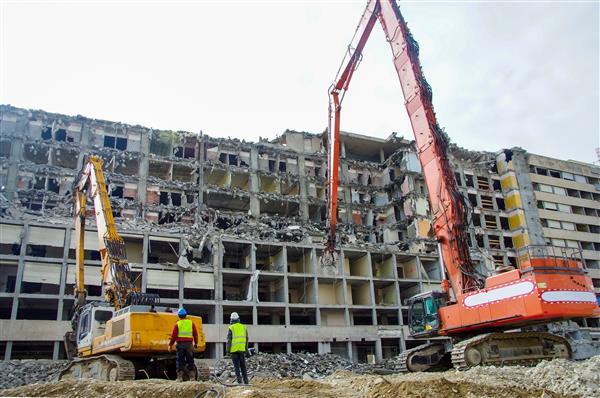 Demolition Contractors Redmond, WA The Demolition Company That You Can Count On
For years, Omni Demolition has continuously served and established its reputation as the most trusted demolition contractor in Redmond, WA. We will make sure that the project is completed within your budget and stipulated timeframe. Our demolition contractor is on standby at all times ready to cater to your needs. You can trust that our demolition experts are all well-versed when it comes to everything that has to do with eco-friendly demolition, as well as health and safety guidelines. We have the right equipment for any kind of demolition work.
Demolition vs. Deconstruction in Redmond, WA
Knowing the difference between a demolition and a deconstruction will save you from further confusion. Deconstruction is when a demolition expert carefully dismantles or takes down a structure with the aim of reusing or recycling the materials. Deconstruction is when a demolition expert takes a structure apart carefully, one piece at a time. Deconstruction could be a component included in the demolition where our skilled team removes all hazardous and re-usable objects prior to the building being knocked down.
We are the Most Competent Specialists for Your Demolition Project in Redmond, WA
Our demolition experts have done thousands of contracts and not a single one has given us negative feedback. If you wish to have a an effortless and hassle-free experience when leveling a property in Redmond, WA, we are the demolition contractor that you can rely on. Most sales agents will promise everything just to close a deal but are no longer accountable when their team fails to deliver. No other demolition contractor in all of Redmond, WA will provide you with top-of-the-line workmanship at cost-effective packages.
Our Range of Demolition Services in Redmond, WA
Industrial Demolition Services: This type of demolition service requires a surgical approach. We have a systemic, controlled and detailed solution in place for demolishing facilities such as chemical plants, manufacturing plants, port facilities, oil refineries, factories, and lumber mills among others.
Commercial Demolition services: You can call our demo company if you need someone to knock down commercial structures such as commercial centres, groceries, airplane hangars and the like.
Concrete demolition and recycling services: Our demolition experts are experienced in salvaging not only metal scraps but concrete structures and slabs as well.
Scrap Metal Demolition Services: As an all-around demo company, we can also take care of any unwanted steel erections and metal scraps onsite. We follow a certain procedure in salvaging items that are still good for future use so you can be sure nothing goes to waste.
We are Unparalleled by Other Demolition Companies in Redmond, WA
Our demolition company in Redmond, WA offers a broad spectrum of solutions which enables us to deliver prompt and successful results. Our demolition experts are highly experienced in all types demolition services be they in a remote or challenging environment. Using cutting edge technology added to our team's expertise, our demolition company is guaranteed to deliver more than promised. When it comes to bringing down old, dilapidated or unwanted property, we have vast experience as a demo company and we will ensure that our services do not cause any unintended damage or pollution
Types of Demolition and Deconstruction in Redmond, WA
Explosive Demolition: Done by licensed demolition experts in Redmond, WA, this method may sound dangerous and it could be when proper procedures are not followed. After explosives are strategically laid out, a switch is all it takes to completely take down a building.
Non-Explosive Demolition: Our local demolition contractors use a wrecking ball attached to a crane to knock down buildings. It is a cheaper and faster method unlike explosive demolition.
Selective Demolition: In cases of remodeling or renovation, demo contractors may be required to pull apart specific areas of the structure. We exceed other building demolition companies when it comes to precision in conducting selective demo such as disassembling interiors, floor coverings, ceilings and walls.
The process requires demo contractors to work around normal operating hours on small working spaces and under strict timetables. Our company, unlike other building demolition companies, understands the significance of all these considerations. We ensure that we provide an environment that is safe for everyone involved with as minimal disruption as possible.
Demolition Equipment in Redmond, WA
Hydraulic Breakers – This strong hammer is built to withstand heavy and rigorous use. As one of the high-quality demolition tools used by our demo company, it offers greater productivity in regards to speed, efficiency and its overall performance.
Wrecking Balls – A wrecking ball is made from steel. It is suspended from a steel chain attached to a crane and is used to demolish large buildings. It is swung several times towards the intended structure until the structure crumbles. The working of a wrecking ball relies on the skills of an experienced operator.
Hydraulic shears and rock breakers – Designed to cut through the toughest materials with very minimal effort, these tools are attached to excavators to do the job. They can slice through rocks, concrete, metal, wood and steel.
Bulldozers – These powerful machines are used to bring down smaller sized buildings or structures. They are also used to transfer debris and rubble to trucks.
Dumpers – In the demolition business, they are used for moving rubble and debris away from the demolition site.
Cranes – A necessity for demolition contractors, cranes serve multiple purposes including being used for wrecking balls and for transferring heavy tools within the site. Every demo company should have a well-maintained and stable crane to avoid any unforeseen accidents.
Crawler Loaders – Flexible heavy equipment, crawler loaders can move on top of uneven surfaces and are also used for excavating and lifting.
Dial OurNumber for Top Rated Demolition Services in Redmond, Washington
Our demolition company in Redmond, Washington is the best one in town. We have a brilliant track record of achieving 100% success despite hostile or challenging work environments. Find out why we have remained the #1 demolition company for years as you experience top of the line customer service. Our Redmond deconstruction and demolition company is licensed and highly reputable. Give us a call today at
(855) 885-3366
and we will get back to you as soon as we can.
Zip Code Areas We Service in Redmond
98052, 98073