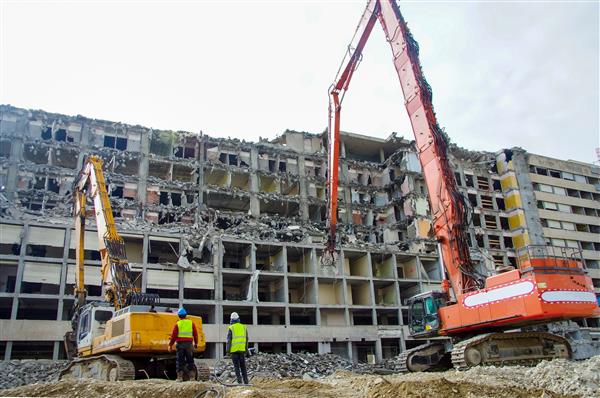 Demolition Contractors Renton, WA: Your Go-To Demolition Company
Here at Omni Demolition, we believe that pricing is not the only factor that you must consider when getting the services of demolition contractors in Renton, WA. We set the standards in world-class demolition services. No need to break the bank to avail of first rate service and exceptional outcome. Our demolition experts employ the safest and most efficient ways of wrecking and demolishing old homes, dilapidated buildings and any other structure you may want demolished. This minimizes the chances of accidents or injuries at the demolition site.
The Main Variances of Demolition and Deconstruction in Renton, WA
Demolition is the process of tearing down or pulling down buildings and structures by a demolition expert. Our demolition experts are most experienced in going over construction sites to see what items may be salvaged and put aside to be used again, often saving time and resources. There are two categories of deconstruction, namely soft strip or selective deconstruction and whole-house deconstruction. The rubble from the process is either disposed-off as waste, used as clean fill or re-used as aggregate. In case of metal structures, the scrap metal is recycled.
What We Do in Renton, WA
Our demolition experts will meticulously execute your demolition project in a timely and safe manner. Hire the most recommended demolition contractor in all of Renton, WA. Property owners usually think first rate services always come with a steep price to pay, but not with us. You will not find another demolition contractor in all of Renton, WA who will help you save and spend wisely.
Choose from Our Wide Variety of Demolition Services in Renton, WA
Industrial Demolition services: We have tried and tested thorough demolition of industrialized buildings. Our record includes taking down plants, manufacturing buildings, mills and the like.
Commercial Demolition services: We are the demo company to call when it comes to commercial spaces that require strategic planning, especially narrow and often crowded areas. Our capability in wrecking restaurants, grocery stores, and office buildings shows our mastery in handling business districts.
Concrete Demolition and Recycling Services: We are a safe demolition company. We also listen to what you are saying. Are you trying to cut down on costs and reduce wastage? Once our demolition experts have demolished your concrete structure, we can grind it into gravel or turn it into an aggregate for making new concrete.
Scrap Metal Demolition Services: Unlike other contractors who concentrate only on concrete, our demo company can assist in handling metal frames and recycling scraps.
We Take the Lead Among Other Demolition Companies in Renton, WA
Our highly trained demolition contractors are able to offer flexible services to suit your specific needs. With us you are guaranteed safe and uninterrupted operations that you may encounter with inexperienced contractors with faulty machinery. Our demolition company is experienced in implementing both small and large projects. When it comes to bringing down old, dilapidated or unwanted property, we have vast experience as a demo company and we will ensure that our services do not cause any unintended damage or pollution
Methods Used for Demolition and Deconstruction in Renton, WA
Explosive Demolition: Our demolition experts in Renton, WA implode your building making it collapse safely with minimal damage to the immediate surroundings.
Non-Explosive Demolition: Our local demolition contractors will use a wrecking ball to bring down your structure. This method is cheaper than explosive demolition.
Selective Demolition: This process entails tearing down a part of the structure. Efficiency is maximized by recycling reusable material thus reducing waste and lessening the impact on the environment. As the leading demo contractors, we have set standards that other building demolition companies have a hard time measuring up to.
Important Demolition Equipment in Renton, WA
Hydraulic breakers – Also known as hydraulic hammers, our demo company uses this to demolish rocks or concrete structures.
Wrecking balls – Heavy and solid balls made of steel, wrecking balls are safely suspended on a crane and used to weaken a building until it gives.
Hydraulic Shears/ Rock breakers – They are fitted to an excavator and have the ability to cut through concrete, metal, rocks and wood.
Bulldozers – Common equipment in construction sites used for excavating and hauling materials or waste. This machine can also be used to flatten or level structures hence the term bulldoze.
Dumpers – Copious amount of time is spent clearing demolition sites and this is where dumpers come in very handy. An experienced demolition business deploys dumpers to haul debris and waste away from the site.
Cranes – Demolition contractors need a crane for attaching a wrecking ball to it. It can also be used to lift heavy things onto or off the structure. A demo company will almost always have this piece of machinery on a demolition site.
Crawler Loaders – Mostly used for excavating, this equipment is also utilized for its lifting and loading capabilities.
Contact Us for Any Demolition Services in Renton, Washington
Our demolition company is a leading demolition company in Renton, Washington with proven resources, knowledge, professionalism and experience to successfully manage any demolition project you may have. For years now, we have helped all our clients demolish and deconstruct their buildings and structures successfully. We will meet all your demands and give the same meticulous attention to your projects no matter the size. Our demolition company's spotless track record in handling minor to major demolitions is your guarantee of our high quality service, expertise and commitment to each and every project. Our Renton deconstruction and demolition company has highly skilled personnel with years of experience in the demolition business. Dial
(855) 885-3366
for a professional Renton demolition that will not break your bank.
Zip Code Areas We Service in Renton
98059, 98058, 98057, 98056, 98055